What To Know About Dominican Blowouts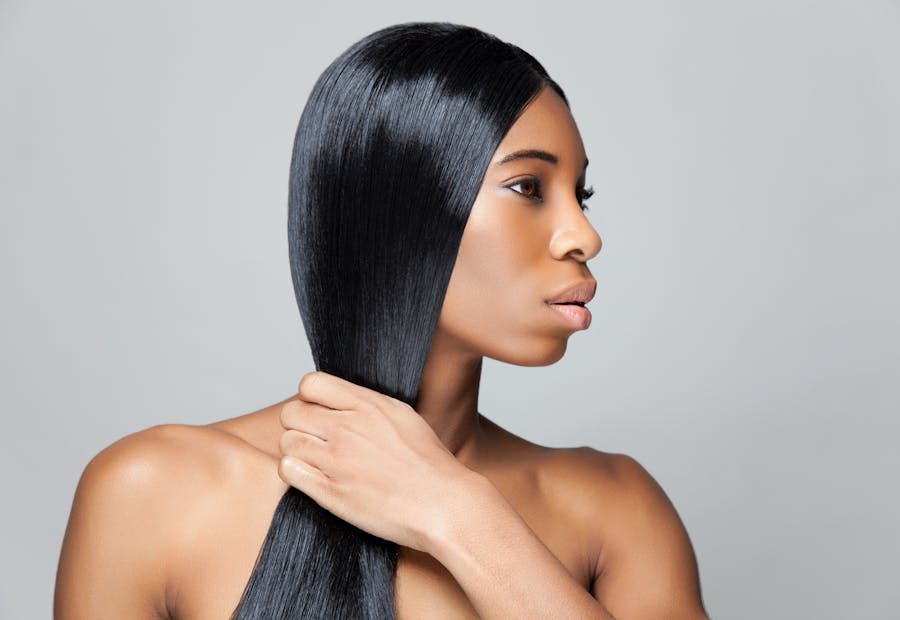 Natural hair is very beautiful. One can style it in several innovative ways. Forget people who think natural hair cannot be styled in many ways. They have no idea what they speak of. Natural hair is unique and can be styled with or without heat. However, it would help if you did not use excessive heat on your hair.
The beauty of your 4C hair lies in the curl pattern, and heat is not friendly to those curls. However, you can apply moderate heat to your hair once in a while. One of the ways you can apply heat to your hair to style it is through Dominican blowouts. A Dominican blowout is used to straighten natural hair. Judging by the name, this hairstyle originated in the Dominican Republic.
This hairstyle is gradually finding its way into many countries, including the United States of America. As usual, with all blowouts, Dominican blowouts require shampooing and blow-drying. One should note that making this hairstyle does not necessarily involve using flat irons and chemicals. So, it is a safe way to switch up your hairstyle and get good-looking bouncy hair.
Due to its versatility, most people opt for Dominican blowouts. That is because it is very to hair your hair down, pin it up, or even wear your hair in a ponytail whenever you have a Dominican blowout. It would be best if you got an expert on Dominican blowouts to handle your hair. Else, your hair in the wrong hands will not turn out to be good. Read on to know how a Dominican blowout is done.
How A Dominican Blowout Is Done
You can achieve a Dominican blowout in four steps: shampooing and deep-conditioning, rollers, blow-drying the hair and wrapping. Read on to discover these processes.
1.    Shampooing & Deep-Conditioning
Primarily, the thing your stylist has to do is to wash your hair. They should use a good shampoo to remove impurities, excess oils, and buildup in the hair. If you want to know how to access a good shampoo for your hair, click on this link to guide you on how to make your healthy shampoo at home.
Shampooing your hair is very important and foundational to Dominican blowouts because it is practically impossible to achieve the hairstyle with a smooth finish without freshly washed hair. After shampooing, it is time to condition your hair. Conditioning your hair is highly important when getting a Dominican blowout because it moisturizes your hair and decreases your chances of heat damage to your hair.
Do you know you can also create your moisturizing and nourishing deep conditioner at home? Well, it is possible. Another option is to go to a local hair store and purchase a deep conditioning cream for your hair. These two options depend on whether you want to shampoo and condition your hair at home before going to the Dominican blowout's stylist.
Ensure that the deep conditioner applied to your hair is rich and nourishing, as it will make the final look an excellent one. It will also make the hair straightening process easier and faster.
2.    Rollers
After the deep-conditioning process, the stylist has to put your hair in rollers. Setting your hair in rollers helps with stretching and straightening your hair so that when your hair is undergoing the blow-dry process, it is easier. Rollers and Dominican blowouts have a certain reputation. They are known for outdooring the volume and bounce of your hair.
After your hair is set out in rollers, you will then sit under the hair drier until your hair is dried. This process should take an hour or two, depending on how long and porous your hair is.
3.    Blow-drying The Hair
After drying your hair in the drier, the stylist will remove the rollers. Then your stylist must apply a heat protectant to your hair before they begin blow-drying. Heat protectants are important during this process because they create a barricade between the heat-styling tool and your hair. Thus, it seals in moisture and prevents your hair from frizzing.
While using a blow dryer on your hair, the stylist will use a round comb until your hair has a touch of perfection and looks straight. Sometimes, the stylist may use a flat iron to create a smooth finish. The flat iron often appears when a piece of hair is too stubborn during the straightening process.
Once the hair is straightened, the stylist will finish the process with an oil or serum to lock in moisture and give the hair a shiny look.
4.    Wrapping
The final step is wrapping the hair. This step is where the stylist swaddles the hair around the head to ensure that hair is straight and smooth. Swaddling the hair makes it bouncy and easy to maintain for a long time.
How Long Does Dominican Blowout Last?
Dominican Blowouts do not last for long. The maximum they can be maintained for is up to four weeks or the next time you decide to wash your hair. Hair porosity is one of the most significant factors in maintaining the Dominican blowout. If your hair has high porosity, rest assured that this style will last up to only two weeks maximum.
However, this style can last up to a month if you have low-porosity hair. Another factor depends on how well you take care of your hair while wearing this style. Most people find it hard to believe that it is possible to wear this style for up to a month. The catch is a month and nothing more. Not a lot of people are excited about this, though.
But for others, it is a good time to switch to a new hairstyle.
How To Keep Your Dominican Hairstyle For A Long While
Here is a list of to-do activities you can do to maintain your Dominican Hairstyle for as long as possible.
1.    Water Is Not Your Friend
While you have a Dominican hairstyle, keep water/steam as far away from your hair as possible. Do well to keep a hair cover in your purse on a rainy or windy day. This is because once the water comes into contact with your hair, your hair will shrink, rendering the blowout redundant.
2.    Always Wear A Shower Cap Whenever You Are Taking A Bath.
Always wear a shower cap when showering. For extra protection, tie a scarf around your head, then wear the shower cap on the tied scarf for extra protection.
3.    Avoid Water-based Moisturizers.
As mentioned before, water is not your friend. The same goes for all hair products with water as an ingredient. You must moisturize your hair. Moisturizing our hair is the first lesson every naturalista needs to get in natural hair class. However, water-based moisturizers will not help maintain the style if you have Dominican blowouts.
Opt for those with oil instead, or use natural oils.
4.    Tie A Satin Wrap At Night.
As a naturalist, a satin wrap or bonnet is your best friend. Tying a satin wrap at night is wise to maintain the characteristic bounce and shine a Dominican blowout comes with. This act also prevents your hair from messing up due to the toss and turns you do while sleeping.
5.    Wrap Your Hair Tightly With A Satin Scarf During Exercise Sessions
Exercise is good for your skin and hair. You do not have to forego routine exercise because of a Dominican blowout. You can wrap your hair tightly with a satin scarf. Wrapping your hair is important because it prevents sweat from getting into your hair and messing up the blowout.
6.    Apply A Few Light Oils
As noted earlier, your hair needs to be moisturized with oil-based products. Another option is to apply natural oils. Apply light oils to your hair to prevent the hair from becoming greasy. Some light you can apply to your hair while having a Dominican blowout include castor oil, jojoba oil, rosemary oil, or olive oil. Apply any or a combination of these oils to the ends of your hair daily.
What To Consider Before Doing A Dominican Blowout
Perhaps, you are new to the idea of a Dominican blowout. Here are some things you consider:
How Long The Session Takes
Even though the Dominican blowout can last a short while, it can take a long while at the salon. It would help if you considered whether sitting down for hours on this hairstyle which will last for only up to a month, is worth it.
Who Handles Your Hair
One of the fears of any 'naturalista' is ending up at a salon that does not appreciate your hair well enough and damages your hair. Some salons are notorious for putting relaxers in their shampoos without the knowledge or permission of their clients. That is detrimental to any naturalista's hair because the chemicals in relaxers cause the hair to break.
Thus, research the salon you would be entrusting your hair. Talk to people who frequent their salon, and seek their independent opinions on their hair processes. In short, find out if the salon is reputable. Also, please speak to your stylist beforehand to ensure they don't do something to your hair that you are uncomfortable with.
Another option is to wash your hair with homemade shampoo and deep-condition your hair before going to the salon.
Heat Damage
A reputable hair stylist will do their best to ensure that your natural curls stay healthy during the styling session. However, sometimes that alone is not enough, as the heat used during the styling session can damage your hair. You would need to consider whether the possibility of losing your curls over a month-hairstyle is worth it.
But it is not all that gory because you may not lose your curls. On the other hand, it is also a great and different way to style your hair. However, you may have to abstain from heat styling tools for a while to avoid messing up your curl pattern.
FAQs
1.   How Often Can I Get Dominican Blowouts?
You can get it as much as you want so far as your hair can endure the heat styling processes without getting damaged. If your hair is prone to damage, you should try this hairstyle once every six weeks.
2.   Can I Do Dominican Blowouts At Home?
Yes, you can. However, doing it by yourself requires using a specific round brush technique. It would be best if you also had a hair dryer and large rollers. Most people do not have these at home, so they go to the salon. Also, most people want the professional touch that the style comes with.
3.   Who Cannot Get A Dominican Blowout?
People with damaged hair, chemically treated hair, or extensions should stay away from Dominican blowouts as much as possible. Heat on damaged hair is a big no-no as it delays healing. Also, the result will not be as refined as healthy hair because damaged hair can be quite difficult to work with.
4.   Are Dominican Blowouts Painful?
Dominican blowouts are not necessarily painful. Sometimes the stylist styling your hair is also a factor to consider, but the process should not be painful. You should note that a certain amount of pulling and tugging is part of the process, especially for those with natural hair.
5.   Do Dominican Blowouts Cause Heat Damage?
The disadvantage of Dominican blowouts is the heat involved during the process. You can damage your hair whenever you apply heat to it, so if you have any reservations about this hairstyle, that is normal and fine. It means you care about your hair. However, if you have a good stylist and healthy hair, the risks of heat damage to your hair should not be too high.
You can also help your hair by incorporating a good hair care regimen and avoiding heat styling tools like flat irons and blow dryers.
Conclusion
In a nutshell, natural hair is so versatile. One of our advantages as black women is to slay the beauty out of our hair. One distinct way we can do that is to add Dominican blowouts into our many hairstyle regimens. I believe that after reading this article, you have come to learn one more thing you can do with your hair.