Wash-and-Go Hairstyle For Natural Hair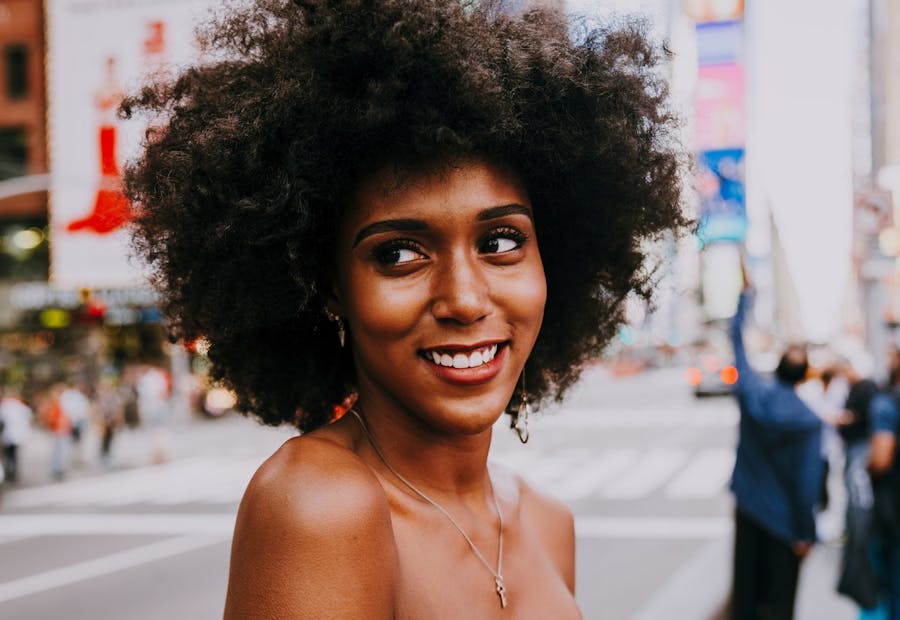 If you're looking for the best wash-and-go hairstyles for natural hair and 4c hair, I'm here to help. My name is Joanna. I'm a hair, beauty, and lifestyle blogger based in Ghana. Continue reading for my easy-to-follow tips, and don't forget to follow my Facebook page, where I share more hair, beauty, and lifestyle tips.
For natural hair keepers, washing and styling hair strands can be a day-long process. Whether you are a woman on the go or someone who just can't be concerned with spending hours on your hairdo, wet natural hairstyles come in as a lifesaver for afro-textured hair. Numerous wash-and-go styles are easy to attain and perfect for landing your coil description.
When you are in a hurry, relying on a no-fuss hairstyle cuts down your hair styling routine while saving time for other things. Wash and go hairstyle isn't simply cleaning and styling your tangled hair or mane; it is a technique that can protect your hair from breakages, itch, dryness, and split ends with minimal effort. Many styles can help you achieve the same goal, but it is agreeable that the wash-and-go hairstyle leads the trends.
It should also be noted that wash-and-go hairstyles are not the same as protective styles; wash-and-go helps to define your natural texture. While this may be true in some cases, the fashion doesn't have to fully count any styling. With a little tender loving care, any natural hairstylist can change their hair in a matter of beats without ever picking up hair tools.
For babes with kinky, coily strands, it can be delicate to style, which is why this low- maintenance fashion is a go-to for busy women who want to rock their hair. It gets fascinating right? Below are some wash-and-go hairstyles that can make your hair care and styling journey easier and more relaxing.
    Top Knot
Top knots, also known as top buns, are a very popular style, and it is actually for a good reason. They require no work or mastery, which makes them the perfect wash-and-go hairstyle. To bring this style to life, you need a brush, a few bobby pins, and an elastic hairband. You can also achieve this look in many different ways by adding extensions to create a fuller look or creating one braid at the side before putting it up in the bun.
Using Edge control, you can style your hair and baby hair(edges).
  Flat Twist Into A Low Bun
This hairstyle pays homage to the 90's "naturalistas." Flat twists are a classic hairstyle that is still giving. It is a stylish way to keep hair off your face. Every natural hair babe can incorporate this easy braiding hack into a wash-and-go routine. This protective style is perfect for those who love to skip a long styling session.
After washing your hair, you may start by creating a horizontal part in the middle of your head. Then, pin the back portion up and out of the way. Focus on the front portion, split it in two with a vertical part, and pin one side up. With the remaining free section, you have to grab it and then wrap them together, creating a single braid, till you reach the middle of your head and secure it with an elastic hair band.
Do the same for the other side. Upon completion, brush out the back portion of hair, incorporate the twists, and pull everything into a ponytail. Roll and twist into a bun and secure with bobby pins. You can apply hair gel to make those hair strands that define gravity lie down.
   Bantu Knots
Don't look beyond Bantu knots when looking for a style that can last you days at a time. This wash-and-go hairstyle takes a little more time, but it is worth it. Achieve this look by parting your hair into small sections using a comb. You roll and twist each section of hair and wrap it on top of itself to create a mini knot. After a few days, unwrap and enjoy the loose curls left behind.
   The Pineapple
Pineapple-ing your hair is a popular option for natural hair where you gather all your curls onto the top of your head. The pineapple style will boldly showcase your curls. Your end look will resemble a pineapple slightly, hence achieving a cute look.
   Half-Up-Half-Down Bun.
By now, you should know all "naturalistas" love bun styles. This style is great for medium-length, long, and short hair. To get this look, separate your hair into two sections with a horizontal part. Then, starting with the front section, apply the gel at the roots, brush your hair and pull it into a ponytail. Roll your hair into a bun and secure it with hairpins.
Lastly, loosen the back section, comb through and moisten your hair with a hair spray evenly over your hair.
  High Puff
Do you love adding height to your hair? The high puff will for sure get the job done. The high puff features voluminous ponytails that showcase thick-afro textured hair and slick edges. It is almost similar to the top knot, making it look shinier than mist hairspray over your hair. It is a perfect wash-and-go hairstyle for tightly coiled and curly hair. It is easier to achieve this look and convenient for ladies on the go.
    Double Puff/Bun
Double Puff is one easy wash-and-go hairstyle, a classic style that has been for a very long time and doesn't look like it will disappear anytime soon. Double puff is a versatile option "naturalistas" love because they can be styled by adding two mini twists in front with or at the sides with beads at the ends.
To achieve this look, split your hair into two sections and pull it into high pigtails with an elastic hairband. You can leave your hair in a puff or lightly tease each pigtail and wrap it into a bun by securing it with a bobby pin. Variety of this includes zig-zag, triangle, or box parting. Make your puffs or buns look cuter by applying edge control gels.
Side Twist Low Bun
The side twist low bun will do it just the right way to give your hair extra glam! This style is irrefutably chic. It highlights your hair texture while giving your face a gorgeous frame. Get this look by creating a horizontal part a few inches away from your hairline and pin the bigger portion away to the back. Split the small section, and twist your hair from the roots to the tips.
Upon reaching the end, pin the twists and secure them into a ponytail with the rest of your hair. Role your hair into a bun and put some mousse on your hair strands for a lasting shine.
  Teeny Weeny Afro (TWA)
The teeny weeny afro is another wash-and-go hairstyle that should not be rated in the 4C hair community. This hairstyle is especially for those with short hair and who may be quite new to the natural hair community. It is quite easy to think that because you may have short hair, once you are done with the hair cleaning routine, that is it, you are stuck with your TWA.
However, there are several innovative ways of styling your TWA. You can wear it as a twist-out or a braid-out. An alternative is to create a side part. You can even make a faux hawk with your TWA. You can also create some finger coils or even define your curls with some hair products for this purpose. On this note, let me help you achieve a TWA with finger coils.
Achieving a TWA with defined curls may take a wee bit of your time compared to the other wash-and-go hairstyles listed in this article, but it is worth the time. This is because it leaves your hair with definition; all you need are your fingers and styling products. So, begin by washing your hair as usual, but leave it wet. Then, apply a curl cream whiles separating your hair into sections.
After that, twirl the hair of each section you parted around your finger. Do it till you have covered the entire hair on your head, then leave them out to dry. Once your hair coils are dry, you can stretch them out or separate them so that your hair can get some definition, volume, or even both. Fantastic right? This hairstyle may take a while to do, but it can last a week.
African Threading Hairstyle
African threading is another wash-and-go you can adopt. This hairstyle was developed in Sub-Saharan African countries like Ghana and especially Southern Nigeria. In fact, several names have been adopted for this hairstyle. In Ghana, it is usually identified as "Adonko." in Nigeria, the threaded hairstyle is also called "Los" or "Eko bridge."
Several innovations have been associated with this hairstyle. For instance, instead of threading the hair and leaving it standing all over, one can join threaded strands to form circles on the head. The hairstyle mainly involves wrapping sectioned parts of the hair from the root to the tip of the hair in black thread. African threading also counts as a protective hairstyle as it encourages less manipulation of hair.
It is also a safe method of stretching the hair as it stretches the hair like a hair dryer would minus the heat involved. African threading is so simple that you can do it in the comfort of your dressing mirror at home. Another option is to also see a hairstylist who can also make this hairstyle for you. If you want to achieve this hairstyle,  all you need is a comb, shea butter, a pair of scissors/razor blades, and spools of black thread.
To begin with, comb the hair and make sure there are no knots or tangles, then divide the hair into eight sections. The purpose of this to not to section small pieces of hair as one cannot keep them on for too long. The next step is using hair clips or pegs to secure the hair, apart from the section of hair you intend on working on.
Apply the shea butter to the particular section you want to work on. Then, grab the end of the thread by twisting it around the hair at the scalp. Now, wind the thread in a clockwise rotation around the sect of hair you are working on, and gradually work your way with the thread towards the tip of the hair. When you get to the tip of the hair, tie the thread three times, or even four, so that the thread does not unravel.
After securing the knot, cut off the thread's end with scissors or razor blades. Then continue to use this same method with the other sections of hair you secured in the beginning til you have no more hair to work with. And that's it! The ancestors may be congratulating you on a job well done! This hairstyle can last for over three weeks, depending on how well you manage it. Also, do not forget to wrap a scarf when going to bed.
Faux Hawk
Faux hawk styles are the bomb! Its stylish and trendy look will make you stick out in whichever setting you find yourself. So if you are all for catching attention with your hair, the faux hawk hairstyle is for you.  All you need to style your hair is hairspray, hair gel or pomade, and bobby pins. You can begin at one side of your head; apply a reasonable amount of hair gel to the sides of your hair, brush toward the middle of your head, and secure with bobby pins.
Repeat this process on the other side of your head. Finish up the hairstyle with a mist of hairspray, and you can call it a day.
Conclusion
To end with, afro-textured hair may require a little more maintenance and styling daily. And that is why wash-and-go hairstyles are here to save the day! Therefore, you should get some styles on your natural hairstyles list and save time and stress. Also, who doesn't like to rock a new natural hairstyle once in a while? I like to think not you!
Let me know what you think about this article. Share it with your friends and family. Try the hairstyles and let me know your experience with each.