Top 10 Most Investable Countries in Africa 2022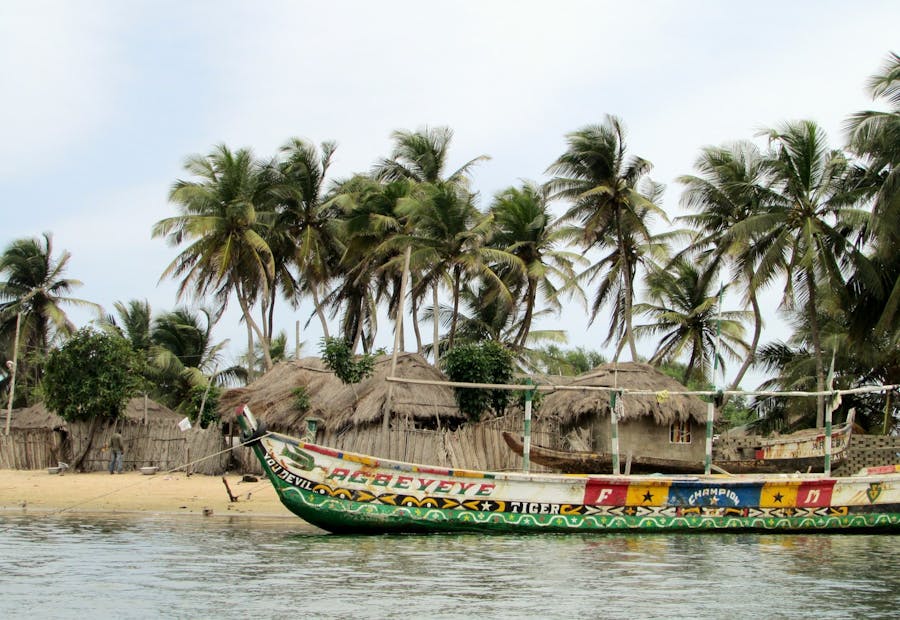 Africa is the world's second-largest and second-most-populous continent, only after Asia in both cases. The continent has about 79 percent of its youth within the youthful age bracket of 15-27588. Combining these prospects with Africa's diverse resources positions it as an investment-worthy target on the global stage. 
Africa's economy wields significant potential even after the COVID-19 pandemic reduced the inflow of foreign direct by about 16 percent in 2020. According to DW, Africa's economic output grew by over three percent in 2021, and experts predict further growth as countries reduce the numerous COVID-19 restrictions.
Investment opportunities on the African continent vary from one country to another. And this article will point you towards the top ten most investable African countries in no particular order.l
1)Rwanda
Rwanda is the leading destination for foreign direct investments in Central Africa. The country has gained significant traction with campaigns like Visit Rwanda and 'invest in Rwanda.'
Under its leader Paul Kagame, Rwanda has achieved impressive growth across all economic sectors. It aims to become a middle-income country by 2035 and a high-income country in the next fifteen years. 
The country launched its National Strategy for Transformation to guide its vision and development efforts. The COVID-19 pandemic hampered its trajectory in 2020, increasing inflation to ten percent from its previous 3.3 percent inflation rate in 2019.
According to Rwanda's Development Board, the country has major investment ties with China, the US, and the UK, focusing on construction, infrastructure, and technological acceleration. 
According to Rwanda Development Board's 2020 Annual Report, China, the US, and the UK are its main investing countries. Key sectors include mining, construction, real estate, infrastructure, and ICT.
2)Nigeria
Nigeria has had a fair share of bad PR in recent years, with citizens facing multiple challenges accessing and exercising their social rights. 
That's notwithstanding, Nigeria can be an economically sound option for different investment types. The country's GDP crossed five hundred billion dollars in 2021, with slots affecting quarterly GDP growth numbers. 
According to Statista, Nigeria's GDP rose by over four percent by the third quarter of last year. The economy continues its steady growth into the future, with experts predicting a double-figure GDP contribution by the end of 2022. 
Also, Nigeria has a diversified investment pool giving investors multiple options to run with. While agriculture, natural gas, and crude oil account for 11 percent, and main exports account for 16 percent, other sectors like Nigeria's arts and entertainment industry 
3) Egypt 
Egypt has seen its GDP growth double to the highest rate the country has ever chalked since 2013. According to Egypt's Central Bank, GDP growth reached 5.5 in 2019. 
Across Africa, Egypt has had a steady foreign direct investment inflow, becoming the largest recipient in 2018. Successive governments since 2013 have collectively established bold policies to better the lives of the country's over 100 hundred million population. 
Egypt introduced new structural reforms like the Investment Law in 2017 and revised the existing bankruptcy act and companies law. These legislations improve the business and investment climate, ensuring the government takes center stage in leveraging investment opportunities for its macroeconomic woes.
You can talk of the Investment law incentivizing local development in the country's poorer regions and the bankruptcy act fostering entrepreneurship and growth of small and medium businesses.
Already, these policies have begun to affect key indicators like account deficit and unemployment over the short to medium term. 
For instance, the budget and current account deficit indicated a narrowing trend as of 2019's second quarter due to decreased spending on energy subsidies, introducing a new value-added tax (vat), and cleaning its wage bill structure.
 These positive gains came to a halt due to the pandemic. 
The good news about Egypt's economic recovery is inherent in the country's vision to establish a competitive, balanced and diversified economy. For this reason, the Central Bank of Egypt allowed the exchange freely float, increasing the competitiveness of the Egyptian currency and stopping the depletion of its foreign reserves.
Despite the COViD-19 short-term effects, Egypt's long-term perspective affords investors more clarity. 
As of 2019, Egypt was the second-highest GDP in Africa, valued at 394 billion dollars. . The country profits from a mixed economy facilitating investments in fossil fuels, agriculture, tourism, etc.
Ultimately, Egypt's vision by 2030 is to triple its GDP growth to 12 percent, reduce unemployment by 5 percent, and move the country further up to the top 30 regions of countries favorable for doing business. 
For this reason, investment in Egypt has almost become self-service, with digital and on-the-go platforms like the Investor Service Center providing information for new investors. The platform can also be a one-stop shop for investors interested in Egypt to certify documents, register assets, assess mergers and demergers, etc.
Egypt hasn't only made it favorable to invest in its economy, but platforms like the Investment Service Center make it easier to do business. 
4) South Africa
Efforts to move South Africa's economy beyond the pandemic have already begun. The South African government reacted in numerous ways, including setting up a ten percent GDP relief package.
Trading Economics touts South Africa as Africa's most developed and industrialized country, with services representing 73% of its GDP. But the pandemic hit the economy hard, deteriorating fiscal accounts, increasing interest payments, and exposing the government's already high wage bill. 
Tourism, a major South African economy enabler injecting over 130 billion dollars into the economy each year, came to a standstill during the pandemic. According to Statista, tourism's GDP contribution to the south African economy declined from 6.9 percent in 2019 to 3.7 in 2020. 
However, things are gradually picking up again, raising the eyebrows of many investors. New data reporting of the country's economic indicators depicts significant growth for South Africa's post-pandemic future.
South Africa's GDP stands at 329.53 billion dollars as of 2021, benefiting from business and government services, real estate, finance communication, transport, etc. 
 Bloomberg predicts South Africa's industrial economy to grow by percent by the end of 2022 and 2.1 percent in 2034. 
Also, available data by Bloomberg indicate that Africa's most industrialized economy could grow by 2% in 2022 and 2.1% in 2023 after the COVID-19 pandemic forced a drop in mining production and manufacturing. 
Nedbank also predicts a 4.4 percent economic growth by 2021 with a budget deficit lesser than 14 percent. 
The South African targets inflation to fall between three and six percent giving them enough control over price levels. This transformation aligns with the country's 2020 to 2025 Industrial Policy and Strategic Plan feeding into South Africa's 2030 vision of achieving high-income status, supported by a highly productive manufacturing sector.
On the other hand, South Africa generates the lion's share of the continent's foreign direct investment. In 2019 FDI projects increased to 130, with plans to generate over 100 billion dollars by 2023. 
This makes South Africa the largest stock exchange on the continent, with strong macro stability to ay the part. 
5) Algeria 
Algeria is best known for its renewable energy, oil and gas, and other natural resources. It is one of the top ten producers of oil and natural gas. The entire Algerian economy hinges on these resources, with oil and gas making up 60 percent of the country's budget. 
The country had a GDP of over 151 billion dollars as of 2021.
Algeria's renewable energy, tourism, and liquidity reserve are foreign direct investment points. The country's economy relies on oil and gas, amounting to 60% of the state budget. Information from Statista shows that the Northern African country has a GDP of $151.46 billion as of 2021.
 GDP per capita fell below three thousand dollars, drastically lower than the five thousand average amount between 2013 and 2018. This is due to the COVID-19 pandemic and the resultant dip in oil prices.
The country plans to bolster its economic recovery through numerous policies and reforms. 
First, Algeria plans to remain one of the world's top producers of natural resources. For this reason, authorities seek to inject about 120 billion dollars into the renewable energies sector by 2030. This money will improve its aging upstream and midstream infrastructure to meet its domestic production goals.
Information Technology is another priority for the Algerian government as it seeks to improve its home Internet penetration rates beyond its current ten percent toward a third-generation technology. 
As part of the government's 286 billion dollar infrastructure development program, the Algerian government is focused on multiple transportation sectors, including road, rail, and air. The fund will also support the construction of hospitals, public housing units, and water treatment plants.
6) Morocco
Morocco's 124 billion dollar GDP size as of 2021 makes it the 5th largest economy in Africa. The Moroccan economy is predicted to grow by 3.2 percent by the end of 2022, thriving on numerous growth factors, including agriculture and housing.
Morocco is one of the topmost earners of foreign direct investment in the North Africa subregion. It ranks above Egypt, earning 0.17 projects per hundred thousand people. 
Even though the pandemic has curtailed the inflow of foreign direct investment and several other economic indicators, efforts like Industrial Acceleration Plan by the Moroccan government are expected to help Moroccans recover from the shocks. 
The plan will provide over five hundred thousand jobs, increase its foreign direct inflows and raise output in key revenue earning sectors.
Moroccan economy favors openness towards investors from every part of the world. It aims to liberalize foreign trade, achieve economic integration on the world stage, and consolidate the multilateral trading systems. 
Morocco's ambition to transition into a major player in the Automobile industry can also be exciting news for investors. 
7 Kenya
If you're looking for a thriving country in the central and eastern African sub-regions, Kenya's economy is one to consider for your investments. Kenya contributes about 50 percent of the Eastern African sub-regions' GDP. 
The country is gradually moving past decades of conflicts by establishing political truces and bilateral trade agreements. Kenya is leveraging its reputation as the topmost country regarding human capital quality and the availability of research and innovation. 
According to the World Bank, Kenya could grow by 4.9 percent by the end of 2022. Trading Economics also projects the country's GDP to increase from 107 billion dollars in 2021 to 110 billion dollars in 2023. 
A huge part of this growth is dependent on the country's resilience and conscious efforts to modernize its economy beyond its agrarian economy. 
The financial Times nicknamed Kenya the Silicon Savana due to its growing startup community, especially in the Information Technology sector. 
Kenya has one of the highest internet access and proliferation rates on the content supporting its drive to position the country as a significant player in the IT market. This trend makes it ideal and convenient for investors to capitalize on Kenya's investment opportunities for consistent returns. According to the Nairobi Exchange, plans are underway to ensure mobile-savvy Kenyans can buy shares on their phones, distributing opportunities equitably across multiple income groups. 
8) Ethiopia
Ethiopia is Africa's second-most populous country, with a population size of about 107 million people. Its population structure is gradually transitioning towards the working-age group, setting the stage for disposable income and economic growth. 
Ethiopia is a significant earner of foreign direct investment and remains one of the top investment destinations on the African continent. In 2018, Ethiopia launched an online guide to stimulate FDI inflow. The country introduced a new fund early this year to strengthen FDI generation after the pandemic, and the Tigray war undercut its status on teh FDI market.
Ethiopia's prime minister Abiy Mohammed is keen to regain economic momentum by encouraging privatization. The Ethio Telecom transaction is a testament to his privatization agenda with numerous plans to open the country's banking and financial sector to foreign investors. 
Investors can look out for key economic sectors, including automotive, power infrastructure, agriculture, and construction. 
With projects like the Grand Ethiopian Renaissance Dam, Ethiopia is well to become Africa's largest hydropower plant supporting its quest to modernize agriculture and industrialize its economy. According to Deloitte, this can make Ethiopia's industry sector the second largest GDP contributor by 2025.
Agriculture in Ethiopia also holds significant investment opportunities. You can talk of the country's booming flower and coffee production base worldwide.
According to Reuters, all these efforts complement Ethiopia's quest to see a near nine percent economic expansion by the end of 2022.
9) Ghana
Ghana was announced as the secretariat for the African Continental Free Trade Area (AFCTA) in 2020. The AFctahas about fifty African countries as signatories making it the world's largest free trade area, covering over a billion beneficiaries and a combined GDP of three billion dollars.
Ghana playing host to this new development's progress will further entrench the country's position as the gateway to the African market. The agreement has already seen indigenous Ghanaian companies like Kasapreko and Ghandour cosmetics establishing a huge presence in the South African and Ivorian markets. 
Alcoholic product manufacturers Kasapreko airfreighted a container-load of goods to South Africa, while Ghandour Cosmetics shipped by sea items to Guinea.
According to CNBC Africa, Ghana plans to expand its economic base and GDP contribution across all production sectors, including the industrial and manufacturing sectors. Flagship private-sector-led programs have led global automobile players like Japan Motors to establish an assembly plant in Ghana. 
Ghana has also been a major benefactor of Tourism before the pandemic with projects like the Year of Return which saw over a million tourists thronging Ghana to mark the historical event since the trans-Atlantic slave trade. Even though the tourism industry continues to recover from the pandemic shock, Ghana's 'Beyond the Return' initiative and plans to transition the country to a MICE destination will quicken the industry's recovery. 
Technology is also a mainstay of Ghana's rapid economic evolution, with Google and Twitter leading the charge by establishing their headquarters in teh capital city of Accra. This move is expected to lure more other tech companies and investors in, pushing Ghana to a regional IT hub in Africa, emphasizing building startups and training tech talents. 
10. Botswana 
Botswana's landlocked status is in no way a limitation to the fast-growing economy. In 2021, the Index of Economic Freedom Ranking placed Botswana in the third position among other countries in the sub-Saharan region. Over the years, Botswana has benefited from diamond mining and agriculture. However, the country is on a diversifying agenda chasing emerging growth sectors like the tourism and manufacturing industries as part of its vision of 2036. 
The country recorded a 9.7 percent growth rate in 2021 and is expected to make even higher strides with more FDI as the Financial Action Task Force removed Botswana from its great list. Botswana has improved in critical areas like money laundering and other terrorist financing activities. 
Botswana is also planning a shift towards renewable energy to support its industrialization and economic modernization agenda. For this reason, it signed an agreement with the United States to develop a mega solar project which will see Botswana become energy self-sufficient and a net exporter of renewable energy. 
A shift towards renewable energy will allow many African countries to stabilize electricity demands and ensure demand doesn't outstrip supply.
In 2021 Botswana, Namibia, and the United States signed a memorandum of intent to create a mega solar project in the two southern African countries. This would transform the countries into exporters of renewable energy.
Which country in Africa is developing fast?
Botswana holds the fort as the fastest growing economy in Africa after kicking away conflict limitations and FDI revenue generation restrictions. With the current economic growth rate pegged at 9.7 percent, the Bostwana government is set o achieve an additional 4.3 percent growth by the end of 2022.
Which country in Africa has the highest GDP?
According to Statista, Nigeria has the highest GDP on the African continent, with Egypt trailing behind in the second position. In 2021, its GDP amounted to 514 billion dollars, with Egypt's amounting to 394 billion dollars.
Which country in Africa is the most peaceful?
Mauritius was adjudged the most peaceful African country by the BBC's 2021 Global Peace Index, making it one of the favorite travel destinations for over a million tourists. 
What is the poorest country in Africa?
According to Business Insider, Burundi is Africa's poorest country, with a 771 dollar GDP per capita. The landlocked country has a fast-paced population growth rate and a production base lagging behind the established economic indicators.