Top 10 mineral resources in Ghana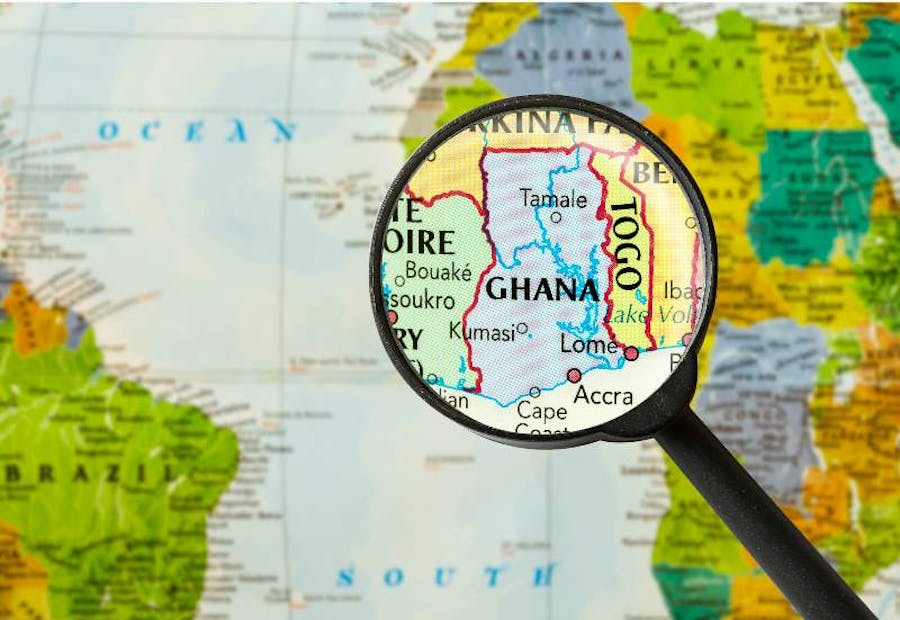 The West African county of Ghana has always been blessed with large mineral deposits since the 16th century. However, it is only recently that new technology has made it possible to locate mineral deposits easily.
With that in place, it has piqued the interest of numerous international companies. The Mining Industry in Ghana contributes to about 5% of the country's GDP, while minerals make up approximately 37% of total global exports. Ghana currently has 23 mines that excavate various minerals such as diamonds, bauxite, gold, and manganese.
There are also 300 registered small-scale mining groups and 90 mine support service companies. In this article, we'll discuss ten mineral resources in Ghana, where they are located, and their use to the country. Let's begin.
Gold
This is the most naturally occurring metallic mineral in Ghana, making Ghana the 2nd largest gold producer in Africa and the 7th largest producer globally. Gold is generally used to make jewelry but can also be used to make coins, for dentistry, medicine, and even has applications in the aerospace industry.
Even though yellow gold is the most known form of gold, white gold (a mixture of gold, palladium silver, and nickel) also exists in some parts of the world and is typically used for bridal jewelry. Gold mines excavate about 101.7 tonnes of gold yearly, accounting for 20% of the nation's total exports. Some gold mining companies in Ghana include AngloGold Ashanti Limited, Perseus Mining Limited, Newmont Ghana Ltd, Golden Star Mining, and Green Gold Mining Ltd.
The primary gold deposits in Ghana are Obuasi, Damang, Prestea, Tarkwa, Abosa, Bogoso, and Bibiani.
Crude Oil
Ghanaians have been drilling oil for quite some time; then, in 2008, Kosmos Energy LLC struck liquid gold. Oil production began in 2010, and the crude oil found was estimated to fill about 6.5 million barrels. In general, Ghana is believed to have about 5 billion to 7 billion barrels of crude oil in its reserves.
This makes it the 6th largest oil reserve in Africa and the 25th in the world. Crude oil is one of the base materials for transportation fuel like diesel, kerosene, jet fuel, and gasoline. It is additionally used for electricity generation and heating. The most common oilfields in Ghana include Jubilee Oilfields, Joy Oilfields, and Butask Oil Fields.
Manganese
Consmin is a company that owns about 90% of the Ghana Manganese Companies, holding one of the country's largest manganese mining sites. Manganese is often used as an alloy to make other metals, like steel, because it is too brittle to function as a pure metal. It can be found in the ground as ore in two different forms: oxides and carbonate. Seven regions in Ghana are filled with deposits of this mineral. They are the Upper-West, Ashanti, Western, Northern, Central, Upper-East, and Eastern. The primary deposits are at Nsuta in the Western Region.
Diamonds
Diamonds are one of the most valuable stones globally, and only a lucky handful of nations have access to deposits. However, Ghana is fortunate since the country has more than 11 million carats of diamond reserves located throughout seventy miles to the North West of Accra. It is mostly mined at Akwatia in the Birim and Bonza diamond fields.
Ghana currently produces approximately one million carats of diamonds per year, making the country the 9th largest diamond producer globally. Diamonds are mostly used to make jewelry and to make cutting and drilling equipment.
Bauxite
Bauxite is one of the most common minerals found in the earth's crust, and its ore is rich in aluminum. Ghana has about 554 million metric tons of bauxite reserves. It is used in the petroleum, chemical, abrasive, refractory, steel, and cement industries. Furthermore, Bauxite deposits can be found im Ashanti, as well as the Western and Eastern regions. Additionally, the four major deposit sites are Kibi, Aya-Nyinahin, Ejuanema, and Sefwi – Bekwai.
Iron
Iron ore is in high demand due to its applications in population and infrastructure growth in almost every country. Iron ore is typically processed to form steel, which has countless benefits such as building beams, furniture, locomotives, and reinforcing rods for concrete.
There are three significant iron ore deposits in Ghana located at Oppong Mansi, Shieni, and Pudo. Similarly, some iron mining companies in Ghana include Maurla Mines Ghana Ltd, Gold Coast Resources Ltd, Minergy Resources Ltd, and Inland Ghana Mines Limited.
Salt
Since Ghana's coast faces the Gulf of Guinea, and its coastline stretches for about 500km, the salt production potential is enormous. Currently, Ghana produces between 250,000 tons to 300,000 tons of salt annually, even though it has a production potential of 2.2 million tons annually. The primary way of extracting salt in Ghana is by "Solar Evaporation" (using the sun's heat to evaporate the salty water, leaving only the ice crystals).
Salt is one of the most in-demand mineral resources globally, with its uses spanning domestic to industrial purposes.
Limestone
Limestone is one of the main ingredients used to make cement. Deposits can be found at Oterkpolu, Nauli, Buipe, and Bongo-Da. It is estimated that there are over 230 million tons of limestone reserves in Ghana. The GHACEM limestone quarry at Yongwa, established in 2014, is one of the biggest in Ghana. Apart from being a significant ingredient in cement, limestone is used in toothpaste, food additives, and raw material in the chemical industry.
Dolomite
The Buipe-Baka, in the Northern region, holds the highest dolomite deposit in Ghana. Dolomite is used in the chemical industry as an additive for livestock, as a soil conditioner, and as an ingredient in glass, ceramics, and bricks.
Natural Gas
Natural gas is formed through sedimentary and metamorphic actions on marine plants and animal remains. As the remains are buried deep underground, heat changes their composition over many years to oil and gas deposits. Natural gas is also extracted at the oilfields where crude oil is drilled. Some oilfields that extract natural gas are the Jubilee and Saltpond oilfields, which average about 2 million cubic feet of natural gas per day.
Conclusion
There you have it, the top 10 mineral resources and where they are mined in Ghana. As you can see, Ghana is rich in many mineral resources and takes advantage of this to boost their economy. However, there's an array of untapped mineral resources in Ghana; a few like crude oil and iron were recently stumbled upon.
Therefore, numerous global companies come into the country and spend millions of dollars to research the ground in the hopes of discovering other valuable minerals. Mineral resources in Ghana can be found in almost every region and do a great deal to boost economic growth. With all this said, don't forget to share this article with friends and family who may be interested in learning about Ghana's mineral resources. Also, leave a comment if you have any questions.
FAQs
What are the minerals in Ghana?
The West African country of Ghana is blessed with a myriad of natural resources. Most of the minerals are mined deep in the ground, on land, or at sea. These minerals include gold, silver, aluminum, crude oil, petroleum, gas, diamond, cement, manganese, and bauxite, to name a few.
How many minerals are in Ghana?
As mentioned previously, there are extensive mineral resources in Ghana, mined daily for processing and export. Some of these minerals are the primary source of revenue for the country, while minor minerals also contribute their quota. Ghana has six main minerals, which are gold, diamonds, manganese, oil, natural gas, and bauxite) Some minor minerals include salt, petroleum, and limestone.
Where is silver found in Ghana?
Silver is a kind of metal generally formed as a byproduct after refining gold, lead, copper, and zinc. It displays a shiny white feature and has high thermal conductivity, electrical conductivity, and reflectivity. Silver deposits in Ghana are found at the Ahafo mine in the Brong Ahafo Region and the Akyem operation in the Eastern region near New Abirem.
Who owns the gold mines in Ghana?
Ghana currently has about 23 major mining companies that manage a wide range of mines around the country. Their primary responsibility is to ensure smooth daily operation of the mines. Many mining companies focus on gold, which has one of the largest deposits in the country.
The gold mining companies in Ghana include Chinaro Gold Mines Ltd (a subsidiary of Red Back Mining Inc. of Canada), AngloGold Ashanti Ltd. from South Africa, Gold Field Ltd. of South Africa, Golden Star Resources Ltd. from Canada, and Newmont Ghana (a subsidiary of Newmont Mining Corp from the U.SA).
Does Ghana have diamonds?
Yes, Ghana does have diamonds. There are several deposits located in the Birim Valley, near Akwatia, where approximately 370,000 carats of rough diamonds are produced annually.
What is the price of gold in Ghana?
The price of gold is not often stable due to the demand and supply on the international market. Some units of measurements used are grams, ounces, or kilobars (a bar of gold). The current gold prices in grams are GHC354.69 per gram, GHC11,053 per ounce, while a kilobar is worth $61,076.04 for a spot price and $61,992.18 at the buying price.
What is the biggest company in Ghana?
The biggest mining company in Ghana is Gold Fields, which operates the largest mine in Tarkwa and another in Damang. These mines and the multitude of others owned by GoldFields produced 254,000 ounces of gold in 2018. Other huge mining companies in Ghana include Newmont Ghana, Kinross Gold, Perseus Mining, Golden Star Resources, and Endeavour Mining.
What is illegal mining in Ghana?
To mine in Ghana, you must receive the proper authorization from authorities. Even though mining contributes to the country's GDP, it also has adverse effects on the environment. That is why companies must undergo rigorous government checks to ensure that they have the required expertise to mine and are equally not mining in areas that would destroy the environment.
Since mining brings a lot of money, some unauthorized people, also known as "Galamseyers," mine to make a quick buck in some areas. Therefore, illegal mining refers to any mining activity undertaken by an individual or company without the appropriate reconnaissance permit or prospecting license required under the Minerals and Mining Act, 200 (Act 703).
Illegal miners mostly operate in the southern part of the country due to mineral deposits in the main mining areas' environs. These unauthorized acts are harmful to the ecosystem due to the effects of mercury emissions released from the ground, the formation of sinkholes, contamination of the soil, surface water, underground water, and biodiversity loss. Doing this will result in jail time from the Ghanaian authorities.
Can you take gold out of Ghana?
Taking gold out of Ghana or exporting gold is allowed; however, one must be aware of the rules and regulations on ground. You need a license to buy and deal with minerals. This license gives you the authority to export gold out of the Ghana jurisdiction. It is regulated under the Minerals and Mining Act, 200 (Act 703), which states among many other things that, "The Minister in consultation with the commission may provide licenses to persons the Minister considers fit, to buy and deal in the types and forms of minerals identified under the Act." Therefore if you don't have a license to deal in gold country and still do, you can be sentenced to many years in jail.