Best Flat Irons for Natural 4C African Hair 2020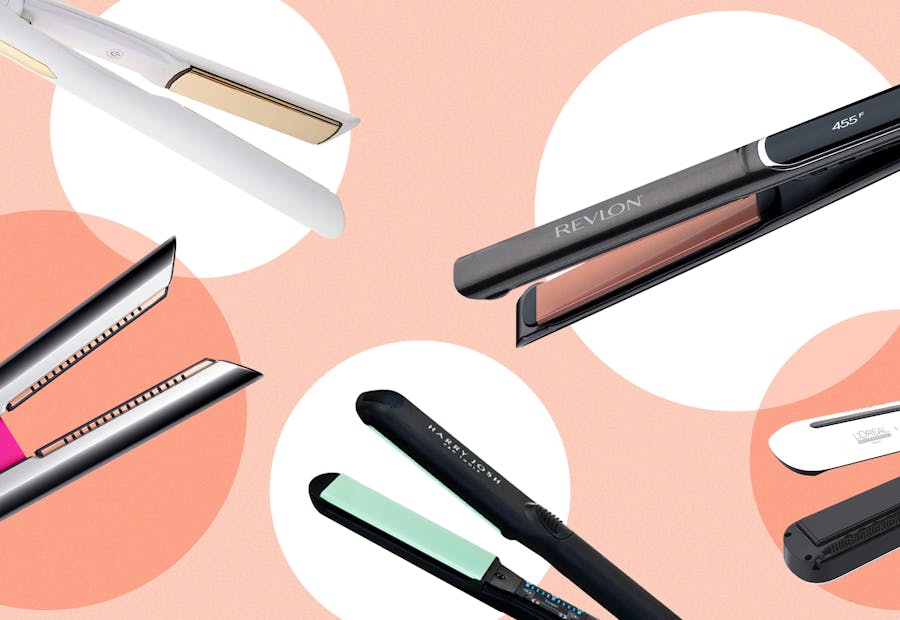 Being able to rock your beautiful natural curls is one of the perks of having natural African hair. However, you need a bit of versatility, which is why a lot of people with natural African hair straighten their hair now and again. When straightening natural hair, it is no secret your hair needs protection in order to avoid damage and breakage. To achieve this, you need the best flat iron for 4c natural hair.
The good news is that we've compiled the list of our top 10 flat irons for natural African hair. There are also helpful tips on how to straighten your hair, prevent heat damage, and pick out the right hair straightener for your texture.
HSI Professional Glider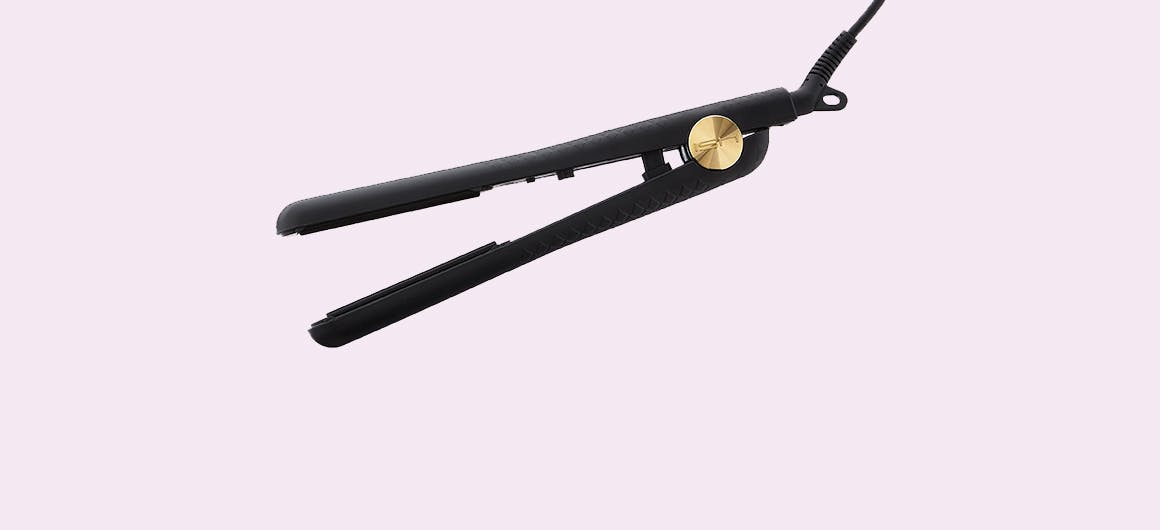 If you have natural African hair, then you know that applying any form of heat to your hair requires only the best appliances. If you are on the market for a natural hair straightener that will not only get the job done effectively but will also protect your hair from heat damage, then look no further than the HSI Professional Ceramic Flat Iron Glider. This flat iron features ceramic plates that are infused with tourmaline. These ceramic plates essentially ensure that smaller water particles are able to penetrate into your hair.
This way, you are less likely to experience static and frizz which could potentially ruin your styling. In addition, it comes with eight micro-sensors equipped with Heat Balance technology that evenly distributes heat while regulating the temperature of the iron. As such, you spend a lot less time straightening your hair. More than that, these plates are highly flexible in use, so you can easily flip, curl, or straighten your hair, all while using the same flat iron.
Key features
Features heat balance technology to deliver even distribution of heat
Complete with tourmaline-infused ceramic plates
Comes with a 360-degree swivel cord for flexibility
Wide temperature range between 140 and 450 F
KIPOZI Professional Titanium Flat Iron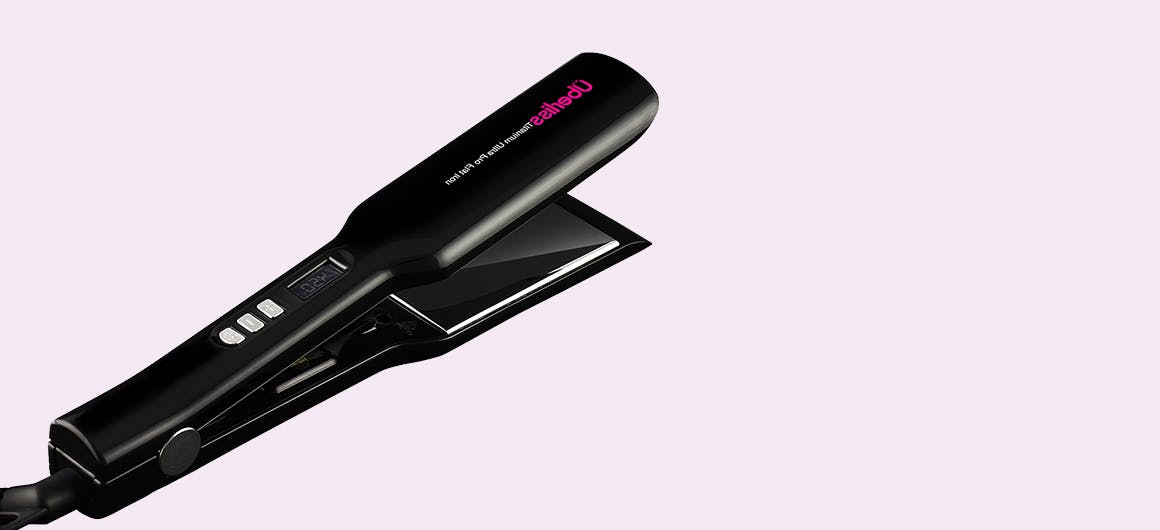 There's no better feeling than styling your beautiful hair using only the most luxurious hair appliances. The KIPOZI Professional Titanium Flat Iron Hair Straightener combines modern technology with luxury, giving you a hair straightening tool that is second to none. To start with, this flat iron sports an LCD display that is easy to read and shows you the temperature of the iron. As cool as that is, best believe that there's more. This hair straightener comes with default temperatures for different hair types so that guesswork is taken out of the hair straightening process.
With a default temperature of 270F for fragile hair, 350F for damaged or colored hair, and 410F for healthy hair, you can easily figure out what best suits the state of your hair. However, you still get the freedom to increase or reduce the temperature of the iron if you please. The KIPOZI hair straightener also comes with titanium floating plates that are specially designed to deliver long-lasting styling. It equally comes with an 8-foot swivel cord for easy styling.
Key features
Automatic shut off features after 60 minutes of non-use
1.75 titanium floating plates for lasting results
Comes with an 8-foot swivel cord
Features default temperatures for different hair types
NITION Professional Salon Hair Straightener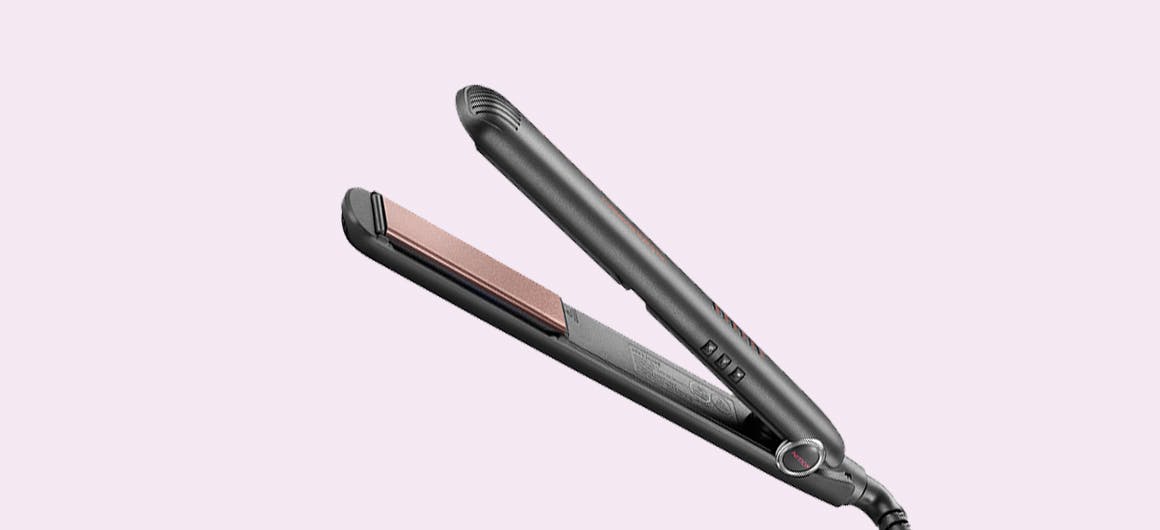 Believe us when we say that you've never had a hair straightener quite like this. The NITION Professional Salon Hair Straightener features a 5 in 1 heating plate that will leave you thoroughly impressed. These heating plates are infused with nano-silver ions that are often used to repair damaged hair. There's also argan oil that restores your hair's moisture while preventing your ends from splitting. That's not all, there's some tourmaline which emits negative ions so you don't deal with frizz or static, and finally, titanium which allows for high levels of heating in short periods of time.
The NITION ceramic heating plates glide through your hair effortlessly, leaving you with smooth and shiny locks that are protected from breakage and damage. This flat iron also comes with 3D flexible heating, so adjusting the angle to avoid pinching is a breeze. With 6 precise temperature options; 265 and 300F for fine hair, 340 and 375F for medium hair, and 410 and 450F for thick hair, this straightener does all the thinking for you.
Key features
Built-in sensor for auto shut off after 60 minutes
Comes with 6 precise temperature options
Features 3D flexible heating plates
Is infused with argan oil and nano ions
KIPOZI 1 Inch Titanium Plates Hair Straightener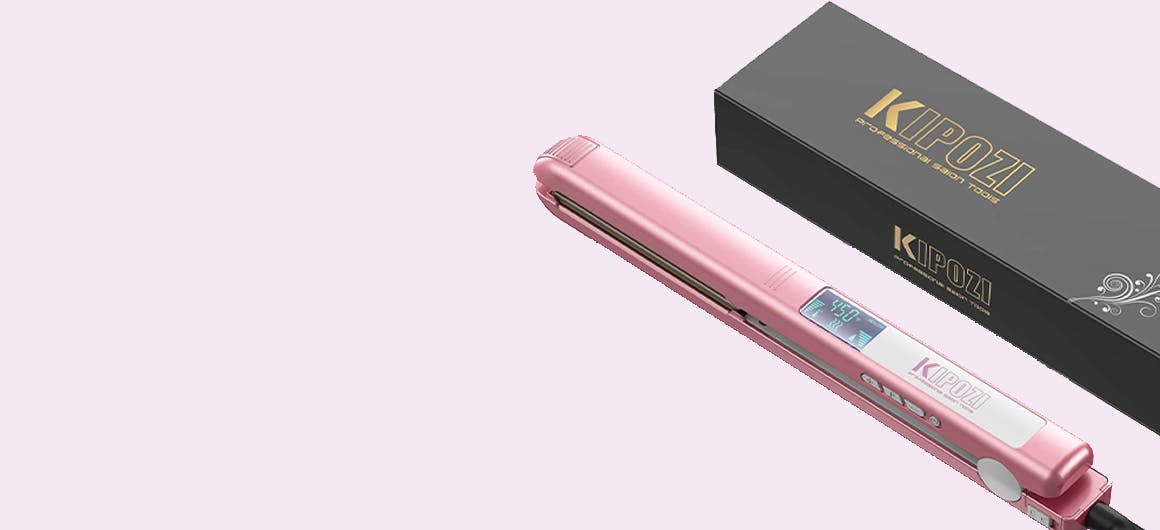 Whoever said that great quality hair appliances for natural hair couldn't be affordable? If you've been searching for just the right hair straightener for your hair type, but are sick and tired of not being able to find budget-friendly prices, then have we got some good news for you! The KIPOZI 1 Inch Titanium Plates Hair Straightener is pocket friendly, and yet, still very exceptional in its functioning. It features titanium plates that are designed to conduct high temperatures, even in short amounts of time.
Also, because the plates are made from titanium, you never have to worry about corrosion as it protects the plates from that. More so, each plate is incorporated with nanotechnology that eliminates the chances of you experiencing any frizz or static whenever you straighten your hair. This flat iron has a very wide temperature setting; between 170F and 450F, so whether you have thin hair or thick hair, this straightener is well suited for you.
Key features
Wide temperature range between 170 and 450F
Includes an 8-foot long swiveling cord
Features an automatic shut off after 90 minutes
Comes with titanium plates that conduct high levels of heat
Magicfly Professional Salon Ceramic Tourmaline Flat Iron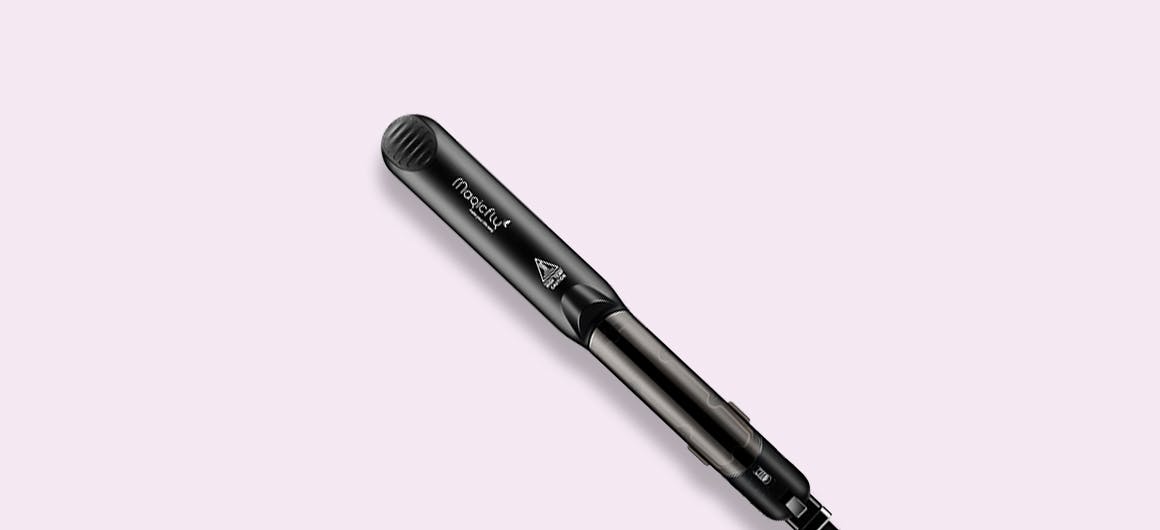 Combining steam technology with a straightening feature gives you the Magicfly Professional Salon Ceramic Tourmaline Flat Iron. This flat iron uses water to create vapor, which further smoothens and moisturizes hair. It equally comes with a black rubber tank which you can fill with water using the included water bottle. Once the tank is filled, all you need to do is turn on the steam setting and choose your preferred temperature. It comes with ceramic heating plates that are constructed to heat up quickly and also distribute heat evenly.
Furthermore, it's fully equipped with a time-saving dual PTC heater which heats up in one minute. These plates also ensure that your hair does not experience any additional damage. Also, this hair straighter has a temperature setting between 300 and 450F, with recommended temperatures for different hair types. It further sports a 360-degree swivel cord that prevents tangling while delivering on convenience. Complete with a 360-swivel cord and lockable plates, this flat iron is the perfect travel companion.
Key features
Steam technology vapor flat iron
Heats up in one minute with dual PTC heater
Features lockable ceramic plates
Automatic shut off after 60 minutes of no use
PHOEBE Ceramic Flat Iron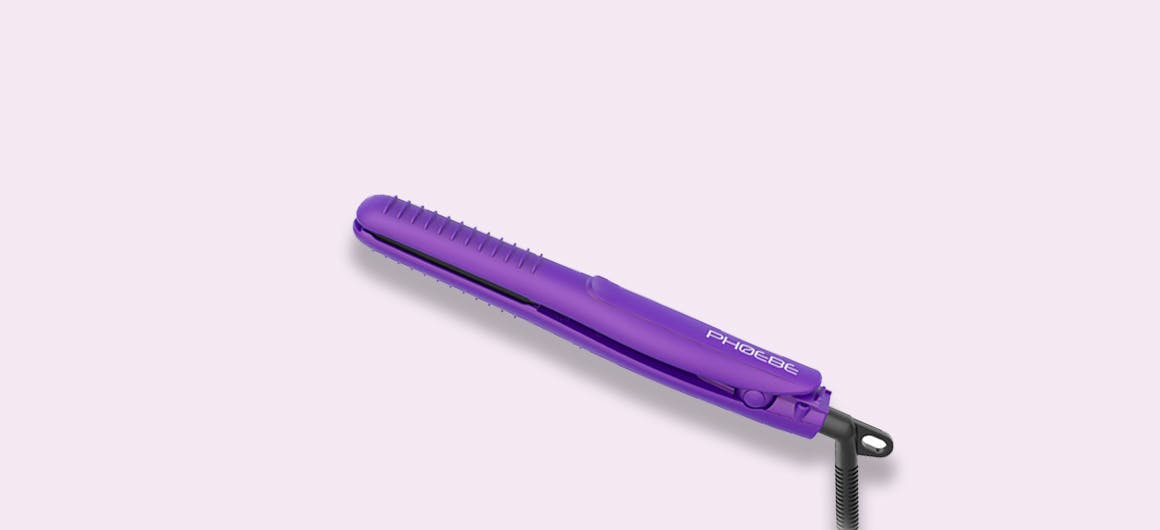 The PHOEBE Ceramic Flat Iron is a two in one flat iron that doubles as a straightener and a curler. This professional hair iron features a 1.75-inch 3D floating plate that is perfectly suitable for people with both thick, long hair and thin, short hair. The plates of this iron are made with ceramic material, infused with titanium. The titanium allows for even distribution of heat for much smoother and straighter hair, while the ceramic prevents frizz and static.
The PHOEBE flat iron also includes an adjustable temperature feature. With a temperature range of 265 to 450F, as such, you can choose a temperature that best suits your hair type. It also sports 5 different heat settings which you can use as a guideline for straightening your hair according to its texture. More so, it comes with a dual voltage which makes it travel friendly. There's also an anti-slip handle to prevent accidents, a 360-degree swivel cord for flexibility, and a complimentary heat resistant glove.
Key features
Can be used to straighten and curl hair
Comes with a 360-degree swivel cord
Temperature setting between 265 to 450 F
Complete with a heat resistant glove
Bigrace Pro Flat Iron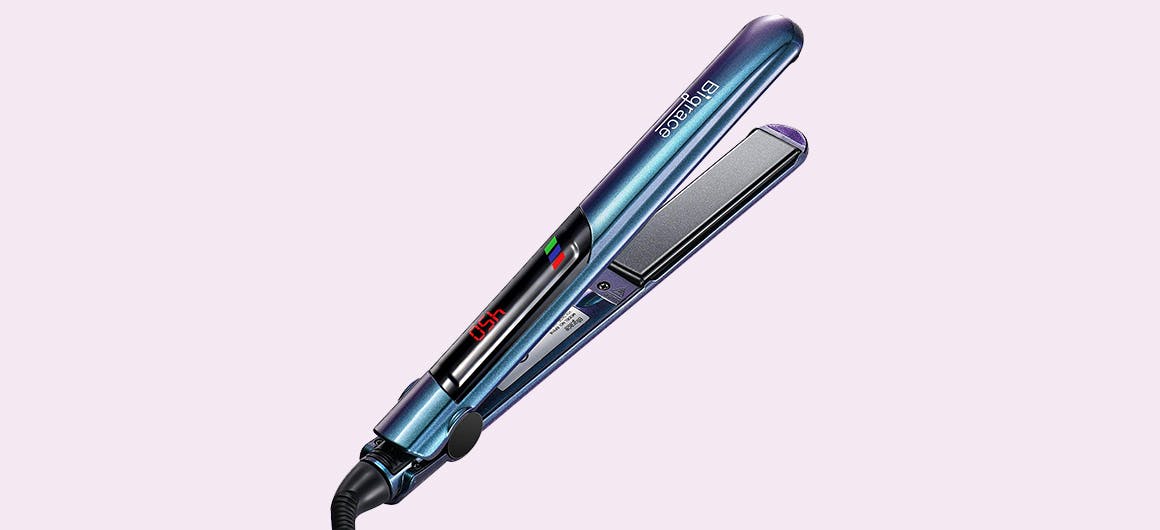 Care for your hair the right way using the Bigrace Pro Flat Iron. This flat iron is suitable for all hair types and comes with 11 preset temperatures that will work for different hair textures. There's also an invisible LCD display with clear imaging that shows you the exact temperature you are using. This hair iron also includes a diamond ceramic plate that ensures your hair is always left super sleek and shiny. Then, the plates evenly distribute heat so that you don't have to go over the same section of hair several times, hence, lowering the chances of heat damage.
Best believe it gets better than that, for one these 3D floating plates feature MCH heating technology which allows the flat iron to instantly heat up in 10 seconds for straightening and 3 minutes for curling. Its 360-degree swivel cord ensures that you get the flexibility you need, and the auto shut off after 60 minutes keeps you at ease at all times. Altogether, the flat iron comes in a travel-friendly size and can fit in most handbags.
Key features
Includes an MCH heating technology for swift heating
Comes with a 360-degree swivel cord
Auto shut off after 60 minutes
Comes in a travel-friendly size
CHGeek Hair Straightener Curler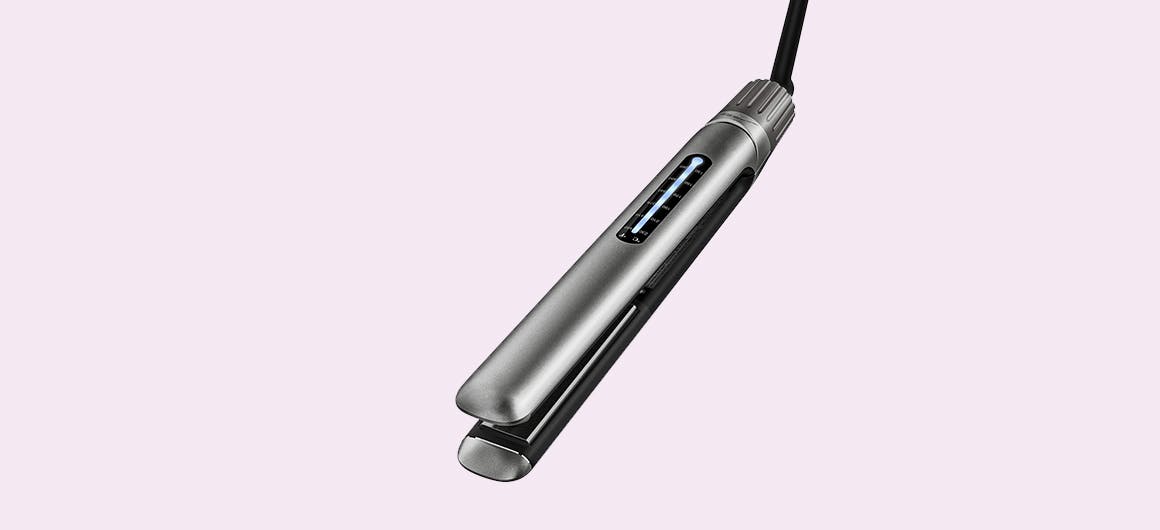 You should know by now that your hair needs to be protected from damage, even when you apply heat to it. That's exactly why you need a hair straightener that looks out for your hair's health and the CHGeek hair straightener is exactly that. This flat iron comes with a 4 in 1 high-quality plate that is specially made of ceramic, nanosilver, titanium and tourmaline. The ceramic allows for easy gliding of the plate through your hair, and avoids any tugging or pulling.
The nanosilver protects your hair's health by preventing heat damage. Then, the titanium acts as a good barrier from rust and corrosion so your straightener can last you for years. All the while, the tourmaline releases its negative ions to prevent the formation of static energy so that your hair can be frizz and static-free. It comes with various temperature settings for different hair textures and a range that runs from 265 to 450F. It is also complete with a 9-foot long swivel cord and a safety lock for the plates.
Key features
Sports a safety lock for flat iron plates
Features a 4 in 1 high-quality plate
Comes with a 9 feet long cord
Heats quickly in less than 20 seconds
ROSILY Professional Salon Quality Flat Iron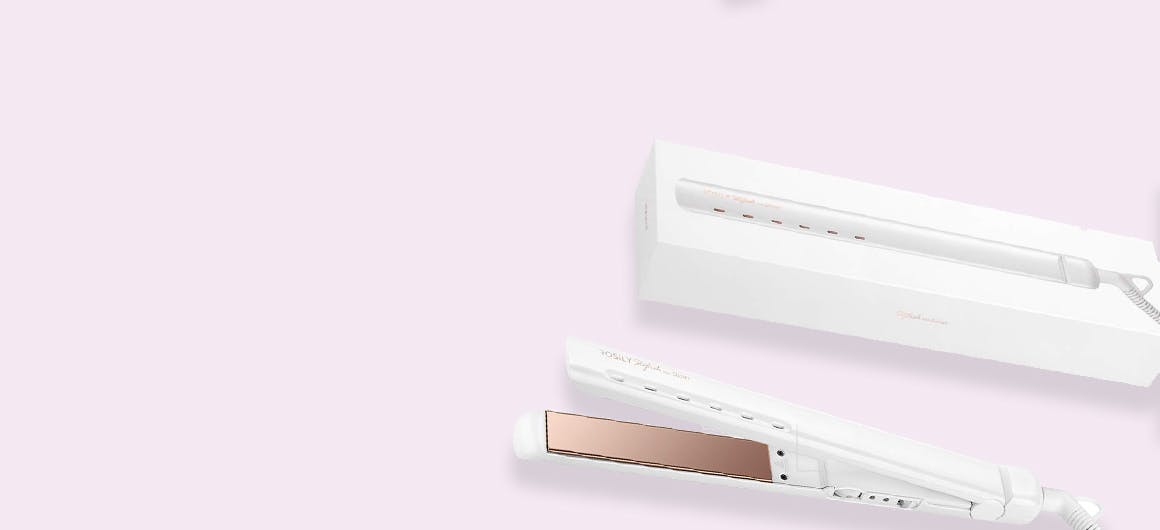 The ROSILY Professional Salon Quality Flat Iron is a flat iron designed with you in mind. This hair straightener is the perfect hair iron for different hair textures, so regardless of what your hair type is, that flat iron is perfect for you. It comes with extra-wide plates measuring at 1.75 by 4.75 inches. These wide plates further make this heating tool suitable for people with both thick and thin hair. The plates are made from a smooth ceramic and titanium material, with the ceramic evenly distributes heat to your hair and preventing heat damage.
Meanwhile, the titanium conducts high temperatures and resists corrosion and rust, allowing for a long-lasting device. The temperature on this flat iron runs from 290F to 450F, so you can easily select a temperature setting that best fits your hair type. It also comes with steam vents that are effective when removing any excess water from damp hair without damaging your strands. Its dual voltage allows for universal use, and it can be used for curling alongside straightening.
Key features
Comes with a unique steam vent
Can be used on damp and dry hair
Features temperature settings between 290 and 450F
Extra-wide plates make it suitable for thick and thin hair
BaByliss PRO Nano Titanium Straightening Iron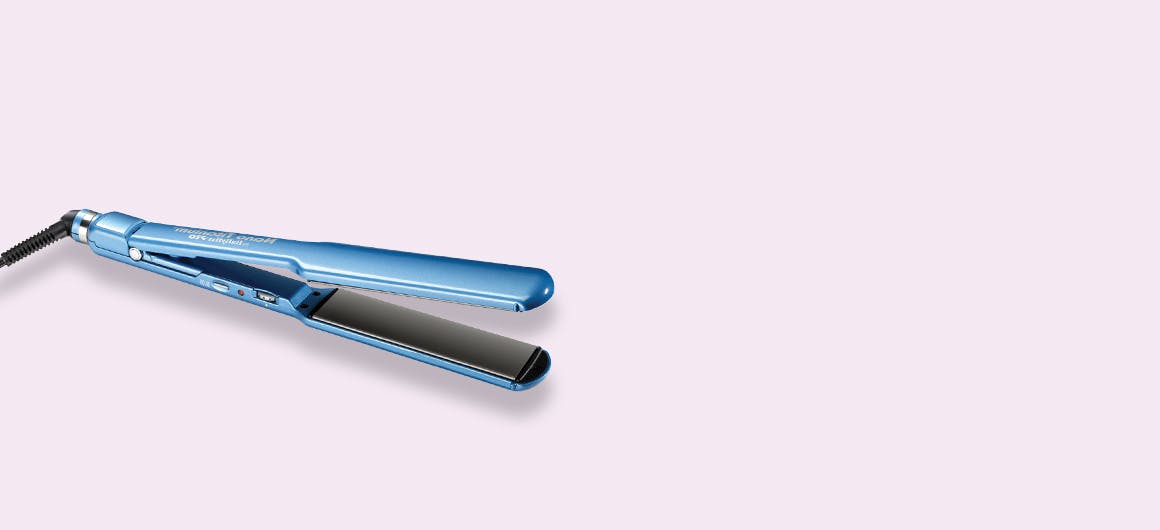 The BaByliss PRO Nano Titanium Straightening Iron is unlike other hair straighteners. When you imagine high-quality flat irons, this should be the first that comes to mind. This unique hair straightener begins with pure titanium plates that leave you with the smoothest, silkiest hair that you've ever had. These plates emit natural ions that resist frizz and static so that even the shortest of strands are held in place. The straightening power of this flat iron is amazing, but if you're worried about heat damage, then you can rest easy.
To that effect, it also comes with a stay-cool Ryton housing that prevents the iron from overheating your hair. The ceramic heater of the BaByliss straightening iron has temperature settings reaching up to 450F, making it the perfect iron for thick and coarse hair. It comes with extra-wide plates that will suit your texture, and can also be used to create loose beach waves.
Key features
Can be used to straighten and curl hair
Extra-long plates allow for faster straightening
Features pure titanium plates for smoother finishing
Up to 465F in temperature settings suitable for different hair textures
FAQ
How to flat iron African hair
Flat ironing African hair properly requires a couple of key steps that cannot be missed. So, if you're missing any of these steps, that may be why you are not getting your desired results. To help you out, here are the steps involved in straightening your type of hair.
Wash your hair
Washing your hair is an important step to take when straightening it. If you straighten dirty hair, all that will do is leave your hair looking matted instead of silky and smooth. Straightening dirty hair also results in damage, to avoid that it is essential that you wash it beforehand.
Condition and moisturize your hair
The next step to take after washing your hair is conditioning and moisturizing. When you condition your hair, you make it easier for the strands to handle the heat from the flat iron. The same thing can be said about moisturizing your hair. Doing these two things ensures that your hair isn't dry and brittle when you straighten, as this could damage it.
Ensure that you start with dry hair
Wet hair is not the same thing as moisturized hair. Where moisturized hair is enriched with healthy oils and serums, wet hair is simply not dried properly. Straightening wet hair is dangerous; all the straight iron would do is 'fry' your hair up and damage it. Make sure you start with hair that is thoroughly dried.
Be careful with the temperature
As much as you want to straighten your hair, most times, you need to be careful of the temperature you choose. Some people tend to go too high in a bid to get silky smooth hair, but too much heat can actually damage your hair. To avoid this, try not to exceed 340F and always apply a heat protectant.
Straighten your hair in sections
In order to achieve the best results, it is advisable to straighten your natural hair in sections. African natural hair tends to be coarse, so if you straighten it in huge sections instead of small ones, you will not get the smooth and silky results you desire. To prevent this, make sure you run the flat iron down small sections of your hair.
Protect your hair afterward
One of the best ways to protect your hair after straightening it is with a silk scarf. A silk scarf is gentle on your hair and can be worn at night before you sleep. What it does is protect your roots and your ends while ensuring that your hair remains straight for longer, compared to when you sleep without one.
How to prevent heat damage
It is no secret that regularly straightening your hair can leave you exposed to heat damage. Heat damage is essentially when high amounts of heat cause your hair to lose its elasticity. At the end of the day, it becomes brittle and fragile. Now, that doesn't mean straightening your hair is bad, and you should never do it. However, in addition to not applying excess heat to your hair, there are other steps you can take to prevent heat damage.
Make use of a heat protectant
A lot of people straighten their hair without using a heat protectant, mostly because they are not really familiar with it. A heat protectant essentially works to reduce or completely eliminate the potential damage caused by using heating appliances. Altogether, using a heat protectant is necessary if you want to prevent heat damage.
Carry out restorative protein treatments
Another thing you can do to prevent heat damage is to carry out regular protein treatments. These treatments are able to restore your hair's elasticity when used regularly. You can make your own protein treatment at home, or simply buy one from your local hair shop.
Reduce the number of times you straighten your hair
One of the simplest things to do to avoid or prevent heat damage is to reduce how often you straighten your hair. A lot of people straighten their hair too often, sometimes even every day, and this can cause heat damage. Instead, try to play around with your natural curls on some days.
Make use of lower heat temperatures
Nothing ruins hair faster than high temperatures of heat. Lowering the temperature settings on your hair straightener can do a world of good to reduce heat damage. As aforementioned, it is recommended not to straighten your hair using temperatures higher than 340F.
Get rid of split ends
You can treat your hair as much as you want, however, you can't save those ends. So the best thing to do for your hair is to get rid of split ends. Damaged ends have a way of affecting the rest of your hair, so the sooner you trim them, the better for your hair.
Things to consider when purchasing a flat iron
So, you're on the market for a flat iron. Great! Before you make your purchase, it is important to know that there are some factors you need to look out for when shopping for hair straighteners. To help you pick the best straightener for you, here are some of the more major factors.
Temperature
When it comes to temperature, you need to, first consider the texture of your hair. A fine texture will not require the same temperature as thicker hair. If you have a fine hair texture, then consider a straightener with lower temperature settings. It is also important that the straightener has adjustable heat settings.
Cost
Cost is also a very important factor to take into consideration when buying a flat iron. Some flat irons cost hundreds of dollars because they are meant for professional use. However, there are also straighteners that you can find for less than 50 dollars and will still be able to get the job done. If you have a budget, look around for options and you will surely find one that suits your price range.
Size of the plates
Depending on how thick and long your hair is, the size of the plates on the straightener is very important. People with very thick and long hair should typically opt for bigger plates; around 1 inch thick. If you have thin/fine and short hair, you can get away with opting for narrower plates.
Ceramic
Ceramic heating plates are able to evenly distribute heat across the flat iron so you are left with properly straightened hair. It also prevents frizz and static, delivering silky, smooth hair every time. If that is your goal, then make sure you opt for straighteners with ceramic plates.
Tourmaline
A lot of straighteners now have ceramic plates infused with tourmaline. Tourmaline is great because it allows the flat iron to straighten your hair using less heat. As such, it protects you from heat damage. Keep in mind that tourmaline plates are more on the pricey side when compared to ceramic plates; however, it is definitely a worthwhile investment.