Top 10 Co-working Spaces in Accra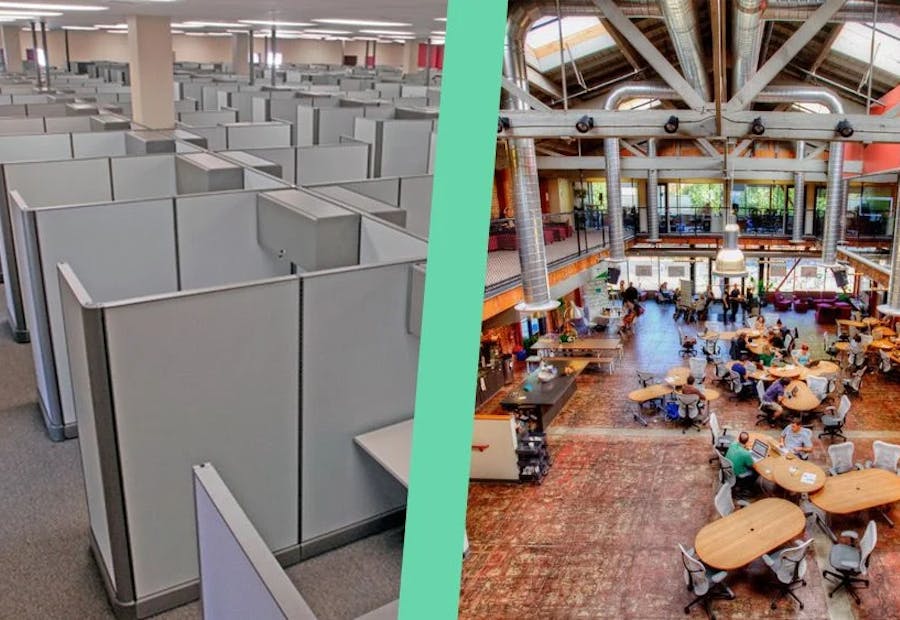 Africa, specifically Ghana, consistently gives birth to entrepreneurs with great new ideas and inventions to toy with. Nevertheless, to do this successfully, there must be a certain amount of collaboration, networking, and bouncing off ideas with like-minded people in a conducive space.
This space cannot always be in bedrooms or apartments. That is why there's such a high demand for co-working spaces and tech hubs for like-minded entrepreneurs or freelancers to work effectively and efficiently. Co-working spaces are also in demand due to the crazy prices of office rental space, which many start-ups cannot afford due to their limited budget.
For the most part, co-working spaces and tech hubs are the answer to these problems. If you are looking for co-working areas in the city of Accra, then you are in luck. This article will discuss the top 10 co-working spaces and tech hubs in Accra, their unique features, and where to find them. Shall we begin?
Impact Hub Accra
Arguably the most popular co-working space in Accra, Impact Hub Accra, was started by William Senyo over a decade ago. Now, it's a part of the global Impact Hub network. It's situated in Osu, adjacent to "Tea Bar,"; a well-known tea venue in Accra. It offers ample working space, fast and reliable internet, dedicated electric power, and fosters a collaborative environment for freelancers and entrepreneurs.
It is available for workers during the weekdays and reserved for events during the weekends. Besides all that, it also manages numerous incubator programs that aim to support businesses by providing them with mentorship. One of the two main programs it runs is "The Makerspace," a workshop community created for anyone who loves to collaborate and learn from others.
Then, there's "The Health Innovation Program," which is designed to foster innovative solutions to Africa's health care systems. The workspace costs GHC20 daily, while a dedicated membership goes for about GHC200 a month.
I Space Ghana
I Space Ghana was created in 2013 with the mission to provide a favorable space for innovative ideas to flourish. It is situated in Spintex, a few blocks down the street from Potter's House Church, Accra. It was started by 'techpreneurs' Fiifi Baidoo and Josiah Kwesi Eyison, who popularized it due to their technology-based capacity building initiatives, namely Unlocked at iSpace, Phoenix Kids and Code School.
Just like Impact Hub Accra, I Space Ghana also runs incubator programs to help entrepreneurs set-up and manage their business ideas. They also provide training on software development, computer science and technology, and personal networking. A day pass costs GHC20, while monthly membership costs range from GHC300 – GHC500.
The latter includes air-conditioned rooms, meeting room access, fast and free internet, private offices, private meeting rooms, and event spaces. Through their tireless efforts, they have helped over 140 start-ups raise approximately $44,000.
Basecamp Initiative Accra
This co-working space is the Ghanaian branch of the more than 345 global co-working spaces started by Basecamp Global. It is a conducive place for freelancers and entrepreneurs to conduct business, and it doubles as a recreational area where people catch up with friends. It is located on the same land as Crystal Park at East Legon.
If you are looking for a place where like-minded people converge to bounce around ideas relating to various fields, then this is the place for you. Unlike its counterparts who lean heavily towards tech-based initiatives and incubation programs, Basecamp Initiative Accra tends to lean more towards the arts industry. With a deep understanding of the financial struggles Ghanaian start-ups' face, Basecamp Initiative provides sponsorship programs. Under that umbrella, they offer free residency to up and coming entrepreneurs.
The rates are GHS30 for a daily pass, GHS180 for a weekly pass, and GHS500 for a monthly pass, including lighting fast fiber optic internet access, on-demand meeting rooms, indoor meetup facilities, and outdoor park meetings. The space is open between 10 am – 10 pm, Mondays to Fridays, and 10 am -8 pm on Saturdays. Even more, the location is a great place to host events like film screenings, pop-up stores, and workshops.
Kukun
This green co-working space is located close to Ako Adjei in Osu, the center of Accra's vibrant nightlife. With the myriad of restaurants, cafes, and bars in Osu, Kukun had their work cut out for them. With that in mind, they included a café and bar within the space. Their mission isn't far off from the usual; they aim "To bring entrepreneurs, freelancers, talents and visionaries who are of one mind to network, socialize and collaborate on projects."
The facilities include meeting rooms, training rooms, a dedicated space, and even an outdoor garden perfect for hosting events or relaxing after a hard day's work. Kukun is one of the most expensive co-working spaces on this list, with rates starting from GHC50 an hour, GHC100 a day, GHC450 a week, and $750 for monthly office subscriptions.
Workshed
For people living around Tema and Spintex, Workshed is one of the most sought after co-working places. It was founded by two young entrepreneurs from Ashesi University, Richard Bempong, and Andrew Bimpong. The motivation behind it was to find an office space to bring the best freelance and start-up minds together.
Per its name, it focuses more on dedicated office space for collaborative work than for events. It also doubles as a consulting service that gives start-up businesses the needed expertise to operate at an optimum level strategically. Access rates are GHC25 daily, but if you prefer a monthly membership rate, that will set you back GHC600, which covers a space for meetings, photography, a Skype room, and events.
WorkShed additionally has a discussion series called "ShedTalks," which brings together experienced professionals and entrepreneurs to provide young entrepreneurs with valuable insight to successfully grow their businesses. One of its main attractions is a lounge area on the outdoor terrace where visitors can take a break and catch a glimpse of the hustle and bustle of the city of Spintex.
This lounge, which can accommodate about 100 people, is perfect for hosting events. It is located in the same building as Republic Bank on Baatsona Spintex Road, adjacent to Baatsona Filling Station.
Developers in Vogue
A sister to Soronko Academy, Developers in Vogue, was set up as a community and tech hub for women in the Science, Technology, Engineering, and Mathematics (STEM) fields. It is a little bit different from the other co-working spaces discussed so far, with its mission to help bring more women to the forefront of the technology industry and disprove the misconception surrounding women's ability to study STEM-related topics effectively.
Through their practical and exciting approach to teaching courses such as coding, they've trained numerous women and encourage them to use their skills to create solutions for their respective communities. As mentioned before, due to the unfortunate fallacy of women being unable to become successful professionals in STEM-related fields, "Developers in Vogue" has a lot to prove to naysayers. You can locate them in Cantonment, Accra.
Ghana Climate Innovation Centre
Climate change is taking place worldwide, from the melting of the ice caps in the Antarctic to the destruction of coral reefs due to increasing temperatures of the atmosphere. It is a topic that has never been more poignant than it currently is. Unfortunately, many countries in Africa have not joined the international war against greenhouse emissions, with some actually contributing to the war unknowingly.
This is where the Ghana Climate Innovation Center (GCIC) comes in. Located on the Ashesi University Campus, Berekuso, it was formed in 2016 to develop and support clean technology ventures in "Ghana's Green Economy." Simply put, it is an incubator for grooming small businesses and entrepreneurs to help them network and develop innovative solutions to tackle and reduce the effect of climate change.
GCIC focuses on five economic factors: waste management, climate-smart agriculture & energy efficiency, renewable energy, solar power, and water purification. These factors are the driving force behind the mentoring, development skills taught, and financing support provided by GCIC. They are open between the hours of 8:30 am – 5 pm from Monday to Friday.
InnoSpace Ghana
The new kid on the block, InnoSpace Ghana, is located in the Tema Municipality, Community 1 close to Meridian Heights. It offers standard, dedicated office spaces (shared and private) for freelancers, start-ups, and entrepreneurs who need an office set-up to manage their businesses. They equally host events and training sessions to impart the required skills and tricks of the trade for starting and successfully managing your business.
These sessions mostly focus on Business modeling, Theory of Change processes, Strategic planning, Grant Writing, I.T related course, Result Based Management, and many more. One unique thing about this hub is that they are linked to financial partners who can potentially fund ideas or projects once they deem it viable.
This is a huge advantage and opportunity for start-ups as they often do not have the funds to propel their inventions off the ground. Rates cost about GHC35 daily, GHC170 weekly, and GHC600 monthly. If you prefer a private office, you should be willing to cough up GHC1500 per month. Membership packages cost less per month but have to be paid for a minimum of 3 months upfront and a maximum of 6 months.
Soronko Academy
Soronko Academy started as an idea in the mind of Regina Honu. After founding the Tech Needs Girls mentorship program and successfully training more than 4,500 girls between the ages of 6-18, Regina wanted to do more. She expanded this mentorship program to address the need for more ICT and technology-related programs among the younger generation. To that effect, she created a space that included more programs to grow and nurture the youth's leadership and entrepreneurial skills.
Today this space is referred to as Soronko Academy. Even though it does lean more towards female education in technology and woman empowerment, its programs are open for all. This academy welcomes individuals from 5- 18 years, students, kids with disabilities, and even schools who want to learn coding to include it in their curriculum. Like their counterparts, Soronko Academy also makes the space available for tech innovators to rent for networking, meetings, and collaborative projects. It is located in East Legon.
Mobile Web Ghana
Unlike their counterparts, Mobile Web Ghana doesn't like to focus on one particular field: arts, technology, or the like. It is open to anyone and everyone, be it a designer, entrepreneur, journalist, developer, student, technology enthusiast, you name it. Their principal aim is to create a workspace of diverse professionals and individuals interested in networking, to collaborate, and to work in a conducive atmosphere that fosters productivity.
Mobile Web Ghana also hosts training programs to provide insight, knowledge, and skills that their customers can use to grow their businesses or boost their careers.
Conclusion
Well, there you have it, the top 10 co-working spaces and tech hubs in Accra, Ghana. There are actually more than just 10 in Accra, and this will only keep increasing as the demand for co-working spaces, and the prices of rent for office spaces continues to grow. Keep in mind that some co-working spaces are geared towards technological ideas and innovations, like Impact Hub Ghana and I Space Ghana. In contrast, others focus on the arts and gender education like the Basecamp Initiative, Developers in Vogue, and Soronko Academy.
However, regardless of your area of interest, you will find like-minded people to share ideas and network with. Who knows? Your next partner for a multi-million dollar project may be the next person you collaborate with. With all the success stories flying around out there, it seems that the co-working and tech hub industry in Ghana is going strong and is here to stay.
I hope this article has made your search for co-working spaces in Accra less cumbersome. Don't hesitate to share it with your friends and family. Also, leave a comment if you have any questions you need answered.