10 best high end eyeshadow palette for dark skin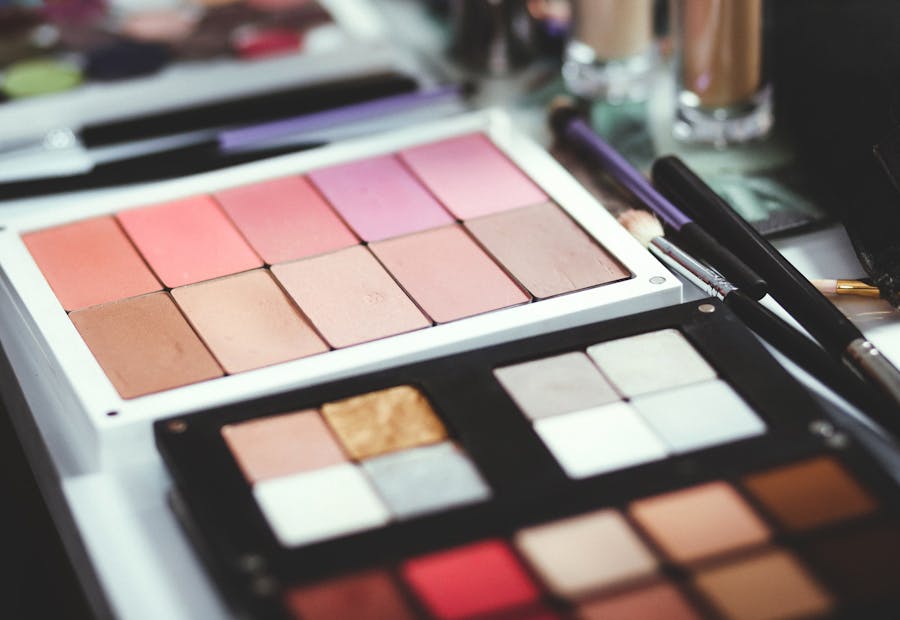 Regardless of whether you wear makeup every day or on special occasions, eyeshadow is a crucial part of a complete look. As someone with dark skin, you must own eyeshadow palettes filled with colors that not only complement your skin color but also meet your high pigmentation needs.
Because we're always here to help, we've put together a great list of our best quality high-end eyeshadow palettes for dark skin. With these, you can rock every single makeup look, from day time to night time, to glam.
Urban Decay Naked Heat Eyeshadow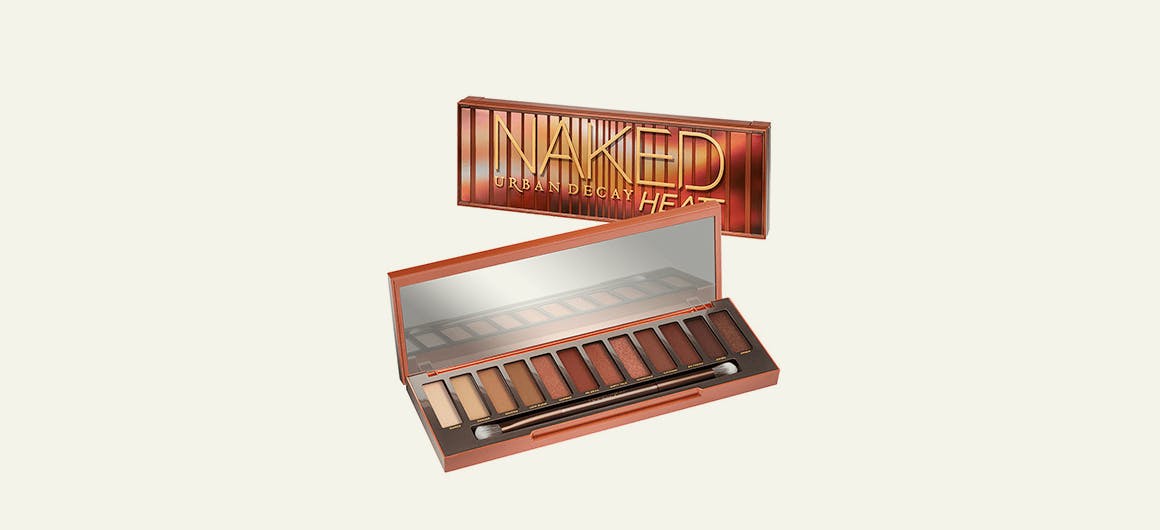 If you're looking to achieve the perfect summer look, look no further than the Urban Decay Naked Heat Palette Eyeshadow. This warm eyeshadow palette features a mixture of matte and shimmery colors in vibrant red and orange-based hues. The matte shades are very pigmented and easily buildable for that daytime to night time look. Even more, the shimmer effect has a smooth texture that allows for effortless application. 
Key features
Includes 12 eyeshadows
A mixture of matte colors and shimmers
Features red and oranges hues
Highly pigmented and blendable
35V Vibes Artistry Eyeshadow Palette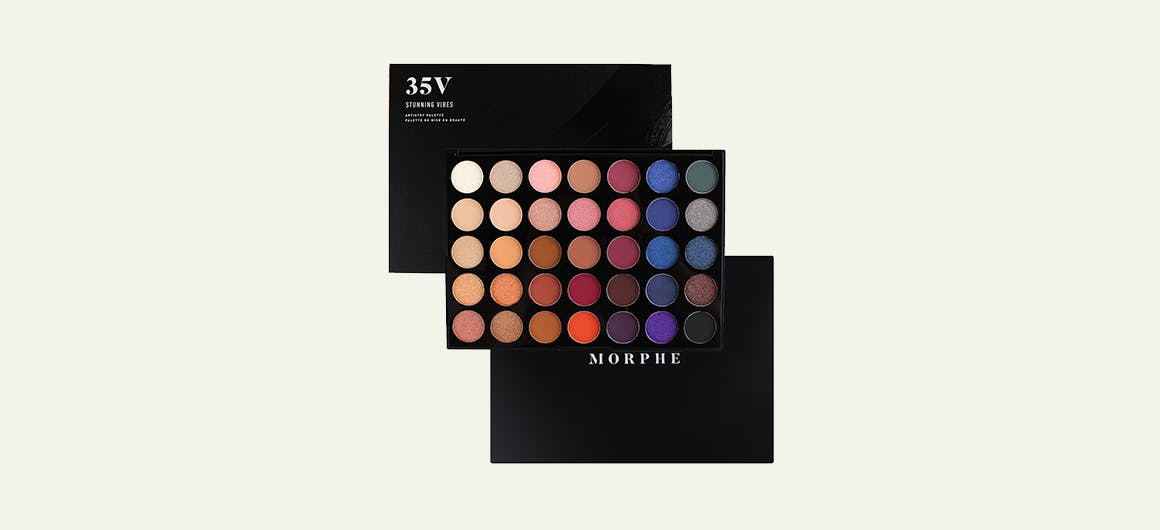 The 35V Stunning Vibes Artistry Eyeshadow Palette is the eyeshadow palette to die for. This palette features 35 unique colors ranging from rich purples in matte shades to glamorous nudes in shimmery hues. Ideal for both daytime and nighttime looks, this palette sports colors that would look great on dark-skinned women> it does not matter if they have cool undertones or warm undertones. 
Key features
Features cool and warm tones
35 different eyeshadow colors
Shimmers and mattes included
Perfect for both day time and night time look
Tarte Tartelette Toasted Eyeshadow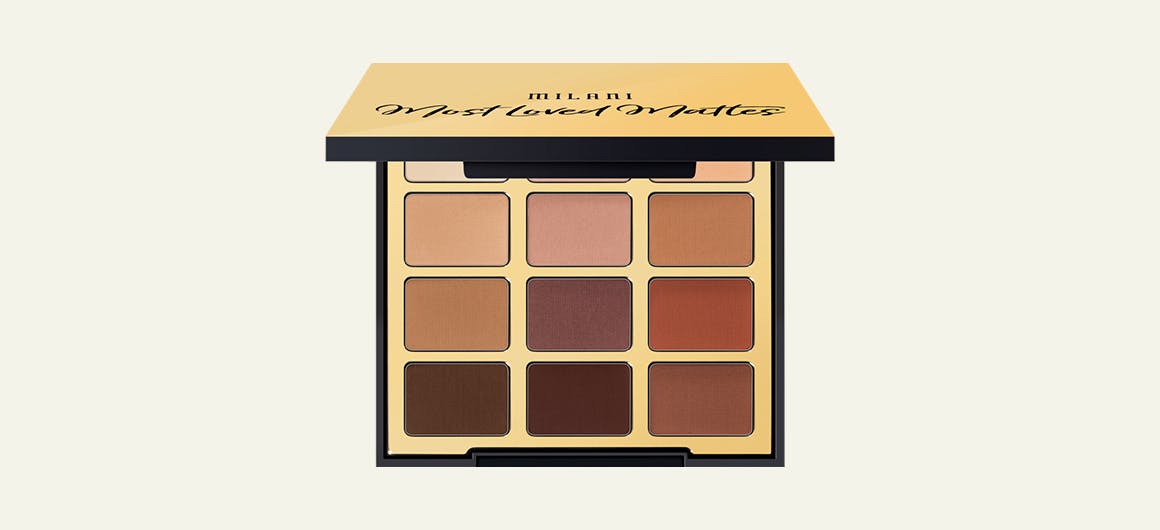 Believe us when we say that you haven't used an eyeshadow palette quite like the Tarte Tartelette Toasted Eyeshadow Palette. This palette has colors that would help you achieve a stunning warm look suitable for the daytime. It includes 12 warm and vibrant colors, 7 of which are matte, and the rest are shimmers. More than just a mixture of gold, tan, copper, and champagne hues, this palette comprises blendable Amazonian clay powder.  This component makes it glide on like a cream for a long-lasting look. 
Key features
12 warm eyeshadow colors
Features 7 mattes and five shimmers
Super blendable
Long-wearing formula
Modern Renaissance ABH Eyeshadow Palette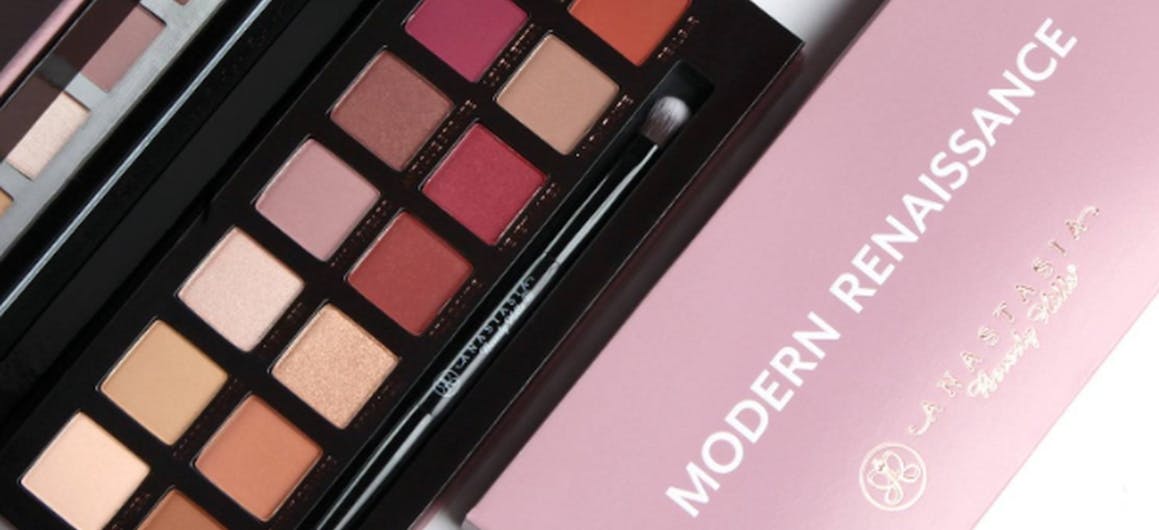 Inspired by the paints from renaissance art pieces, the Modern Renaissance ABH Eyeshadow Palette will leave you in awe. Every one of the 14 colors in this palette comprises full pigment formulas to give you a high color intensity. With 11 matte colors in nudes, oranges and pinks, two metallics, and one satin color, you can achieve an effortlessly natural look. This palette equally comes with a brush and a mirror. 
Key features
14 eyeshadow colors
Ranges from neutral to vibrant hues
Includes a brush and mirror
Features 11 mattes, two metallics, and one satin 
Stila Happy Hour Eyeshadow Palette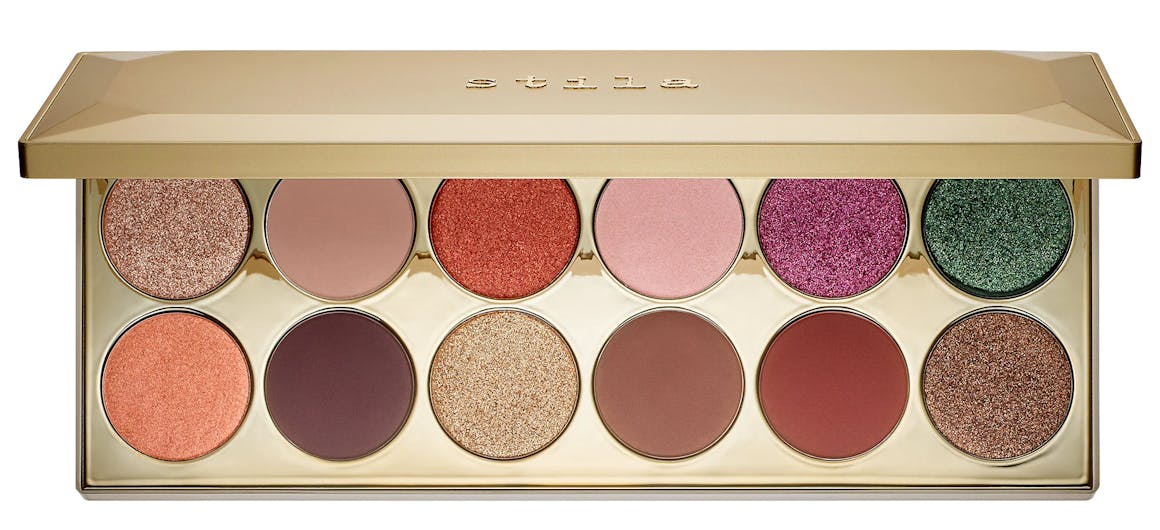 You don't know what love is until you've used the Stila Happy Hour Eyeshadow Palette. This palette is specially curated by artists. The result is a neutral hue and shimmery pop pastels in shades of blue and purples. Best believe that they will make you cry tears of joy. There are 12 shades here; each is made with micronized, silicone treated pigments. As a result, this palette will give you vibrant and uniform colors. You'll also experience superior blending and buildability to help you kill every look. 
Key features
12 different shades
Silicon treated pigments
Delivers uniform color and superior blending
Includes pop pastel colors
Morphe Cosmetics and Jaclyn Hill Eyeshadow Palette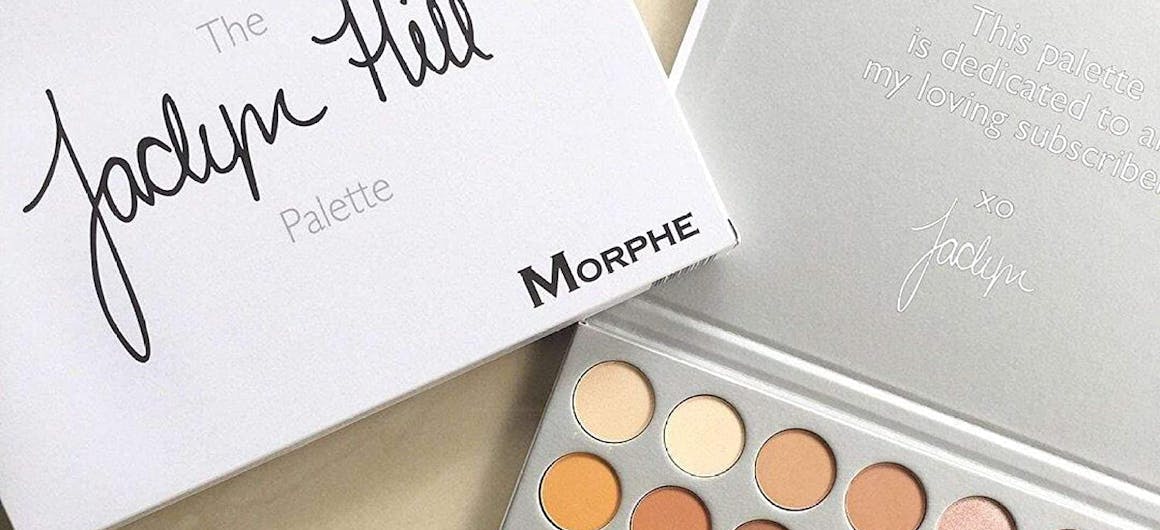 Wave goodbye to dull palettes and embrace the Morphe Cosmetics and Jaclyn Hill Eyeshadow Palette with open arms because you wouldn't want to use any other palette after this one. This eyeshadow palette is more than just a collection of 35 beautiful and highly pigmented hues. It is also super diverse, with mattes, shimmers, satins, foils, and a glitter hue. The best thing about it is that it features colors that suit women with warm and cool undertones. With cool purples, blues and greens, and warm reds, oranges, and peaches, this palette is practically unmatched. 
Key features
35 high pigment colors
Features a mixture of warm and cool hues
Easily applicable
Includes mattes, shimmers, satins, foils, and glitter
Fenty Beauty Moroccan Spice Eyeshadow Palette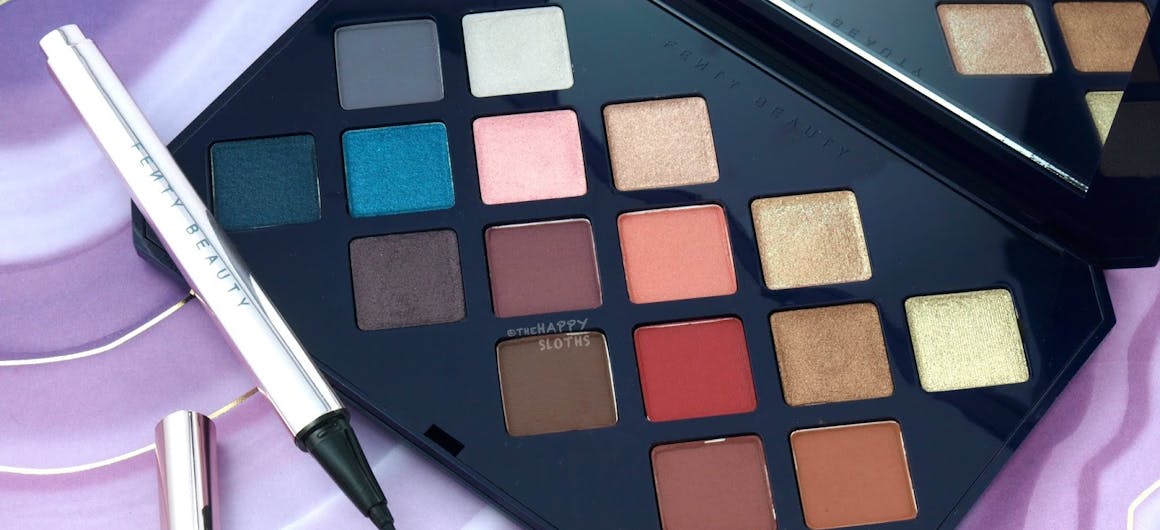 Looking to achieve a hot day time look? What about a sultry night time look? It doesn't matter what kind of look you're going for; the Fenty Beauty Moroccan Spice Eyeshadow Palette will provide you will all the colors you need to slay. With 16 shades inspired by Moroccan culture, this palette incorporates a mix of shimmers and mattes in bright orange, blue, purple, green, and pink hues. Its makeup consists of a long-wearing formula so that you can wear it all day long.
Key features
16 Moroccan inspired shades so that
100 percent cruelty-free
Long-wearing formula
Includes a range of mattes and shimmers
Juvia's Place The Zulu Eyeshadow Palette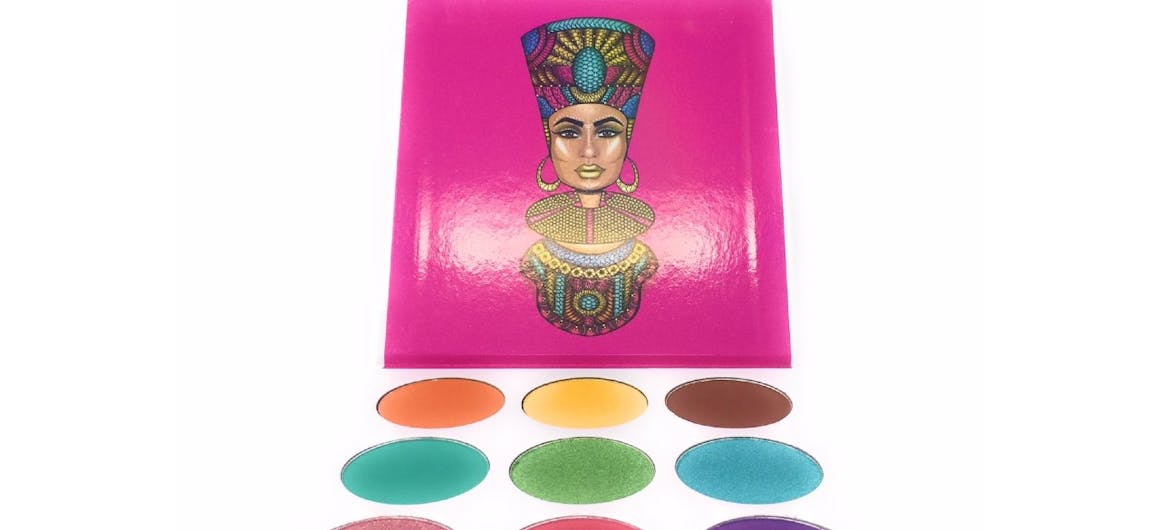 Juvia's Place, as a brand, has been making waves recently, and Juvia's Place The Zulu Eyeshadow Palette is evidence why. This eyeshadow palette is simply amazing. It comprises, nine highly pigmented, pressed powder shades to allow for easy application as well as buildability. These shadows can be applied either in a wet or dry state, depending on the type of look you're going for. With exciting colors in greens, pinks, yellows, and oranges, this palette is what dreams are made of. 
Key features
Can be applied wet or dry
Palette of 9 highly pigmented colors
Pressed powder eyeshadows
A mix of vibrant colors
Huda Beauty Desert Dusk Eyeshadow Palette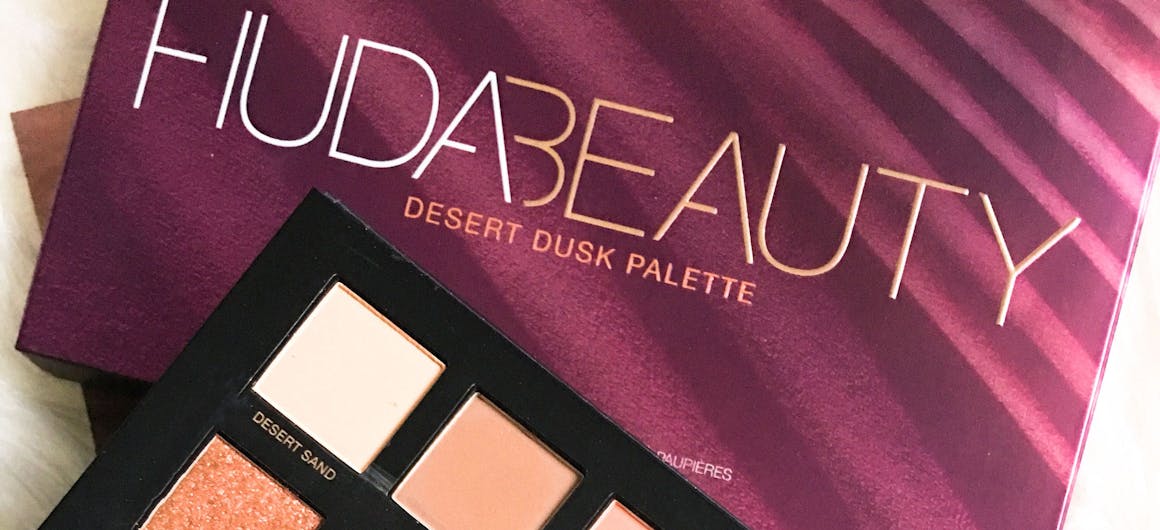 The Huda Beauty Desert Dusk Eyeshadow Palette is a dynamic palette that includes eyeshadows in four different textures. Best believe that all of them are sure to wow you. It further comes with eight creamy matte shades and six shimmery pearl shades. There is no way they won't help you achieve a more elevated look. Taking it up a notch is three due chrome toppers which add that wow factor. With 18 versatile shades, this palette allows you to layer the hues to create just about any look. More than that, the eyeshadows are designed using a highly pigmented formula for long-lasting wear.
Key features
18 versatile shades
Includes eight mattes, six shimmers, and three due chrome toppers
Can be layered to achieve complicated looks
Smooth application
Maybelline Lemonade Craze Eyeshadow Palette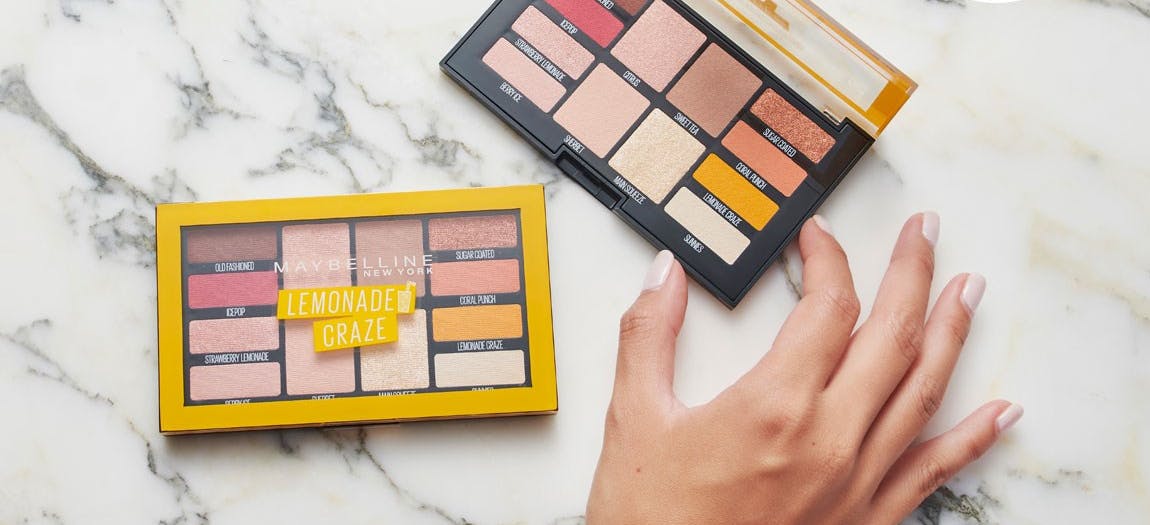 Add a little bit of excitement to your makeup look with the Maybelline Lemonade Craze Eyeshadow Palette. This palette features wearable neutrals that make it perfect for an everyday look. There are also bold splashes of color available in red, yellow, and brown to elevate your look. It also includes four shimmery hues for that extra pop if you need it. Lemonade inspired, this palette takes things to the next level by being citrus-scented. As such, you can put on your makeup and enjoy the sweet scent of citrus, all at the same time.
Key features
12 blendable colors
Citrus-scented palette
Includes nudes, yellows, and reds
A mixture of mattes and shimmers
FAQs
Which eyeshadow is best for dark skin?
As a person with dark skin, vibrant colors compliment your skin tone quite well. If you have a cool undertone, jewel colors like purples, blues and greens will look great on you. If you have a warm undertone, colors like reds, orange, and yellow will work well with your skin. To stand out, gold and bronze hues are perfect for brightening up your look. Feel free to incorporate these colors in your daytime or night time looks.
How do you get eyeshadow to show on dark skin?
When you have dark skin, applying eyeshadow can sometimes be a hassle. For the most part, the colors tend to look dull or washed out when you use them on your eyelids. To get your eyeshadow to pop on your dark skin, start by applying a little bit of eye primer to your eyelids. This acts as a base for your eyeshadow, allowing it to look more pigmented on your skin.
What eyeshadow goes with brown skin?
Different eyeshadows look fantastic on brown skin. For example, you can use deep neutral colors such as deep nudes or browns for an everyday look as they flatter your skin tone. For a more elevated look, jewel tones like royal purple and aquamarine easily complement your brown skin. Finally, if you're looking to go for a more dramatic night time look, metallic colors like gold, bronze, and silver will have you looking stunning.
What is the best eye color for brown skin?
Embracing your natural eye color, regardless of your skin tone, is vital. However, if you are looking to switch things up a little bit by getting colored contacts, specific colors are well suited to brown skin. You should go for colors that are slightly brighter than your complexion. Colors like green, hazel, dark blue, and grey work very well on brown skin.
What color looks good on dark skin?
One of the many blessings that come with having dark skin is that you can rock just about any color. Your skin tone would look great on a variety of hues without looking washed out. If you are looking for some exciting colors to try out, you can consider yellows, oranges, greens, blues, purples, and reds. Try to balance out these bright colors with some neutral shades to achieve a more put-together look. 
What color lipstick should dark skin females wear?
There are several colors and shades of lipstick that dark skin females can wear and look gorgeous in. One of those colors is red. There are different red lipstick shades, such as berry red, deep red, and plum red. Try out a couple of shades to find one that best suits your complexion. Other lipstick colors that would look great on dark skin include purple, brown, and bronze. 
Which skin color is most attractive?
Different people come in various skin colors. Even within races, you'll find that people come in a variety of skin shades. While some people prefer specific skin colors to others, the fact is that beauty and attractiveness can be found in all skin colors. You must embrace your own skin color; it'll make you a lot more confident.
Which skin tone is best?
Your skin tone refers to the amount of melanin that is present in your outermost layer. Generally, there are three main skin tone categories: light/fair skin tones, medium skin tones, and dark skin tones. No skin tone is outrightly better than the other. All skin tones have their unique perks and their own skin-related struggles. 
Does grey look good on dark skin?
Grey is one of those colors that will always be in season. As a person with dark skin, grey is one of those colors that you can rock. But you have to be careful of the shade of grey you choose to wear. Light greys always work on dark skin, so opt for those. Try to avoid darker shades of greys, as they are quite close to your skin color and can be less flattering on you.
What skin color do girls prefer?
The world is full of attractive people who come in a variety of skin colors. That said, it is understandable to wonder what skin color girls feel more drawn to. The truth is that it depends on the girl in question. Different people are attracted to various features, including skin color. So, it depends on the features that a person finds attractive. The best thing you can do is be yourself, and the right person will be attracted to you and your skin. 
How can I get fairer skin?
If you want to get fairer skin, there are a couple of effective skin lightening remedies that you can try. The first one involves using lemons. All you need to do is cut a lemon up, rub it on your skin and leave it for 10 minutes before washing it off. It not only reduces dark spots and blemishes but also gives you fairer skin. The next remedy is turmeric. Make a turmeric mask by combining turmeric powder and lime juice. Apply on your skin and leave for 15 minutes before washing off.
How can I improve my skin tone?
A couple of ways to improve your skin tone include drinking water regularly, eating healthy foods such as leafy greens and fruits. It's also incredibly vital to apply sunscreen daily. You can also use products that contain vitamin C.
Does skin color matter to guys?
As mentioned, attractive people come in all skin colors. Whether skin color matters to a guy or not depends on the guy. While skin color is an essential factor to consider to some guys, it doesn't matter as much to others. In the same way, specific skin colors are attractive to some guys and unattractive to others. The best thing you can do is embrace yourself and be confident. Remember, confidence is beautiful regardless of your skin tone.
What skin tone do guys like?
Different guys like different skin tones. What guys like or dislike is usually based on their taste. So it would be inaccurate to make a general statement about what skin tone guys like. Guys have different preferences regarding skin color and tones.
Does skin color affect attractiveness?
An attractive person is attractive, regardless of what their skin color or tone is. Charm and beauty come in different skin colors. Besides, what people perceive to be beautiful is typically subjective, so do not believe that your skin color makes you unattractive.