Top 10 Best Areas to live in Accra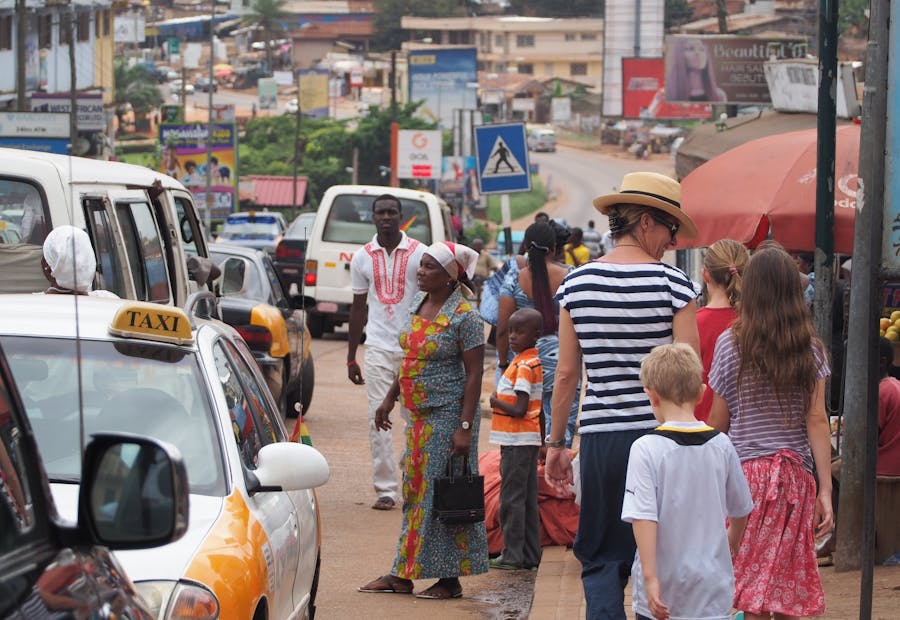 As Ghana continuously develops, tourists and ex-pats troop in daily to view its exotic wildlife and historic castles. With that in mind, there's an increasing concern about how to find the best places to stay. Major cities like Accra, Kumasi, and Takoradi are fast becoming hotspots for tourists and ex-pats to reside in due to their level of development. Accra has the highest demand when it comes to places to stay, thanks to its well-structured roads, unique historic sites, excellent nightlife, and overall cleanliness.
If you are thinking of visiting Accra and are looking for the best places to live, then this is the article for you. In this article, we will talk about the top 10 best areas in Accra to live in and also answer some Frequently Asked Questions (FAQs).
Before I delve, here is one important thing to know. If you're moving to Ghana permanently, buying land and building your own house might work out cheaper than renting long-term.
If you need more information on buying land or buying a property in Ghana, please click here to join this Facebook group I created. I regularly add available lands for sale from all over Ghana, including Aburi, Accra, Kumasi, and more. I have personally visited each plot and and checked the land's ownership at the land's commission.
Shall we begin?
Airport Residential Area
This is considered the finest place to live in Accra. Its name is obviously as a result of its proximity to the Kotoka International Airport. It's mainly for the uber-rich, as the cost of living is more expensive than in other parts of Accra. Prominent and popular Ghanaians such as the Ex-President of Ghana, John Kuffourr, call the Airport residential area home. It is one of Accra's most developed areas, with fantastic restaurants, hotels, schools, shopping malls, pharmacies, hospitals, banking halls, and airline offices.
Most inhabitants own cars since public transportation is not as efficient as in other areas. Purchasing property in Airport Residential Area is not an affordable feat, as the demand continues to exceed supply in this area.
Cantonments
This area is roughly a 15-minute drive southwest of the airport and 5km west of the Kwame Nkrumah Circle. The residents themselves still comprise the creme de la creme of society. Cantonment has a few restaurants, hotels, banking halls, and hospitals. For the most part, you'd find three- to four-bedroom houses, which are often beautifully furnished.
This makes it an ideal place for families above the middle-income bracket. The cost of living is also high; to move there, you have to be pretty financially stable. Osu is about 15 minutes away from Cantonment, so you can enjoy the nightlife and entertainment facilities.
Labone
Labone is on the south side of the Cantonment, with no distinct border between them. Its lands stretch to Labadi on both the east and the south (coast). Furthermore, it is typically inhabited by middle-class Ghanaians and foreigners, such as the Lebanese who live there with their families.
For convenience's sake, you can employ housing agents to help you rent a house for up to two years. You'll most likely find 3-4 bedroom homes belonging to wealthy individuals with multiple housing properties. One disadvantage of living in Labone is that there aren't many amenities, like restaurants, pubs, bars, and markets around. So, you would have to go to Osu to get most of the things you need. Fortunately, Osu is just a 15 to 20-minute drive from Labone.
Osu
This is one of the most famous areas in Accra. It is always bustling with life, especially at night, and there are even restaurants open 24/7. It was not supposed to be a residential area, so it makes sense that it has few to zero homes, unlike the areas mentioned above. However, it has serviced apartments that are ideal for middle-income class locals and foreign nationals who love to enjoy the city's nightlife.
It is characterized by buildings dating back centuries and many historical sites like the Osu Castle. The famed Oxford Street is the "street that never sleeps" with Mexican, Italian, Chinese, and Indian restaurants, bars, cafes, and pubs open throughout the night.
Roman Ridge
Roman Ridge is located in the West of the Airport Residential Area. Unlike Cantonment and Labone, it has numerous excellent restaurants offering mouthwatering dishes. It is also one of the best places to find serviced apartments for rent. Due to the quiet nature of the neighborhood, if you want to enjoy the nightlife and entertainment facilities, you must visit neighboring areas, like Osu.
East Legon
Also known as the "Rich Kids Hood," East Legon is one of the hotspots for housing in Accra. It lies about 14km to the northeast of the city center, with various restaurants, pubs, cafes, banks, and a shopping mall. The residents of this area are mainly wealthy Ghanaians living above the middle-income bracket.
They mostly travel in and out of the country and, therefore, rarely stay in their luxurious East Legon homes. Real estate agents and housing agents are always available to help you select and purchase a home that's suitable for your needs.
West Legon
West Legon is remarkably similar to its sibling, East Legon. It is located about 13km north of the city center and home to a bevy of wealthy Ghanaians and foreigners. Like East Legon, most residents constantly travel in and out of the country or returned for good after living abroad. Even though it is not as famous as East Legon, its apartments and estate housing make it ideal for business owners and international students enrolled at the University of Ghana (Legon).
Dzorwulu
Although this area has fewer housing estates and serviced apartments than its counterparts, it is still sought out by wealthy Ghanaians and ex-pats because of the good roads, variety of restaurants with great food, supermarkets, and a myriad of banks. It is a 30-minute drive southwest of the Kotoka International Airport and approximately 6.5km southeast of the city center.
Dzorwulu is quite similar to Labone, although it is a more vibrant area in terms of nightlife and the facilities available.
Dansoman
Dansoman is one of the up-and-coming areas in the country. Located near the Gulf of Guinea coast, 14km southwest of the city center, its populace is mostly middle to high-income earners. A few low-income earners reside there too. It is one of the country's largest areas, with bustling nightlife and a vast array of restaurants, bars, pubs, and cafes to choose from. Standard amenities, like electricity and water, are available, although the residents experience rare water shortages. Since it is a very populated area, there is heavy traffic during rush hours, in the morning, and at night.
Abelemkpe
This area is also known as "Abelemkpe Forest" due to the number of trees that create shade. It is located about 6km north of the city center and is divided into New and Old Abelemkpe. The wealthy locals and foreigners stay at New Abelemkpe, where there are fully furnished executive houses that are rented out at about $700 per month. Old Abelemkpe is typically inhabited by middle to low-income earners, with compound houses and detached homes, mostly with communal bathrooms.
Conclusion
Well, there you have it. These are the top 10 best areas to live in Accra. Keep in mind that homes in Airport Residential Area, Cantonment, West Legon, and East Legon may be pricier due to the kind of residents staying there. Nevertheless, they have fantastic amenities like schools, restaurants, shopping malls, and hotels.
Other places like Dansoman, Osu, and Dzorwulu are less expensive and provide great entertainment, especially at night. With this information, hopefully, you'll be able to choose a place to live if you decide to move to Accra. Don't forget to share this article and leave a comment if you have more questions.
FAQs
What is the richest city in Ghana?
The wealthiest city in Ghana is Accra. It is known as the heart of the country, where most economic activities occur. Its architecture, vast vegetation, and unique historical sites make it one of the most visited places.
Where do ex-pats live in Accra?
Ex-pats living in Accra naturally move toward areas with good schools, excellent housing facilities, and well-structured roads. This makes their stay more manageable and comfortable, especially if they're coming along with kids. Places like Accra, Osu, Labone, Cantonment, East Legon, West Legon, and Dzorwulu are a few favorites.
Is it safe to live in Accra, Ghana?
Yes, it is safe to live in Accra, Ghana. Ghana is still regarded as one of the most peaceful countries in Africa. However, you still have to be a little cautious when living in Accra due to its reputation for petty theft, crimes, scams, public transportation heist, and even rare kidnappings. These, however, mostly occur under the cover of darkness, and to people who do not know better.
What is the nicest city in Ghana?
Accra, the capital city of Ghana, is known as one of the country's loveliest cities. It is well developed and has notable architecture, malls, restaurants, 5-star hotels, and so much more. Other cities ranked as nice include Kumasi, Cape Coast, Tamale, and Tema.
What is the cleanest city in Ghana?
The Green City, also known as Sunyani, the capital city of the Bono Region, has been named the cleanest city in Ghana numerous times. There is less rubbish on the streets, and the people take part in communal labor to help keep the city clean. Other clean cities include Tema, Accra, Kumasi, and Cape Coast.
What is Ghana famous for?
Some of the things Ghana is most known for are:
It is consistently named as one of the fastest developing cities in the world.
It was the first country in Sub-Saharan Africa to achieve independence.
It's has a wealth of resources in the form of gold, cocoa, oil, and diamonds.
What is the poorest region in Ghana?
The Northern Region is considered the most impoverished region in the country. Although its poverty level has declined from 55.7% to 50.4% in the last years, it still doesn't compare to other regions. The Upper West and Upper East follow closely behind as the next poorest countries.
What is a good salary in Ghana?
To say that you make a good salary and lead a comfortable life in Ghana, you need an average annual income of GHC80,892 (gross) or GHC63,879 (net). However, this occurs for a small percentage of the population. The typical salary is GHC 29 141 (gross).
What is the average cost of a house in Ghana?
This depends on the kind and size of the house you're looking for. Average prices in Kumasi and Sekondi-Takoradi stand at $60,000, while houses in Koforidua and Cape Coast average $40,000. Getting a home in Accra is a little more expensive as the demand for accommodation is high. You should expect to pay about 15% more than what's required for houses in other regions, with the prices ranging from $100,000 - $400,000.
Is it expensive to live in Accra, Ghana?
To live a comfortable life in Accra, prepare to spend up to $570.71 per month. This figure will obviously increase for a family of four, with the cost of living being about $2,029.91 per month. Note that this does not include rent charges.
Is Kumasi bigger than Accra?
No, Kumasi is not bigger than Accra. Kumasi's size is approximately 500 kilometers (300 ml) north of the Equator and 200 kilometers (100 ml) north of the Gulf of Guinea, with a population of 3.3 million. In contrast, Accra covers an area of 225.67km2 (87.13 sq. ml), with an estimated urban population of 4.2 million, as of 2020.
What is the cost of living in Ghana, Africa?
The cost of living in Ghana for most foreigners is not considered high. One person would probably spend about $570.71 a month while a couple would most likely spend $1,971 a month. Then, a family of four would have to spend about $2,029.91 a month. However, this is considered expensive for most Ghanaians who complain about the country's high costs of food, rent, and transportation.