Ten cheapest ways to send money to Africa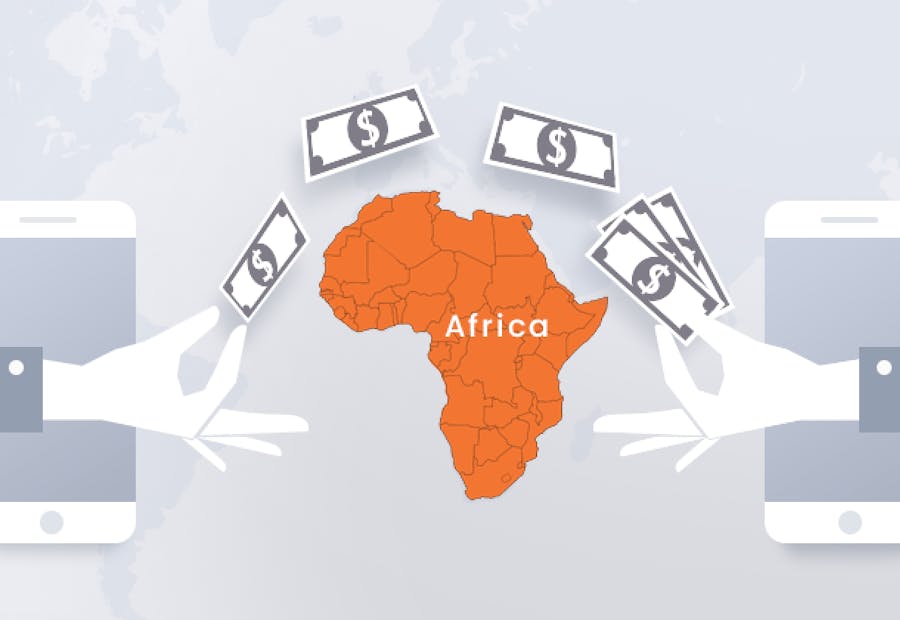 People worldwide consistently send money to their loved ones on the same continent or in other countries. In Africa, where millions of people have migrated abroad, there is a need to regularly send money to family members.
However, some of these money transfer services are expensive and especially in the long run. One example is bank transfers, where the charges are quite high per transfer. Fortunately, there are cheaper options available. In this article, we will discuss the ten cheapest ways to send money to Africa. Let's dive in.
Western Union
Western Union was started by Ezra Cornell in Denver, Colorado, 169 years ago. The organization can boast of quite humble beginnings since they first used bikes to move around. Presently, it is a global conglomerate with 12,000 employees, 500,000 agent locations worldwide, and transacting in nearly 130 currencies across 200 countries.
Using Western Union is not as expensive as it is to use bank transfers. Even more, they ensure your transfer reaches the recipient even if they don't have bank accounts. All you need to do is do download the Western Union App or go online to Western Union, log in and follow the instructions to send money to Africa.
TransferWise
Created by the founders of Skype, TransferWise is one of the simplest and cheapest ways to send money abroad. As it is with most platforms, you can simply go on their website or download the TransferWise app.
One great thing about TransferWise is that you can send money in any currency you prefer and choose the currency your recipient receives it in. Again, the exchange rate provided is very similar to what's on Google so, you know you are getting a fair price, unlike bank transfers.
To use it, simply input your bank details, your recipient's details, then send. The money arrives typically within 1 – 3 days. You can send cash through debit cards, domestic bank transfers, or even credit cards.
Sending cash through TransferWise will cost you about 0.35% of the money sent, which is cheaper than it is with other services. In fact, other services charge up to 10%. Note that sending money via credit card will cost you more.
World Remit
World Remit is known as the new kid on the block when it comes to money transfer services. Founded in 2010, it allows you to send money to over 140 countries across Africa, Asia, Australia, Europe, and the Americas. It is quite similar to TransferWise, but one unique feature is that it offers Mobile Money transfers.
As mobile money is one of the fastest-growing modes of money transfer in Africa, this is a huge advantage. They also offer you the best exchange rates with competitive charges. Altogether, the transfer fees for most countries is $3.99. World Remit takes a shorter time to send money than others on this list.
Sending money to Nigeria or the Philippines is instant, while in other countries like Poland and Germany, it could take about 1 – 2 days. Just download the WorldRemit Money Transfer App or visit their website to start sending money.
Azimo
Two advantages of Azimo is the security offered and ease of use. It is regulated by the Financial Conduct Authority (FCA) and Her Majesty's Revenue and Customs (HMRC) in the U.K. Also, the app has SSL certificates, making it one of the safest money transfer services.
Azimo is even more user-friendly because the app does not need to support its website or other structures, unlike some of its competitors. It's competitive rates, and low fees make it possible to send money as low as one pound.
Additionally, the app offers ten languages for users to select from, making it more convenient to navigate if your local language is included.
Remitly
The service offers here are quite similar to what you'll find in TransferWise, Azimo, and WorldRemit. One great advantage of Remitly is that standard transfers (which take about 3-5 days to reach the recipient) are absolutely free!
However, if you want your money to get to the recipient in minutes, there is a $3.99 charge. It furthermore partners with numerous banks in Africa, making it easy for the recipient to receive the money directly into his or her account.
Xoom
Founded in 2001, Xoom aims to be the number one choice of customers in sending money abroad. They also allow users to perform mobile top-ups and pay bills through their partner institutions across the globe.
Today Xoom is owned by PayPal and customers can use remittance services from USA and Canada to over 131 countries, including some in Africa. Its app and website can send money to African countries, with transfer rates costing $5.99 for transactions up to $999 and $9.99 for transactions higher than $999.
Payoneer
Payoneer is one of the fastest-growing money transfer services, especially in Africa, supporting 200 countries and 150 currencies worldwide. This is because of its far reach, even to areas most competing services aren't available.
It's possible to find Payoneer in small countries and even countries with civil unrest. This makes it the go-to money transfer service in regions that do not support other global services.
And there is even more great news; transfers to other Payoneer users are totally free! That means you can save a lot of money if you send money to Africa regularly.
CurrencyFair
This service has some exciting features. Due to the competitive exchange rates and "Smart Platform Technology," it reduces the cost of money transfer by up to eight times. On average CurrencyFair prices are 0.4% of the amount exchanged plus a three euro transfer fee.
One other unique feature is that you can select the best available rate of a given currency or request a better rate when the market changes. CurrencyFair is also a great option to use if you need money to get to Africa in the shortest possible time. This is because cash sent can reach the destination in 1-2 days.
SendWave
SendWave was founded in 2014 to solve the high transfer charges instigated by banks when sending money to Africa. It focuses on sending money to a recipient's mobile money wallet. Depending on the African country you are sending money to, transfer costs can either be free or cost you 3% of the amount being sent.
PayPal
With PayPal available in over 200 countries and supporting 25 currencies, this money transfer service is arguably the most popular in the world. It is the last on this list because even though it is prevalent, its services don't extend to some countries in Africa.
One advantage is that if the recipient also has a PayPal account, you can send money from your PayPal account to theirs in seconds. They can, however, charge as much as 3% on some transfers.
Conclusion
Well, there it is, the ten cheapest ways to send money to Africa. Some money transfer services may not charge you unless you're using a credit card. Also, remember that some services do not support all African countries and may furthermore require the recipients to have a bank account.
Based on that, ensure that you thoroughly read all policies before you use any money transfer service to avoid any surprises. Hopefully, this article will help you select the best money transfer services so you save money on your next transfer. Don't forget to share this article with others and leave a comment below if you have any questions.
FAQs
What is the best way to send money to Africa?
Millions of the people who now live in other countries worldwide migrated from Africa. Even more, most of them still have relatives and loved ones back home they often send money to. In recent years sending money has become more accessible with banks upgrading their services and the genesis 3rd party organizations. Some of the best ways to send money to Africa include:
Using Bank Transfer
This is the most standard way of sending money across the world. The recipient in Africa must have a bank account for this to work. Just take the recipient's banking details, input them into your bank's online fund transfer page, and input the amount you're sending; it's that easy.
Using PayPal
PayPal is one of the most popular global money payment services. It works in many countries but is not fully integrated into African countries. This means that people in such countries may not have access to their services. If the receiving African country is compatible, just enter the recipient's PayPal account details and send money in seconds.
Using a 3rd party transfer service
Using third-party payment services is a great, hassle-free way to get your funds across the world. There are over 50 internationally recognized payment services for you to choose from, such as MoneyGram, Western Union, WorldRemit, and Transfermate.
Download the app, or visit their website and include your account details and the recipient's details. The recipient can collect the money in person from transfer agencies or receive it in their bank or mobile money account. Remember to read their "Terms and Conditions" and also know that there will be a transfer fee for services rendered.
What app can I use to send money to Africa?
There are numerous apps you can use to send money to Africa. Before downloading any app, you have to consider the security, the cost of the transfer, and the speed of transfer of the app. Money transfer policies and fees are also different across countries, so, ensure you read the "Terms and Conditions" before using the following apps to send money to Africa.
Western Union App
World Remit
Venmo
WorldFirst
PayPal
Payoneer
Ria Money Transfers
Transfast
Azimo
ecoPayz
Can cash App send money to Africa?
Cash App is a mobile payment service used to send money to friends, family, or pay merchants and vendors. Unfortunately, it does not support international money transfers. Money can only be sent within the U.S and the U.K.
This means that U.S locals can only send money to each other, and the same goes for U.K locals. It, however, does not support U.S to U.K money transfers.
Can Zelle send money to Africa?
Zelle is also a 3rd party money transfer/payment service that allows you to send funds from a U.S account to another bank. This can be done using the Zelles Mobile App or via the Zelles website.
You can also use the receiving bank's mobile apps or websites if they are part of the Zelles Network. Unfortunately, the receiving bank account must only be in the U.S; therefore, Zelle can't send money to Africa.
Can you send money to Africa through PayPal?
Yes, it is possible to send money to Africa through PayPal, although it is not the simplest to do. This is because some African countries do not support PayPal, but here is how to use the service altogether.
Create your personal PayPal account and transfer money into it (the amount should be more than what you expect to transfer). Follow the instructions provided to transfer money into the recipient's PayPal account. Don't forget to read their "Terms and Conditions".
Can you send money to Africa through Western Union?
Yes, it is possible. With over 43,000 agent locations in Africa, sending money through Western Union has never been easier. There is also a myriad of ways to send money to Africa through Western Union. Here are some of them:
Sending in person – just walk into one of 55,000 agent locations in the U.S and send money to Africa.
Using the App or website – download the Western Union App or visit their website WU.com, follow the instructions, and send your money to qualifying banks in Africa.
Mobile Wallet – transfer money to mobile money accounts in Africa.