Simple Yet Elegant Ideas For Designing Your Modern Kitchen Cabinets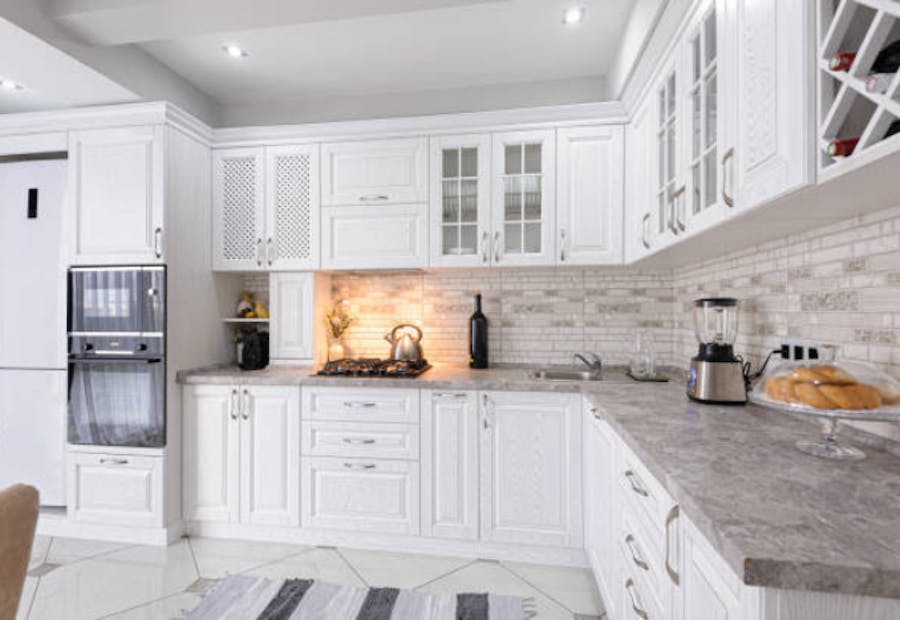 Your kitchen is the busiest corner of the house; therefore, it deserves the best of your attention. To cook all the delicious meals for your family and friends, you need a smart kitchen which is not only functional but also beautiful. 
You should pay equal attention to each part of the kitchen, including its cabinets. Cabinets are one of the primary components of a functional kitchen as they are the main storage element. 
While you decide on the cabinets of your kitchen, you need to focus on factors like- storage capacity, durability, functionality, and appearance. A kitchen cabinet with all these factors can serve its true purpose. 
Now let's check out some of the ideas and tips for your modern kitchen cabinets. 
Wooden cabinet installation needs professional help  
Wooden kitchen cabinets are one of the most popular designs which add the perfect warmth to your kitchen. They look super stylish and, at the same time, quite functional and durable. 
But make sure that you get your wooden cabinets installed by an experienced dealer. Poor installation may result in peeling of the laminates and banding. If done properly, these wooden cabinets last for years, and they are easy to maintain as well. 
Stainless steel cabinets are more durable
Stainless steel kitchen cabinets are the most minimalistic yet elegant addition to your kitchen. For their proper installation, you need to consult a metal fabricator to give specifications and customizations. 
Like wooden cabinets, metal ones are very durable and provide you ample storage. If a minimal modern design is your aesthetic, stainless steel cabinets are the perfect choice for you. 
Add vibrance through Color-blocked cabinets
If you love adding color to your kitchen interior, color blocking is a perfect idea. This allows you to incorporate multiple colored cabinets in your kitchen without making it look too loud or tacky. 
It would be best if you take professional advice picking the colors as they are more experienced in this field. You can do color blocking with lighter shades as well, and it does not necessarily have to be loud colors all the time. 
White cabinets need regular maintenance
If appearance and style are your top priority, along with storage and functionality, all-white kitchen cabinets are the ones for you. These white cabinets give a clean and sleek look to your kitchen, making them look extremely elegant and beautiful. 
But these white cabinets need regular cleaning and maintenance. You need to keep them stain-free to preserve their elegance; hence, you will have to spend a few extra minutes cleaning them every day. 
All-black cabinets for a sleek sophisticated look
Just like all-white cabinets, all-black cabinets are one of the most popular kitchen cabinet ideas. Even though they're quite plain and simple, black cabinets add so much character to your modern kitchen decor. They also require very less maintenance due to the dark shade. 
In order to balance the darkness, make sure that the rest of the kitchen is painted with light colors and has ample light. In general, black cabinets pair best with white countertops and other accessories. 
Add backlight to your kitchen cabinets 
Adding backlight is the simplest way to make your kitchen cabinets stand out. It does not require much work and resources, making it the cheapest way of revamping your kitchen cabinets. 
Use cabinets as minibars
Want to add a minibar in your kitchen but don't have extra space for it? Don't worry. You can use your kitchen cabinet as a minibar. Cabinets with glass slides or even open cabinets can serve the purpose of a kitchen minibar. 
Add some backlight in the cabinets to make them look even better, and put your wine glasses and wine bottles in them. Add a few stationery pieces to add to the decor, and your kitchen cabinet minibar is ready. 
Vertical kitchen cabinets to utilize space
If your kitchen doesn't have ample space for traditional cabinets, you can try out the vertical style. They look modern, stylish, and completely serve the purpose of kitchen cabinets. 
With vertical cabinets, you don't have to compromise on the storage capacity and can have the same benefits as traditional kitchen cabinet space. 
Floating cabinet shelves for minimum storage
Floating cabinet shelves are the perfect option for those who do not want large storage space. If you don't have a large kitchen and your stock of kitchenware is less, floating cabinet shelves are the perfect choice for you. 
Make sure that you choose a durable material for the shelves, such as wood, so that they can hold your kitchenware well. Floating shelves, in addition, are very easy to clean, so they require less maintenance. 
Add cabinets in the kitchen island
To make the most out of the kitchen island and for some extra storage, you can add cabinets to the kitchen island. This is a great idea to store your everyday items in the kitchen island cabinets and to separate them from less used ones. 
No compromise on storage with modular kitchen cabinets
Modular cabinets are quite useful when you have to optimize a small kitchen space. They are factory-built products, and you can have them in various shapes like L,U, straight, or parallel. 
These cabinets fit perfectly well in your small kitchen without having to compromise on storage. 
Conclusion 
Mentioned above are some of the top tips and ideas for your modern kitchen cabinets. All the tips are shortlisted based on their appearance, usability, durability, and storage capacity. 
If you are looking for ways to renovate your kitchen cabinets or want to install new ones, make sure to consider these ideas. Keep watching this space for related posts!