Pros and Cons of Moving to Ghana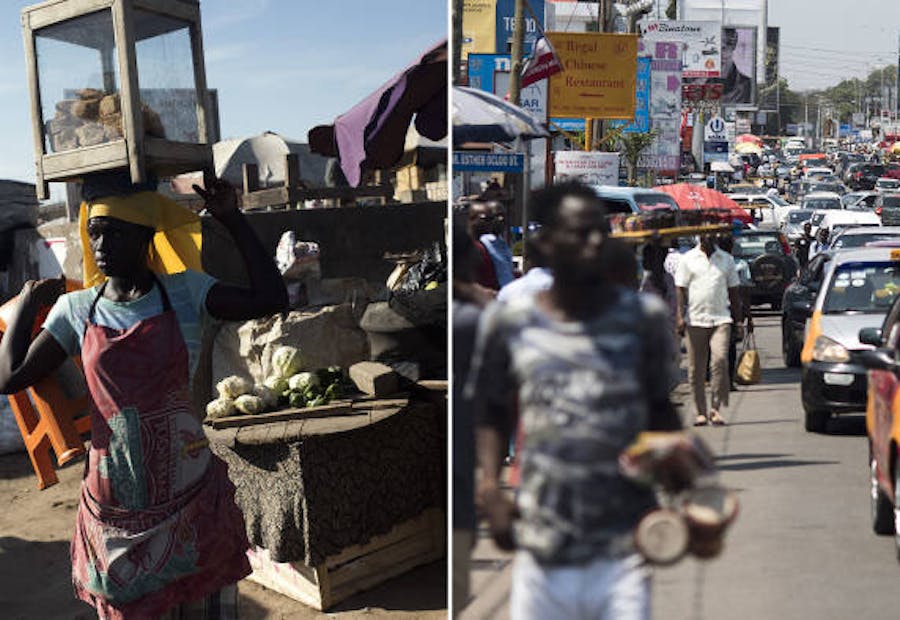 In recent years, Africa has become a mixing pot for visiting tourists and black people in the diaspora to experience the fantastic culture or connect with their motherland. Some African Americans and even White Americans have even decided to move to Ghana after visiting. If you are one of those people looking for reasons to move to Ghana, you're in the right place. In this article, we shall cover the advantages and disadvantages of moving to Ghana and some Frequently Asked Questions (FAQs) that may creep up as you make your decision. Let's dive in.
Pros of Living in Ghana
Hospitable People
Ghana is home to some of the friendliest people in the world. Most of them will not hesitate to help you out if you are in a bind. Due to the social culture of the country, sharing and communalism are expected. As such, people like to eat together, live together, and generally do many activities together. Learning simple phrases in the local languages like "Good morning" and "Thank you" will go a long way to make the locals more comfortable and even impressed with you.
Excellent International Schools
If you are an American moving to Ghana with your kids, you don't have to worry about the vast difference in their curriculum. International school curriculums are mostly taken mirror the ones used in the UK and the US. Based on that, it's easier to pick up from where your kids left off back at home. They also include extracurricular activities such as swimming, basketball, tennis, and even ballet to make your child feel more in sync.
English is the primary language in the country
Even though Ghana boasts of more than 50 languages, English is the country's official language. That means a considerable percentage of the country can easily communicate with you, which eases the language barrier. However, you can simply learn a few of the most common local languages like "Twi" and "Ga," seeing as it'll earn you substantial bonus points amongst the locals when you're out at the market or tourist sites.
A variety of housing options
One great thing about Ghana is the variety of housing options available for you to simply pick from. There is something to fit everyone's budget, from simple "chamber and hall" apartments to lavishly furnished apartments in the sky. Just keep in mind that since there is more demand than supply of housing stock, especially in Accra, prices may be a little steeper than you are used to.
Cons of Living in Ghana
Food may give one a culture shock
Staple foods in Ghana are typically starch-based and served with soups or stews. Examples are rice with vegetable stew or "fufu" (pounded yam) and soup. You may also experience some culture shock due to the kinds of protein eaten by the locals. Some of them are considered pets in other parts of the world but are a delicacy in some places in Ghana. If you aren't used to adventurous meals, simply head to the mall for an assortment of food from around the world. There you'll find something more appealing, although it may be expensive.
General healthcare is not world-class
Healthcare in Ghana is not ranked high in the world. Government hospitals are often inundated with a massive influx of patients who sometimes have to wait long hours to see the doctor. It also doesn't help that the doctors go on strikes sporadically due to the government's inability to pay salaries on time. Altogether, it's advisable to opt for private hospitals, although they are more expensive
Insane traffic congestion
Poorly constructed and overcrowded roads in most parts of the country are the main reason for heavy traffic on weekdays, especially during rush hour (between 7 am – 8 am). This makes getting the work extremely stressful in major cities like Accra and Kumasi. The best thing to do is to leave an hour or two before time. Note that there is far less traffic during the weekends, though.
Conclusion
Well, there you have it, these are the pros and cons of moving to Ghana. Take into consideration the quality of general healthcare, the crazy traffic congestion, and the different cuisine you'd experience if you decide to move to the country. However, it will help if you also considered the hospitable nature of the people, the great schools, and the variety of housing options available to you.
All this will help you make an informed decision on whether or not to move to Ghana permanently. Do not forget to share this article and leave a comment if you have any questions.
FAQs
Q. Is it expensive to live in Accra, Ghana?
Living in Accra, Ghana, is not as expensive compared to some other cities around the world. For example, Accra's cost of living index is 60.54% less than that of New York. However, most people living in Accra complain that the standard of living is high. This is not surprising since the cost of living for a family is approximately GHC2000 per month. It can even go up to GHC570 for a single person if rent is excluded.
Q. What do I need to know before moving to Ghana?
Here are a few things to know:
Labour is Cheap
Housing is expensive
Defensive driving is the order of the day, so be careful on the road.
There is much to do in Accra to keep you entertained.
Respect for time is flexible and not strict.
Q. Is it dangerous to go to Ghana?
Ghana is ranked as one of the most peaceful countries in Africa, and with good reason. Most of the tourist visits are generally trouble-free. However, there are some petty theft cases, crime (violent, petty, and opportunistic), and scam cases in some parts of Accra. As such, it is crucial to be vigilant when visiting and to take sensible precautions if you're moving to Ghana. Here are a few tips to note:
Do not walk around with large sums of cash or take out large sums of money in public. This will make you an easy target for thieves. Since there are many ATM's around, you can withdraw money when necessary. However, this is a little risky to do at some times of the day. Remember to take money from the ATM only in the afternoons if you need to.
Do not go to the beaches alone or hang out there at night. Beaches, like the Kokrobite Beach and Labadi Beach, are hotspots for petty crimes. It's even more rampant when it comes to tourists in the evening. Ensure you leave while it is still bright and go with a group of friends.
On arrival in Ghana, a hoard of cases have been reported of luggage and document theft. Keep in mind that only the appropriate airport staff wear tags with their names and pictures on them. If anyone without this validation comes to offer to carry your luggage, immediately decline. Also, confirm your driver's identity by asking for their ID and giving it a quick inspection before stepping into the car.
Q. Is it safe to live in Accra, Ghana?
Living in Accra may be a little overwhelming for some people, due to culture shock. Things may be so different and may take some time to get used to. When it comes to safety and security, you have to be very cautious if it is your first time in the country. Crimes, petty theft, pickpocketing, road heists, and scams are normalcy in the country. Based on that, you have to be very vigilant and careful when going anywhere alone at odd hours of the night.
Q. What is the highest paying job in Ghana?
Fuel Handlers officially have the highest paying job in the nation. A fuel handler's main job is to pump aviation fuel into aircraft and other heavy-duty machines. They equally ensure that only the best quality fuel is delivered to power plants, commercial airliners, etc. Other high paying jobs include account managers, project managers, medical doctors, and Professors.
Q. Can a foreigner buy a house in Ghana?
Yes, a foreigner can purchase a house in Ghana. This is, however, only possible if the foreigner buys a home on family/private land. There are four main types of land in Ghana: vested land, government land, customary land, and private/family Land. The process involved in buying a house situated on the first three types of land is far more complicated than getting something on Private Land.
Q. Is Ghana expensive to visit?
Visiting Ghana can be expensive, depending on the time of your departure. Airfare runs up to $1200, or more during peak seasons, like December. February is one of the cheapest months to fly to Ghana, with airfares dropping as low as $500. It equally helps to plan to spend about $41 per person daily.
Q. Is it expensive to live in Ghana?
A lot of people ask, 'how much money do I need to move to Ghana?' This depends on your budget and how easy you want your life to be in the country. Typically a single person would spend about $1,200 a month, while a family of four spends up to $2500 a month. This can either increase or decrease depending on what you deem necessary to have.
Q. Is there Ebola in Ghana?
According to the World Health Organisation (WHO), there are no confirmed Ebola (EVD) cases reported in Ghana to date.
Q. How much does a house in Ghana cost?
Due to the fast-growing economy and the high demand for accommodation in Ghana, housing prices can be high. This depends on where you want to get a house. If you're looking to buy a home in Accra, Ghana's heart and capital, expect to spend between $85,763 - $514,579, depending on the size and level of luxury you want. If you want to buy a house in other regions, it will be much cheaper.
Q. What is the average salary in Ghana?
The average salary in Ghana is typically around $3,600 per year. It can also be broken down in terms of the average minimum wage and the maximum average salary. The average minimum wage is about $150 per month, while the top average salary is $700 per month.
Q. Does Ghana allow dual citizenship?
Yes, Ghana does allow dual citizenship, so you cannot lose your citizenship just because you have a second citizenship. However, the person in question must visit Ghana to register their second citizenship to obtain a dual citizenship certificate and card.
Q. How much is $100 in Ghana cedis?
The exchange rate of the Ghana cedi to the dollar is about GHC5.83 to $1. Therefore a $100 should amount to approximately GHC583.
Q. Is Ghana a poor country?
No, Ghana is not a poor country. It is considered as one of the wealthiest countries in terms of resources in West Africa. Resources like gold, diamonds, and many more exist in Ghana. As a result, the country has one of the highest GDP's in West Africa and one of the fastest-growing economies in the world.
Q. What is the most beautiful city in Ghana?
Accra has always been regarded as the most beautiful city in Ghana due to its beautiful vegetation, artistic buildings, and unique historical sites. It is equally a definitive destination for tourists who come to the country. Places like the Labadi Beach, Osu Castle, Zen Garden, Chenku Waterfall, and Kwame Nkrumah Memorial Park are sites to behold when moving to Accra, Ghana.
Q. What is the cleanest city in Ghana?
Sunyani, the capital city of the Brong-Ahafo Region is regarded as the cleanest city in Ghana. Other clean cities include Tema, Accra, Kumasi, and Cape Coast.
Q. What is the richest city in Ghana?
Accra is generally known as the wealthiest city in Ghana, mainly because of the vast economic activities within the city.
Q. What is Ghana famous for?
Some things Ghana is famous for include:
Being the first sub-Saharan nation to break free from colonial rule.
It is a substantial global producer of gold and cocoa.
It is the birthplace of former Secretary-General of the United Nations, Mr. Kofi Annan.
It's full of warm and friendly people.
Happens to be one of the fastest-growing economies in the world