Natural 4C Hair Nightime Care Routine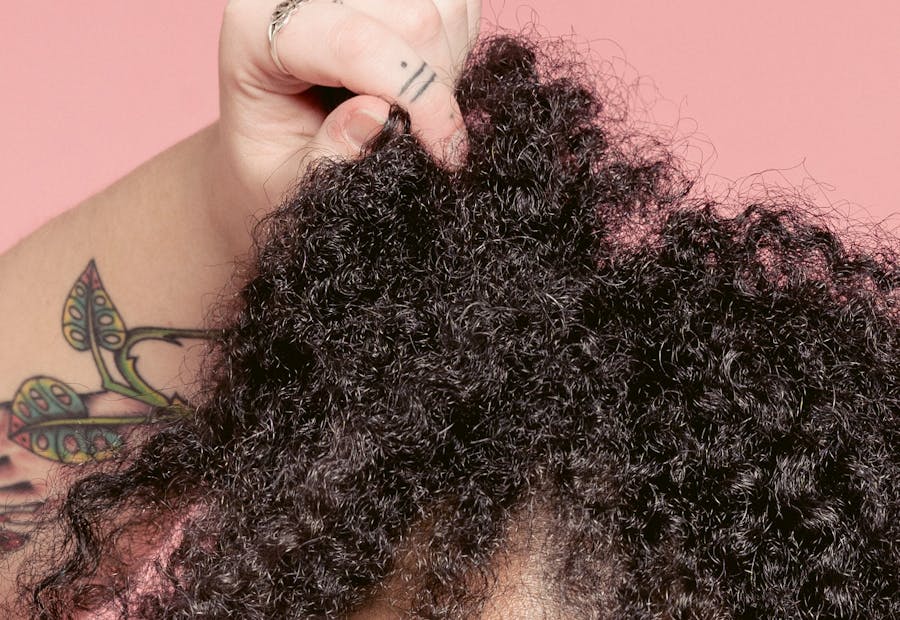 If you're looking for an easy nighttime regimen for 4c hair, I'm here to help. My name is Joanna. I'm a hair, beauty, and lifestyle blogger based in Ghana. Continue reading for my easy-to-follow nighttime routine tips, and don't forget to follow my Facebook page, where I share more hair, beauty, and lifestyle tips.
As black women, one of our very noticeable features is our hair. It is our crown and glory and plays a lot in the black magic identity. It is, therefore, of utmost importance that we keep our hair healthy.
It is no lie that taking care of 4C hair is not easy, but tiresome efforts are rewarded when you see your hair flourishing and healthy. It is, for this reason, hair care is important, even when you go to bed. Healthy hair care doesn't stop when you sleep! A nighttime care routine is important in your natural hair journey because it helps prevent your natural curls and coils from getting very tangled. It also reduces friction on your natural hair strands and makes it less stressful to style your natural hair in the mornings. Besides, given your precious time on your hair, I'm sure you want to keep it looking good for as long as possible.
Here are some nighttime haircare tips you can incorporate into your regime to produce healthy natural hair.
Moisturise
Your body needs water, and so does your hair, especially 4C natural hair. A bad idea for your hair health would be to leave your hair dry. Therefore, replenishing any moisture your hair might have lost throughout the day before heading to bed is a good idea. Even if you have a good routine of regularly moisturising your hair, applying a bit of something lightweight like Leave-In Conditioner at night can make a big difference.
Another option is to mix a considerable amount of water and add some leave-in conditioner to make a mixture. You can then spritz the mixture unto your hair strands. Adding it at bedtime will ensure you don't have wet hair in the morning. Of course, do this as you feel is necessary. The goal is to ensure your hair is as moisturised as possible before you catch your shut-eye.
Scalp Massage
One of the easiest ways to achieve long healthy natural hair is to always massage your scalp at night before bed. You can do this manually or with the help of a scalp massager. To manually massage your scalp, you can choose to do this with or without oil. Scalp massage is important because it helps to increase blood circulation to the roots of the hair.
It also strengthens the hair follicles, which helps your hair grow well. When massaging your scalp, use your fingertips and not your fingernails to avoid hurting your scalp. Then, gently massage in circular motions for about 5-10 minutes. When massaging your scalp with oil, dip your fingertips in oil, then gently use your oiled fingertips to massage your scalp.
Some great oils you can use for this purpose include coconut oil, olive oil, jojoba oil, moringa oil or lavender oil. Another option is to blend some of these oils. You could blend some moringa and coconut oil and apply them to your scalp. To prevent your hair from becoming too oily, apply it for a few nights a week.
Braid, Plait Or Twist It Up
Braids or twists hold moisture and help your hair stay soft and fairly detangled. You don't have to do a ton of plaits or twists because it is time-consuming! But, as you moisturise your hair, you can divide it into about seven or eight medium-sized sections and twist it. If you want to maintain a style like a twist or braid-out, you can make your nighttime twists rather loose so as not to disturb the definition too much.
If you are trying to stretch your hair in addition to maintaining moisture, plaiting or braiding is best since the hair is tauter than it is with twisting. Twisting can provide a decent stretch with the right technique.
Pineapple Your Hair
"Pineappling" your hair essentially means putting it up in a loose ponytail, and this style does a few things. For one, placing everything in the centre of your head protects your wash-and-go curls or sets, whether you're rocking a twist-out, braid-out, or rod set. When you take it down, the hair that was hidden and protected on the "inside" now lays on top and looks flawless.
Also, pulling your hair up to the top of your head and securing it with a satin scrunchie gives you a bit of stretch, making for a great second, third, and perhaps, even fourth-day hair! Last but not least, your hair is likely to appear bigger after pineappling. If you love big hair or want to create more volume, give it a try!
Those with shorter hair can do multiple pineapples, two or more according to your length, for the same results.
Use A Satin Bonnet Or Scarf
After setting your hair for the night with one of the above methods, use a silk or satin bonnet or scarf to prevent the hair from losing moisture or snagging on traditional cotton pillowcases. Many 'naturalistas' like to use a scarf and bonnet when doing a pineapple style for bed. They usually wrap the scarf around the sides while protecting the exposed hair at the top with a bonnet.
Use a Satin Pillowcase
Perhaps, You are uncomfortable with the option of sleeping with a satin bonnet or scalp or either. A satin pillowcase may be the answer! Discard the cotton pillowcase. As a 'naturalista', cotton pillowcases are not your hair's best friend. You can toss and turn all you like without worrying about a bonnet slipping off while still maintaining the moisture.
Also, your curls are assured of their needed protection while you are asleep.
Conclusion
In conclusion, great hair is achievable, but you must also try to see it happen. With natural 4C hair, a daytime haircare routine can only do as much. That is why you need to do more. The nighttime care routine can double your efforts to get your desired hair. And while this routine may seem like so much work, the end will justify the means.
Don't forget to share this article with your fellow 'naturalistas'. Let me also know what you think about this article.