5 Most Affordable Neighborhoods in Accra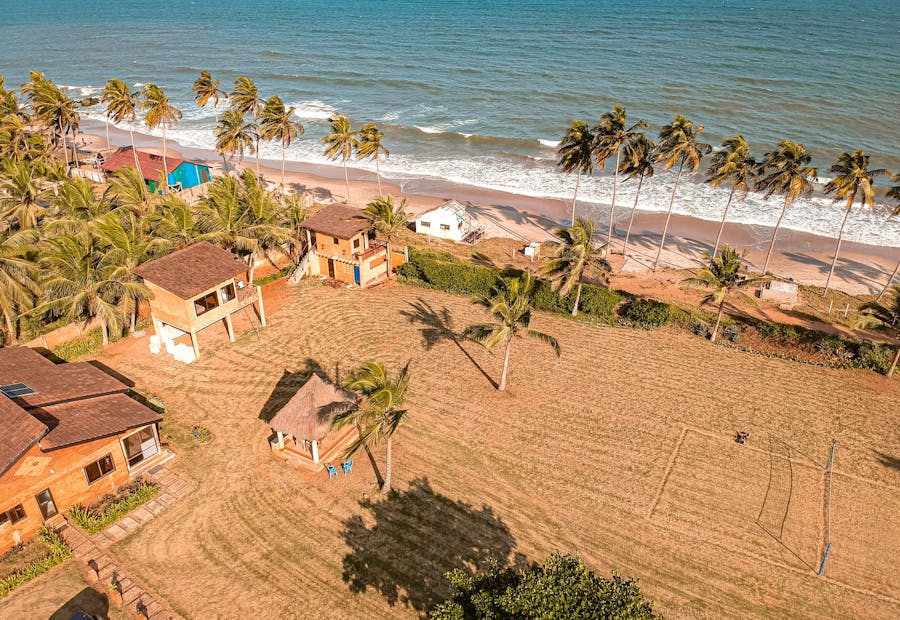 What are the cheapest places to live in Accra?
As it is with most capitals of the world, Accra is quite an expensive place to live. A huge chunk of this expense is from the accommodation. Popular high-profile areas like Airport residential area, East Legon, Cantonment, and Labone are quite on the high end. A four-bedroom apartment in these areas usually costs around Ghs 120,000 annually for rent. A short-term stay is, on average, Ghs400 per day. This is certainly not for everyone's pocket. Worry not, though!! This article provides five cheapest places to live in Accra where you can rent or buy a residence for as much as 50% less.
Before I delve, here is one important thing to know. If you're moving to Ghana permanently, buying land and building your own house might work out cheaper. If you need more information on buying land or buying a property in Ghana, please click here to join this Facebook group I created. I regularly add available lands for sale from all over Ghana, including Aburi, Accra, Kumasi, and more. I have personally visited each plot and and checked the land's ownership at the land's commission.
These places are serene and have close proximity to notable facilities and areas for you to have the apt convenience.
1. Taifa:
Located in Ga- East Municipal District, Taifa is a town of "changing shades". It bustles with activities during the day. Yet it provides you with the requisite calm at night. This is primarily because entertainment areas are markedly distanced from largely residential areas. There is also another important reason for its matured ambiance.  It is an area where middle-class citizens acquired and developed real estate generations ago. Most of these people are now in their sixties, seventies, and eighties. They currently belong to the upper economic class. They thus do everything possible to make sure they rent their apartments to "well-cultured people". 
Depending on your location, Taifa is about a 5- 20 mins drive from the Achimota mall. It has two post offices, a police station and is less than a ten minutes' walk from the Kwabenya(which is a neighboring town)  Police station. There are a couple of key medical facilities here. It has a government hospital and is quite close to a couple of good medical facilities. These include The Community Hospital, St John's Hospital, and the SSNIT hospital. There is also a varied plethora of worship centers for Christians and Muslims. 
2. Tantra:
This is quite an interesting locality. Sandwiched between noisy areas like Lapaz and St. John, Tantra is an oasis of serenity. With a plush, well-organized outlay of road networks and houses, moving around is quite easy.
As earlier pointed out, its location implies you are well within the reach of some important places. For those close to the Pokuase- Achimota highway, it is a ten minute's walk to the Achimota mall. The biggest branch of the largest retail outlet- Melcom is also just a few minute's drive. In addition to the dozens of restaurants available at the Achimota mall, a couple of high-end restaurants are famed for both Local and International cuisines.
The St Johns hospital is within an identical walking distance from the mall. The Providence multi-specialty hospital is also a ten minutes drive from Tantra. Aside from those at the mall, there is also a wide range of financial facilities to pick from. A branch of all the banks is within a 500-meter radius of Tantra.  
If you plan to stay here for the long term. There are a couple of high-class Montessori schools around this area. The most popular is Vilac. If there is one place that provides you access to everything and anything, this is it.
3. Galilea Kasoa:
Technically, Kasoa is not part of Accra- at least on paper. But the rapid population growth of Accra over the years has seen her pull surrounding towns into her territory. As a matter of fact, at a particular time point, in recent years, Kasoa was considered the fastest-growing settlement in West Africa 
Galilea is one of the many settlements that sprang up in Kasoa over the past few years. What sets it apart though is the fact that most of the initial settlers were middle-income literates. Therefore, the landscape and the structure of the place are largely well organized. 
This community is just opposite a large market of an eponymous name. It is a ten minutes drive from the largest mall in Ghana- the West Hills Mall. There are a couple of top-notch medical facilities around this area. The most popular being Finney hospital- which is about ten minutes away. If you would want to reside here for the long-term, there are a couple of good educational facilities around. The downside of this area is that most of the banks are in other neighboring communities. These are about 10- 15 minutes away. This is changing though as banks are rapidly setting up branches here.
4. Kisseman:
Kisseman has developed a really interesting reputation as the home of foreigners. It is a location laden with people of different nationalities who seek to call Ghana home. This diversity gives it the bubbly multicolored vibes it has. The commercial area of Kisseman seems never to sleep. Like Taifa its residential areas are largely far away from the noise. This apt segregation gives you the liberty to enjoy the comfort of your home when you want to. Unlike Taifa, the population of Kisseman is largely a youthful one. This is because this a town that recently saw a spate of rapid development over the past two decades. This area has a collection of well-structured and properly organized estate facilities. 
It is close to advanced medical facilities like the government-owned Achimota hospital and the privately owned branch of the Lapaz community hospital. It is about 25 mins drive from the Achimota mall. Just fifteen minutes away from the famed Achimota golf course. The popular Dome market is also roughly 25 minutes away.
5. Tesano:
Tesano is the closest you can get to be within touching distance of the busiest areas in Accra and a place of residence. It is a seven minutes' drive from the Kwame Nkrumah circle and about twenty minutes from the Accra business district. The latter being the location of the famed Makola Market. 
Its location gives you the apt proximity to popular places in Accra. Notable restaurants like Papa's pizza, Cheezy's pizza, and KFC are just a stone's throw away. The availability of many varied services and goods providers also makes it quite a vantage location. This makes up for the absence of a shopping mall in this area.
Places of worship dote the landscape. The most popular being the Tesano Baptist Church. It is also a place where you can readily and easily get a bus or a taxi. 
You should have no fear for your security. The Tesano police station is within walking distance. In addition to this, the national police training academy is also located at Tesano.
FAQs
What's the cost of living in Ghana?
The cost of living in Ghana varies depending on several factors, including location, lifestyle, and personal preferences. However, some tips for living on a budget in Ghana include shopping at local markets, using public transportation, and cooking meals at home instead of dining out. Additionally, sharing accommodation with roommates or family members can also help to reduce living expenses.
Which region has the lowest cost of living in Ghana?
The northern regions of Ghana generally have a lower cost of living compared to the southern regions. This is due to several factors, including lower housing costs, cheaper food prices, and lower transportation costs.
Which is the best place to live in Ghana?
The best place to live in Ghana depends on personal preferences and priorities. Some popular cities and regions for expats and foreigners include Accra, Kumasi, Cape Coast, and Takoradi. These areas offer a mix of modern amenities, cultural attractions, and job opportunities.
Where is the cheapest place to live in Accra?
The cheapest place to live in Accra is typically the city's outskirts, where housing costs and other living expenses are lower than the central business district. Areas such as Kasoa, Amasaman, and Adenta are more affordable and offer a variety of housing options.
What is the cheapest rent in Ghana?
The cheapest rent in Ghana depends on the property's location, size, and quality. However, some areas with lower rent prices include the outskirts of Accra, the northern regions of Ghana, and some rural areas. It's important to research and compare prices before deciding to rent a property in Ghana.