DIY Hot Oil Treatment For Natural Hair Growth 2018 – 4C Black Afro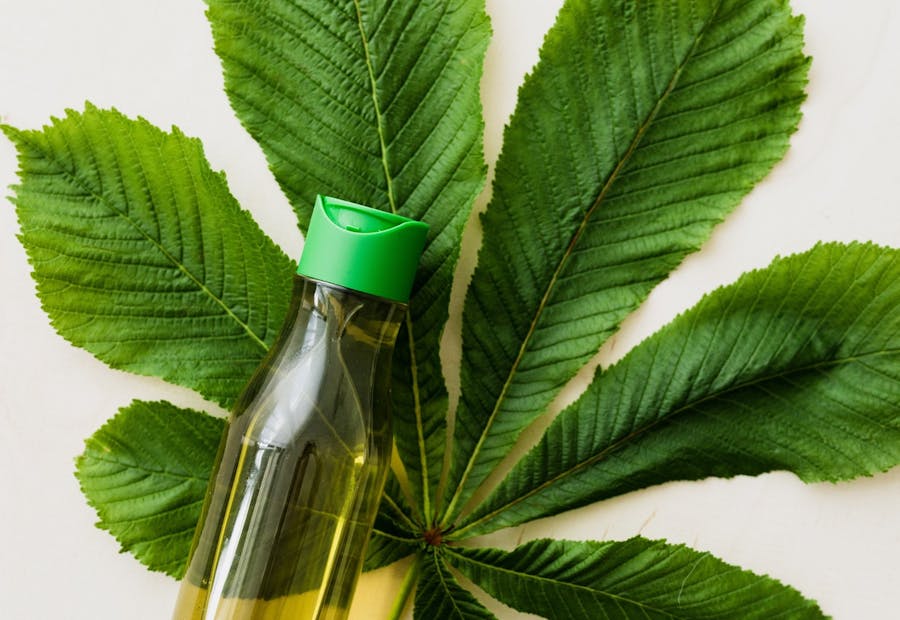 Q&A – How to Make The Best Homemade Hot Oil Treatment for Natural Black Hair Growth | 4B & 4C Hair / Black African Hair / Afro Hair / Curly Hair
Welcome back to the Jostylin blog. I have been wanting to do this topic for a while as I have been getting a few questions on How to Make a Hot Oil Treatment for Natural Hair Growth. With this post, I am going to give you guys all the details to making the best hot oil treatment for black hair growth, which your hair will absolutely love. If you have 4B & 4C natural hair like me, your hair will benefit greatly from this hot oil treatment it as can help strengthen and grow your natural hair.
If you are not into reading my very long articles, my hot oil treatment video tutorial may be better suited for you, which you can watch below.
I have also added some useful recipes I have prepared for a hot oil hair treatment to strengthen natural hair. It will help keep your hair soft and tangle free, especially for those that are transitioning.
1) How to Do a Hot Oil Treatment for Natural Hair Growth – Youtube Video Tutorial
Here is the video version which you can watch for better practical advice. But don't forget to continue reading the article for more in depth information on the benefits of hot oil treatments and the best oils to use.
2) What is a Hot Oil Hair Treatment?
A hot oil treatment is similar to a deep conditioner, but involves the use of oils that have been heated to certain temperature. Heating the oils not only break down proteins in the oils, it allows deeper penetration of nutrients into the hair follicles.
These oils – made up primarily of a protein called keratin – will infuse your hair with much-needed moisture and strengthening compounds. The treatment with hot oil is also ideal to restore the hydration of dry and brittle hair.
With regular hot oil treatments, you will see faster and greater improvements in your hair health,, and even faster hair growth. Including this treatment in your hair routine will also make your 4c curls feel much softer, more defined and healthy.
It is important that the oils you are going to use are of the highest quality and purity possible. You can choose the oil that you like the most, each of them has its properties and benefits.
Hot oil treatments are generally very beneficial for natural hair growth but don't forget that faster natural hair growth is dependent on many factors. For more information on growing hair, read my article on How to Grow Natural Hair Fast.
3) What Are the Benefits of A Homemade Hot Oil Hair Treatment for Natural Hair Growth on Black Hair?
There are many different kinds of hair types or textures from course, medium-course, kinky, curly. Most hair is made of three layers – the inner fiber called the medulla, the middle layer called the cortex, and an outer layer called the cuticle. When the hair appears damaged, the cuticle raises, chips, becomes fragile, easily tangled, losing its moisture and shine.
Hot oil hair treatments are good for ALL types of hair, regardless of length and texture. 4C hair, in particular, will benefit from a hot oil treatment because the curly nature of African hair makes it difficult for the oils from the root of the hair, to travel up to the ends of the hair. With Afro hair, the hair shafts are flat with a more twisted structure and a thinner diameter compared with other hair types. The key is to choose the right ingredients for your hair type and to choose the best hair products to promote growth in black hair.
With a hot oil treatment for natural hair, you can help prevent moisture loss and help your hair regain its natural strength.
4) What Ingredients Can Be Used in A Homemade Hot Oil Treatment to Promote Growth On Black Hair?
Any kind of hair oil is the main ingredients that should be added into a hot oil treatment for natural hair growth. If you want to add more ingredients into your hot oil treatment, after the heating the oil I would mix in some herbs such as Rosemary or green tea.
5) What Oils Do You Use in a Homemade Hot Oil Treatment for Natural Hair Growth?| 4B & 4C Hair / Black African Hair / Afro Hair / Curly Hair
You can use a variety of oils for your homemade hot oil hair treatment for natural hair growth. But as Afro hair is unique, we must stick to thicker oils containing a higher oleic acid content, for a more phenomenal experience:
Hemp Oil: I have used this oil both on my hair, skin and consumed internally for over 13 years. I simply cannot put this oil anywhere below number one.
Shea Butter: My hair simply loves shea butter. Its thick, creamy texture is an absolute godsend for afro textured hair.
Coconut oil: The reason coconut oil is one of the best oils for a hot oil treatment is due to the softness and shine it provides. I love how a little goes a long way and it can just glide through my hair with ease. Read more about Coconut oil for Natural Hair Growth.
Avocado oil: If you have really dry and frizzy hair, avocado oil is a good choice. It is one of the most emollient and moisturizing oils you can find, avocado oil is
Castor oil: Castor oil carries ricinoleic acid and omega- 6 essential fatty acids, which accelerate blood circulation to the scalp, hence increasing hair growth. It works on nourishing the scalp and strengthening the roots with the help of essential nutrients. it's also a powerhouse at adding strength to your hair, so those of you with thin hair that breaks easily, think about using castor oil in your hot oil hair pack. Hemp oil has always been my favourite oil, but about a couple of years ago, I started experimenting with Castor oil. What I found was that the thick consistency of the oil was perfect for my 4c hair type. Read more about Castor Oil for Natural Hair Growth.
Jojoba oil: There are many factors that can lead to the dryness of the scalp, dandruff, and increased hair loss. Jojoba oil is capable of minimizing those factors. It mimics the natural oil sebum, which is produced in our scalp. It nourishes our hair and follicles and maximizes the rate at which our hair grows. The oil has antifungal properties that help maintain the health of our scalp. It also helps in getting rid of the layer of dead skin, dandruff, and dirt and leaves behind a clean and well-hydrated scalp. Jojoba oil is capable of moisturizing hair and its follicles without leaving any residue. It can help hair cells to reproduce themselves at a rapid pace. After applying it on hair, wait for a few minutes before washing the oil out.
Fenugreek Seed oil: Fenugreek seed can be easily incorporated in your homemade hair care recipes so that you can reap the best benefits for your hair. If you want to get healthy and nourished hair sans dandruff and flakiness, try using fenugreek seeds as a significant ingredient in your hair care regime.
6) Other Best Oils for Natural Hair Growth | 4B & 4C Hair / Black African Hair / Afro Curly Hair
There are many other oils you can use in your personalized hot oil recipes such as argan, sweet almond, apricot kernel, … the list goes on. For more information on using oils for hair growth, check out my other articles on:
7) What are the Best Essential Oils for a Homemade Hot Oil Treatment for Natural Hair Growth?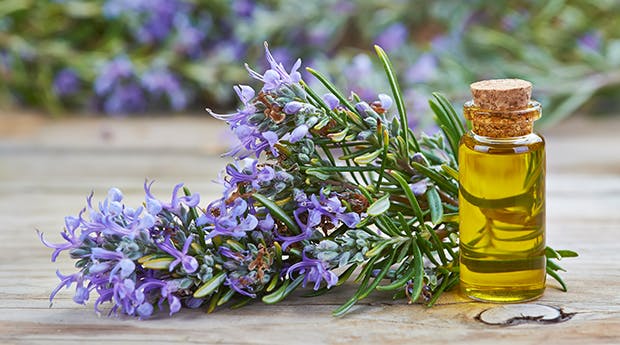 Rosemary oil: is often celebrated as a miracle hair growth oil. It's generally thought that the naturally active ingredients in Rosemary can help block some of the causes of baldness. There is increasing scientific evidence that Rosemary oil can help boost hair growth. The best way to use Rosemary oil for hair growth is by doing a Rosemary Oil Hot Treatment. Doing a hot oil treatment on the hair can allow the nutrients to penetrate deep into the hair follicles, locking in all the benefits for shiny, healthy, beautiful hair. For a quick and effective Rosemary hot oil treatment, add some coconut oil and castor oil along with a few drops of your Rosemary essential oil. Alternatively, you can purchase the Jostylin hair growth oil for natural Afro hair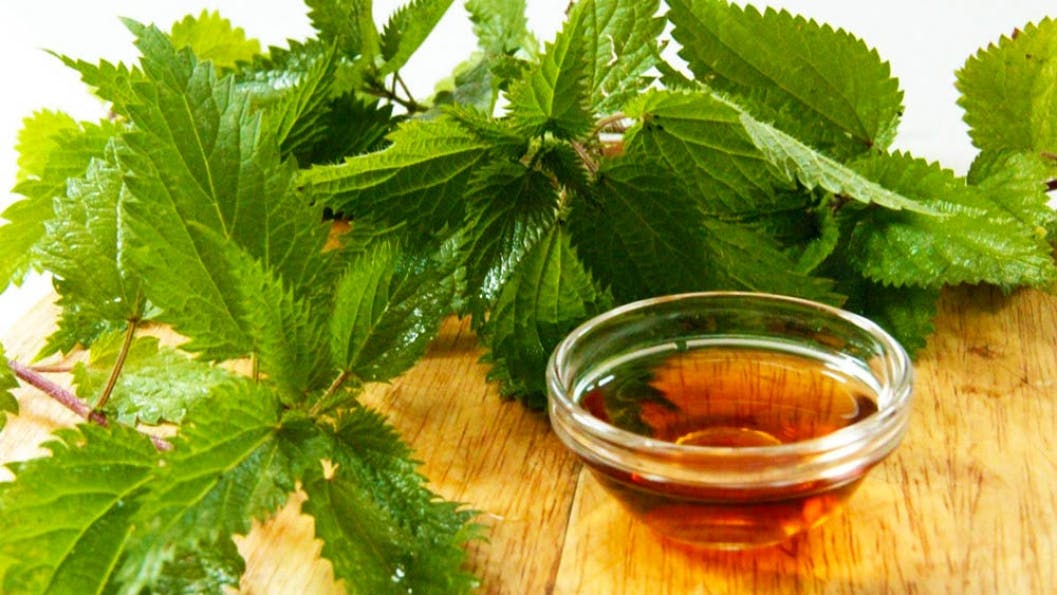 Nettle Oil: One of the oldest hair loss remedies is stinging nettles (urtica diocia). Although no clinical trials have proven conclusively that using stinging nettle will help combat hair loss, stinging nettle has actually been used since ancient times as a hair loss restorative. It's also rich in iron & silica that both combat hair loss, prevent hair shedding and encourage hair growth.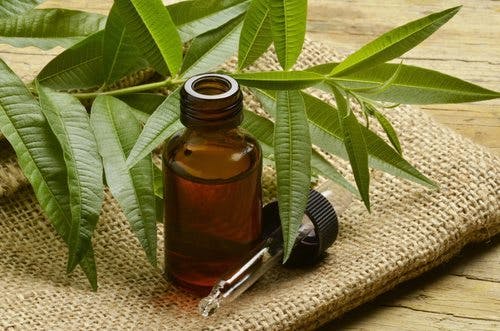 Tea Tree: If you experience hair loss, breakage, or problems with growth, tea tree oil may be able to help. Tea tree oil has many natural antifungal and antibacterial properties which effectively deal with certain hair-related problems. It moisturizes hair and keeps the scalp free from fungal infections, preventing dry and itchy scalp and blocked hair follicles. Tea tree oil also removes dead cells, unblocks hair follicles, and boosts the immune system which is then able to fight against infections that lead to hair loss.
8) What Are the Best Herbs to Use in a Homemade Hot Oil Treatment for Black Hair Growth?
You can choose herbs to add even more moisture, to clarify and add shine, or to add strength and elasticity. Here are a few ideas:
Strengthen hair with: Chamomile, nettle, horsetail, arnica, burdock.
To stimulate hair growth: mint, parsley, horsetail, sage, chamomile, ginger and cinnamon are excellent choices.
The treatment with hot oil is ideal to restore the hydration of dry and brittle hair.
Clarify hair with: Rosemary, parsley, sage, nutmeg or witch hazel.
Increase moisture in hair with: Calendula, chamomile, lavender, catmint, dried rose petals, or aloe.
Stimulate hair growth with: Rosemary, tea tree, peppermint, parsley, horsetail, sage, chamomile, ginger, and cinnamon.
Enhance coour: If what you want is to enhance the color of your hair, you can add various herbs: black tea, ground coffee, sage, rosemary, walnut and nettle shells, chamomile, rhubarb, calendula and clove; and for the redheads hibiscus, red clover and chamomile.
Lighten the hair: rosemary, parsley, sage, nutmeg or witch hazel.
9) Supplies Needed ito Do Hot Oil Treatment for Natural Hair Growth
To do a hot oil treatment, you will need:
Pan: A small pan to heat the oil
A wide tooth afro comb – This is essential to eliminate any product build up. You can also use your fingers to detangle your hair.
Towel – To avoid oil spilling
Steaming cap – You can get this from most local afro hair stores. Steaming hair has a multitude of positive effects that can help keep hair healthy despite the damage caused by galloping pollution. It will also help to open pores of the hair: It is very healthy to steam the hair just before oiling. This is because steam opens the clogged pores of your hair. If the pores of the scalp remain clogged then the oil will not get into the roots of the hair. As a result, the hair does not receive food. However, steam opens the pores so that you get all the benefits of greasing your hair. This can lead to some hairfall but in the long term, it will strengthen the roots of your hair.
10) Jostylin's Moringa Hot Oil Treatment for Natural Afro Hair Growth | 4B & 4C Hair / Black African Hair / Afro Hair / Curly Hair
If you have dry or damaged hair,
Moringa hot oil treatments are one of the simplest and most effective remedies for dry hair. Moringa is often called "the miracle tree" because it is packed with more than 90 nutrients and 46 types of antioxidants. Moringa also cares for your body, not just from the inside, but on the outside as well. Your skin and hair, particularly, can reap the benefits of Moringa. Benefits of Moringa includes: Moisturises hair, makes hair stronger, fights split ends and dandruff, reduces hair loss.
Ingredients you will need:
Half cup Honey
1/4th cup Moringa Oil
1 Tablespoon Avocado oil
Tea Tree Oil
Blend the honey, Moringa oil, Tea Tree and Avocado oil together and lightly heat in a pan for 2 minutes. Heating it will help it penetrate the hair shaft easily and also reduce dandruff.
11) How to Add Herbs to A Homemade Hot Oil Treatment for Hair Growth on African Hair
Place about 3 Tablespoons of the oil(s) of your choice in a makeshift or real double boiler. Turn the heat on low and add 1 to 1-1/2 Tablespoons of your chosen herbs. Let this steep for about 10 minutes on low.
Strain the herbs from the oil into a small glass container.
You can store this oil for up to 6 months in a tightly lidded container.
12) How to Apply a Homemade Hot Oil Treatment for Fast Natural Hair Growth on Afro Hair
It is a personal preference on how often to practice hot oil treatments, but I would recommend to do weekly especially in the winter months or if you live in a dry climate. Pour your prepared oil treatment above in an applicator bottle, then apply to the hair and scalp.
Apply this evenly all over your scalp and slowly massage. Then apply to the rest of your hair
Braid your hair in 6 parts and avoid daily manipulation for even better results.
You can leave the mask on through the night or you can wear a plastic cap or wrap a warm towel around your head and leave it on for at least half an hour before shampooing.
If you prefer to rinse out the mask, rinse with cool/lukewarm water and shampoo with an SLS Free Shampoo for 4c Afro hair. Opt for one that adds moisture to the hair, such as the Jostylin Moisturising Shampoo.
Repeat this treatment once a week or as many times as you feel your hair requires it.
It will gently cleanse your hair to prepare for your hot oil treatment.
13) When to Apply a Homemade Hot Oil Treatment
Use a hot oil treatment whenever you feel that your hair is really dry and you need maximum moisture.In order to obtain full penetration of the oil onto your scalp and hair, it is best to apply your hot oil treatment after you have washed your hair. You don't want to apply it to dirty hair because your hair will not benefit best, and with dirty hair, the oil will just sit on top of your hair. Some naturals also apply the hot oil treatment after deep conditioning, instead of before.
14) Do You Have to Wash Your Hair Before a Hot Oil Treatment?
Washing your hair before or after a hot oil treatment really depends on how dirty your hair is. If you feel your hair is not that dirty, simply dampen it or water only wash it without any shampoo or conditioner. It is really up to you as there is no set rules when doing a deep conditioner.
The most important thing is that your scalp is clean and free from product buildup or any other residues.
15) The Benefits of Adding Honey in A Homemade Hot Oil Treatment For Natural Hair Growth
With its antibacterial healing properties, Honey acts as a natural humectant, attracting moisture to the hair and also contains vital vitamins and minerals.These nutrients are what your hair feeds on to encourage hair growth.
16) Perform a Scalp Massage During a Hot Oil Treatment for Natural Hair Growth
Massaging your scalp helps improve circulation and hence stimulates hair growth, and you only need to do it for about five minutes daily to see results. Put the hot oil on your hair and comb it through to ensure even distribution and reduce breakage during shampooing. Just rub your fingers on your scalp in a circular motion, applying gentle pressure and kneading occasionally to open up the blood vessels and increase blood flow.
Massaging can also be combined with a hot oil treatment once or twice a week. Another popular tip is to flip your hair upside down for two to four minutes daily.
17) What is The Best Homemade Hot Oil Treatment That Helps Strengthen Natural 4C Hair?
There is no single hot oil hair treatment that is best for all people with 4C hair, but there are certain kinds of oils that are more beneficial than others.
I have tried many different oils for my hot oil treatments for natural hair and to be honest, the most beneficial always tends to be the thicker oils such as castor oil, moringa oil and avocado oil. Sometimes olive oil does work very well, but it has to be pure and many store bought olive oils are not so pure.
Oils should be chosen depending on your purpose for doing a hot oil treatment. The main culprit to breakage on 4c Afro hair is dryness. Dry hair is a lightly damaged condition and in most cases, the causes are due to environmental factors, excess styling and lack of proper care. It's also possible that the condition or structure of your hair is causing the moisture to escape, which leads to dry hair.
Of course, some hereditary or medical factors come into the equation when accessing the causes for dryness on your hair. If your scalp doesn't produce enough natural oil to moisturize your hair it could be genetic or it could be something that happens over time. As we age, the body's rate of oil production naturally slows down, leading to dryer hair and skin.
A hot oil treatment can help you get rid of that annoying frizz, prevent dryness and strengthen hair – leaving the unfortunate split ends smoother and less noticeable (at least for a while).
18) How to Do a Hot Oil Treatment for Damaged Hair
Although dry, damaged hair can be a cause of distress, it is in most cases, not something to lose sleep over. The good news is that, if properly taken care of, our natural hair can grow very strong and healthy regardless of how damaged it may be. And with a good hot oil treatment for natural hair, you can bring a little elasticity and strength back into your hair.
Sadly, let's be real and admit that the already damaged parts of our hair is irreversible and would be better off chopped off. However, if you are not yet ready for a big chop, there is no harm in giving the damaged hair the extra body and shine it deserves with a hot oil treatment.
19) Can You Do a Hot Oil Treatment and Deep Conditioner at the Same Time
My advice will be to stick to doing one or the other on a weekly basis. There is such a thing as hair trauma. When you subject your hair to too many treatments, you can actually do more harm than good. Remember that many oils contain protein, in as much amount as deep conditioning treatments. Too much protein can be damaging to hair, so alternate between a deep conditioner and a hot oil treatment.
20) Your Daily Natural Hair Care Regime After Doing A Homemade Hot Oil Treatment for Natural Hair Growth
Below is the Jostylin daily care routine for hair growth and healthy hair. homemade deep conditioner for natural hair growth on afro hair.
Trim your hair when needed: what you want is to grow your hair long and fast, but sometimes you need to trim hair as fried hair tends to slow down the natural growth process of your hair. When your hair gets is constantly dry, it is time to trim off the hair but only the damaged parts should be trimmed. Be careful not to trim undamaged parts of the hair.
Wrap your hair with a satin bonnet at night: Satin caps protects hair from dryness and allows your hair soak in the oil that you have been supplying to it. Since you cannot do this all the time during the day, you can always wear a scarf during the night. A satin scarf is recommended as satin does not absorb oil like other fabric.
Sleep with a satin pillowcase: To avoid oil in your hair getting sucked out while you sleep, use a silky pillowcase.
Avoid frequent use of rubber bands: Tying hair back with rubber bands often cause breakage of hair.
Braid your hair often: This reduces the exposure of hair, hence less damage is done to your hair. There are different styles of braids to go for.
To read more on adopting a good natural hair care regimen, check out my article on day and night regimen for natural hair growth.
21) What Other Factors Influence The Health of Your Hair When Doing A Hot Oil Treatment for Natural Hair Growth?
Hair is formed by a fiber of keratin and is divided into the root that projects above the surface of the epidermis and the stem that is located in a hair follicle. Due to its structure and primary function (the protection of the skull) the hair is exposed to numerous factors that can influence your health:
Sunrays: The strong solar rays act on the keratin fibers modifying their structure and long-term coloration, in the most serious cases burns on the scalp can occur.
Characteristics of the water: The concentration of salts as well as the pH of the water with which we wash our hair greatly influences their elasticity, leading them to become dry and brittle.
Exposure to chemical substances: Exposure to toxic substances damages the structure of the hair, causing even its fall and affectations in the hair follicles. We must also take into account the habit of smoking and the use of cosmetics that contain too many chemicals.
Inadequate diet : It has been proven that a diet rich in vitamins A, B5, C, E and H, iron and proteins is essential for hair growth and strengthening.
Inappropriate handling: Very tight hairstyles, using the dryer too long or very aggressive dyes can damage your hair and even your scalp, if not treated in time the condition can become permanent.
22) How to Stop Breakage in Natural Hair After a Homemade Hot Oil Hair Treatment | 4B & 4C Hair / Black African Hair / Afro Hair / Curly Hair
Do not bleach hair: The strong chemicals used in making hair dyes are not friendly to your hair. They are a major cause of damage to hair. Frequent use of hair dye can damage hair severely and can slow hair growth. If you must dye hair, make it as infrequent as possible, two to three times a year should be maximum.
Avoid flat iron heat on hair: High temperature is unhealthy for your hair. It makes hair very dry and prone to breakage. If heat must be applied on hair, it should be at most once a week on medium heat. The heat from curling irons and flat iron can go as high as 200 degrees Celsius, which is very damaging to hair.
Air drying or blow drying of hair on medium to low heat should be your preferred drying option. The heat released on hair from blow dryer coupled with the release of a strong blast of hair can cause hair damage.
Try to be stress-free: stress can affect hair growth negatively, so try to live a life that is stress-free. Engage in things that give you a peaceful mind and avoid those things that stress you.
Avoid tight braids and heavy hair extensions: Braids are a popular style! But wearing tight braids can stress your hair leading to hair breakage from the root. Tighter braids may look more attractive to many but they are not kind to hair growth. They can also cause the breakage of hair close to the hair follicles. We advise go for loosely fit braids for speedy growth of your hair.
Do not relax hair too often: The chemicals in hair relaxer can prove to be very strong for your hair. While growing your hair, you can try to go for a pure natural look by completely avoiding hair relaxation. This will encourage faster hair growth. If you must relax hair, it should be done every three months.
Go gentle on your hair: Afro hair can be difficult to comb and manage due to its curly nature. Try detangling your hair done frugally and gently. To reduce hair breakage while brushing your hair, start from the top and work your way to the root slowly. A boar-bristled brush or comb is recommended for brushing your hair to reduce hair breakage while brushing hair.
For more tips on ho to stop breakage on natural hair read my article called : How to stop breakage on natural hair.
More Tips On: How to Grow Natural Black Hair Fast
To get some more information on black hair growth, you can read my article on How to Grow Natural Hair Fast.
Natural Hair Products for 4C Hair Growth / African Black Hair Types – Hot Oil Treatment Products