How to Grow Natural Hair Faster & Thicker | 4C African & Black Hair Products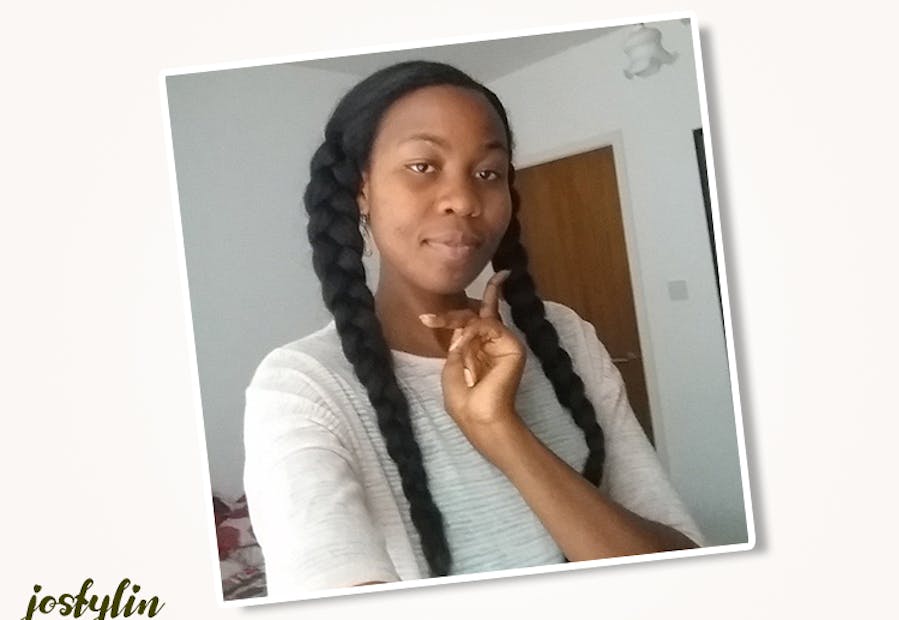 Tricks & Techniques to Grow Natural Hair Faster & Thicker | 4B & 4C Hair / Black Hair / African Hair / Afro Hair / Curly Hair
As my natural hair has grown over the years I have always been thankful of its thickness. Embracing your natural hair and its thickness is very important, but it's understandable why many of us naturals want to grow natural hair faster and thicker. Not only does it look healthier, it also generally looks more bouncy and fun to style.
If you have thick hair, you have many options of styling your hair – you can hold it back or simply leave it loose. I some grow fuller thicker natural hair with volume let feel that my thick hair may be genetic, because my dad has thick hair, but before I went natural my hair was very thin so I am not so sure.
Not every natural girl is blessed with super thick hair. If your hair is not so thick or you notice it is starting to thin out, it is natural to worry when one suffers from loss or thinning of the hair.
Don't lose sleep over the fact that your hair is not so thick as there are several hair care and styling tricks that can help us natural hair girls get hair that looks thicker and fuller.
Just a to note; my articles tend to be very detailed so it's always a good idea to bookmark them. Also, check out my article on how to grow natural hair fast if you're looking for hair growth tips.
1) Retwist or Braid Your Hair Every Night to Grow Natural Hair Faster & Thicker
I have been rebraiding my hair almost every night for the last 10 years. Rebraiding or retwisting your hair every night is one of the best practices that not only protects your hair but also ensures that as your hair grows, its thickness will be maintained. This thickness is mainly due to the fact that protected hair breaks less.
Braiding and twisting are two of the best protective hairstyles you should opt for throughout your hair growth journey.
2) Have a Weekly Vitamin Treatment to Grow Natural Hair Faster & Thicker
Add liquid B vitamin complex in your weekly hair treatments. This will ensure your hair gets all the nutrients it desires for healthy hair growth.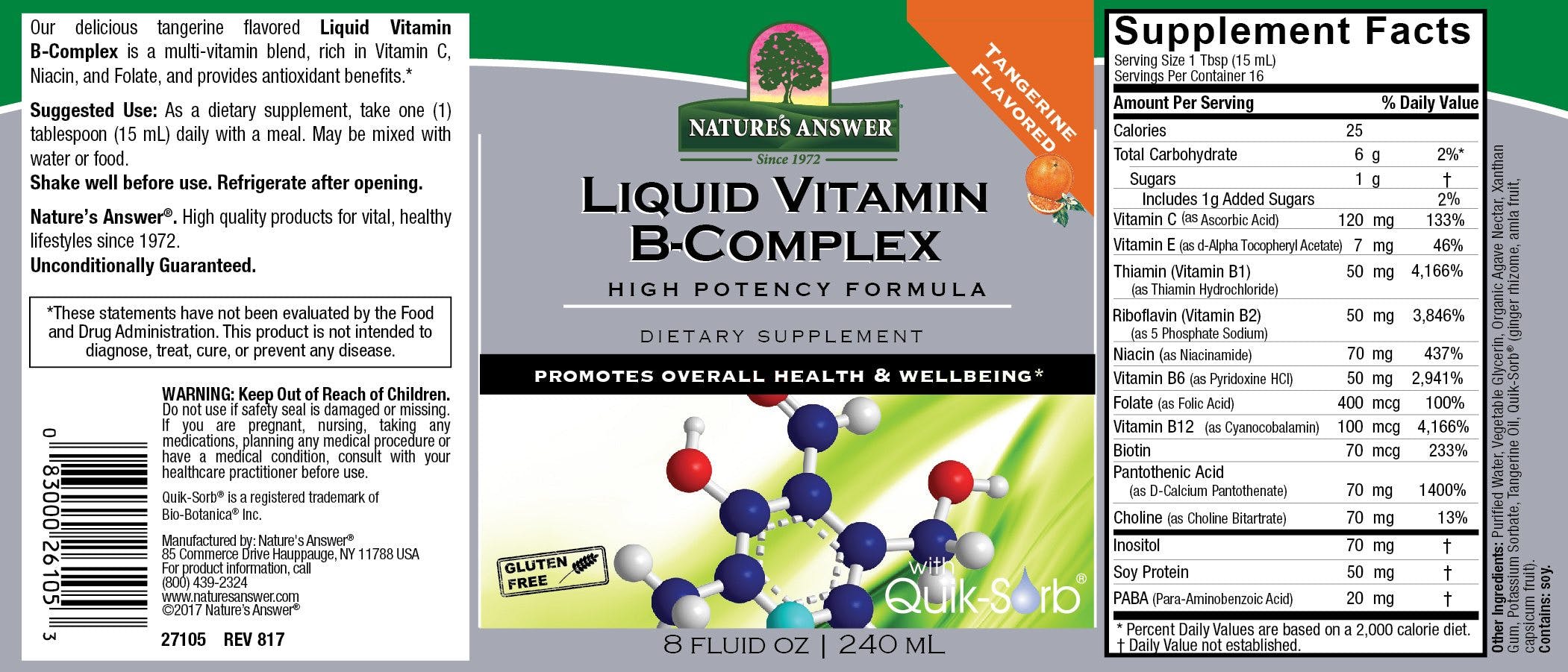 I use a specialist liquid vitamin b on my hair (it is not the one in the picture, but I chose this image because the ones I use is only available in Turkey). Some of you may know that I live in between Turkey, UK and Ghana. So I get hold of a lot of specialist products which are not available in the UK or USA. I will write a blog on these vitamins very soon.
Also note that if you are deficient in iron, you may find that your hair is very thin. So visit your GP for a blood test. If your iron levels are too low you can supplement with iron. You will soon notice that your hair will be looking thicker. For more information on using vitamins for hair growth, read my article on The Best Vitamins for Natural Hair Growth on Black Hair.
3) Have a Weekly Protein Treatment to Make Natural Hair Grow Faster & Thicker From The Roots
Treatment with regular protein is essential to enjoy stronger and thicker hair. For a hair treatment with proteins the best ingredient to use is the egg.
Take one or two eggs according to the length of your hair and beat it. Now apply this egg to your wet hair and let it rest for five to ten minutes. Finally, wash your hair with warm water and your favorite shampoo.
You can do this protein treatment three to four times a week. Another option is to mix the yolk of an egg with a spoonful of any type of oil in the hair and two tablespoons of water correctly. Use this mixture to massage your scalp. Follow this resource once a week to enjoy thicker hair. The video below shows you how I do my protein treatments.
4) Finger Detangle Hair for Faster & Thicker Natural Hair Growth on African Hair
I started finger detangling my hair when I was 2 years natural. I actually started because I was having a hard time running a comb through my hair. It only occurred later to me that my hair's thickness could not only be genetic, but also due to the fact that I avoided combs. Combs are not so careful because they grab knotted hair strands, which cause further breakage.
Styling Tips to Grow Natural Hair Faster & Thicker | 4B & 4C Hair / Black Hair / African Hair / Afro Hair / Curly Hair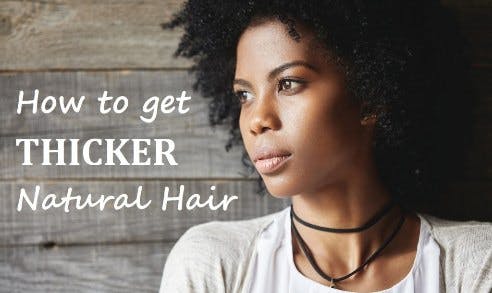 5) Style On Damp Natural Hair to Grow Natural African Hair Faster & Thicker
Avoid styling hair when it is wet or dry. Damp hair acts as the perfect medium for styling hair. Not only does damp hair allow the nutrients, moisture from your products to be infused into the strands, hair at its strongest when it is damp. As your hair dries, it swells up, which gives the illusion of full thicker natural hair.
6) Fluff Your Roots Using A Pick or Your Fingers
Fluffing your roots creates an illusion of thickness. It raises your hair, fills in gaps and add volume to natural hair. You can use a pick comb or use your fingers to raise your root.
7) Separate Your Twist Outs or Braid Outs
Separating your twist outs and braids outs also an illusion of thickness. But be careful when using this technique, as too much separating can cause frizz.
8) Use Larger Twists or Braids
When you twist your natural hair for twist-outs or braid out, use larger sections instead of smaller one. Smaller thinner twists will give you more curl definition, but a bigger twist will make your hair appear fuller. This is because small twists means you have many sections that are separated from other hair strands. The more the hair strands are separated the thinner your natural hair looks. Using larger twists will close the gaps between your strands and add volume to natural hair.
9) Trim Your Hair Regularly
By trimming your hair you get rid of the opaque, damaged tips and give new life and volume to your hair. Above all, short, layered styles can make your hair appear thicker than it looks when it is long and uncut.
10) Layer Your Hair
Another styling trick that creates the illusion of thicker hair is cutting your hair in layers. If you ask your hair stylist for a cut with strong layers (that frame the face) that start on the cheeks. Your hair can be cut into various lengths from medium to long. Put mousse for volume on wet hair. While the product is working, dry yourself with a dryer and a round brush. Concentrate the heat on the roots to have more body.
11) Use Natural Hair Products to Grow Natural 4C Hair Faster & Thicker
As my hair products are catered mainly for 4B/C, I have opted to use thicker oils such as Moringa oil and Castor oil. These oils are perfect if you have 4C hair because when applied, they give you luscious bouncy fuller looking curls. To find out if the Jostylin products will work best for your hair type, check out my hair on the best natural hair products for black hair growth.
12) Use Homemade Deep Conditioner & Leave in Conditioner Treatments For Hair Growth
Masks for hair with natural fruits to obtain thicker hair: Fruits are not only good for your health, but applied make the hair grow thicker and longer. Try these homemade hair masks made with fruits:
Compress / Hair Mask with avocado: Avocados are full of vitamins A, B and E. They are very effective to moisturize hair naturally. Gently massage a mixture of ripe avocado and banana puree over your scalp to achieve thicker hair. Let the mixture rest on the scalp and hair for about 30 minutes. Wash your hair with shampoo and apply conditioner. Additionally, you can make a natural moisturizing mask by mixing two tablespoons of olive oil with half the mashed half of ripe avocado.
Compress / Mask for the hair with strawberries and banana: Make a porridge combining some strawberries and a banana. Add milk and honey to this porridge to obtain a thick and thick paste. Apply this compress to your hair and let it sit until it dries completely, and then rinse. It is a natural beauty tip to make hair grow thicker and longer.
Eat a healthy diet, so you get all the vitamins and nutrients essential to get thicker hair.
Apply olive or coconut oil to the scalp and hair once or twice a week, about 30 minutes before washing the hair. You will see the results within a few weeks.
Add a few drops of oil to your conditioner. Apply the conditioner to the ends of the hair first, and then move the fingers up through the hair to get rid of the dried ends of the hair.
Unravel your hair slowly. Prefer a comb with wide plastic teeth. Never brush your hair while it is wet.
Never stretch or pull your hair too much.
13) Use Ingredients That Increase the Thickness On 4B & 4C Hair
Rinse flax seeds: Flaxseed seeds are a rich source of omega-3 fatty acids, which can provide a natural thickness to your hair. Take about three tablespoons of flax seeds and soak them in a bowl of water for five days. Apply this solution of flax seed directly on the scalp with the help of a cotton ball. To obtain beautiful hair, wash it after 10-15 minutes. Continue with this natural remedy to get long and thick hair. In addition to the use of this topical application, you can also include freshly ground flax seeds to your diet to thicken your hair.
Orange: Orange juice is very good for the general health of your hair. It helps to eliminate dandruff, oily scalp and obtain thick and long hair. Mix orange juice with applesauce in equal proportions and apply this mixture once a week on the scalp and hair. Let this mixture stand there for 30 minutes and then rinse.
You can also mix orange juice with olive oil in equal proportions. Heat the mixture a little, and then apply to the hair leaving it to rest for 30 minutes. Rinse with running water. You can also make a hair mask with orange peels and use it for the general health of your hair.
Follow this recipe once in a week and soon you will have longer and thicker hair. You can also make a mixture by adding an equal amount of orange juice and olive oil and heat a little. Apply this mixture on the hair and leave it for half an hour, and then wash the hair with water.
Fenugreek seeds
get fuller thicker natural hair with volume 7Fenugreek seeds can also be used to prevent hair loss and to enjoy better hair growth. Take two to three fenugreek seeds and let them soak in water for eight to ten hours.
After that make a thin paste of the soaked fenugreek seeds and apply it to the hair and scalp and let it rest for half an hour before washing the hair properly with warm water.
When this is done regularly, this remedy will prevent the scalp from being dry and will help you enjoy thicker hair . Another option is to rinse the hair with water from fenugreek seeds that were soaked overnight. This will encourage hair growth and help you get rid of dandruff.
Aloe Vera
Another popular ingredient that can be used is aloe vera. Extract the gel from one or two leaves of aloe vera and rub the gel on the scalp and let it rest for half an hour before rinsing the hair with warm water.
Another option is to mix the aloe vera gel with an egg and a little brandy. Apply this mixture on the scalp and after ten or fifteen minutes wash the hair. Follow this resource once a week to enjoy thicker and healthier hair.
At the same time, you can also consume a spoonful of aloe vera juice, daily on an empty stomach to enjoy better hair growth.
For more homemade hair treatments, please read my articles on homemade leave in conditioner recipes and homemade deep conditioner recipes to help grow your natural hair past its terminal length and keep your hair in healthy condition.
14) Use Best Herbs & Oils For Thicker Natural Hair Growth
Indian gooseberry Oil
It is an anti-inflammatory, antioxidant, anti-bacterial and the exfoliating properties present in Indian gooseberry can help a lot to maintain a healthy scalp and have a better rate of hair growth.
Take a tablespoon of dried currant and boil them with two tablespoons of coconut oil, strain the oil and use it to massage the scalp before bedtime. Then the next morning use your shampoo as usual.
Another option is to boil dry Indian gooseberry or Indian gooseberry powder in water and leave the water overnight. You can use this water to rinse your hair. You can also take the Indian gooseberry fruit and its extract as a nutritional supplement for hair health.
Avocado Oil
Avocado can also be used to obtain thicker hair . Make a mixture of mashed avocado and banana and use it to massage your scalp. Let the mixture stand in your hair for a half hour so that the nutrients present in the mixture are absorbed by the scalp.
You should wash your hair thoroughly with shampoo and apply a conditioner. Once your hair becomes dry it will look healthy and thicker. You can also make a moisturizing hair mask at home by adding two tablespoons of olive oil to half of a crushed ripe avocado.
Apply this mask to your freshly shampooed hair and let it sit for about twenty minutes. Finally rinse the hair well and ventilate it outdoors.
Henna leaves
grow fuller thicker natural hair with volume 6Another easy way to get thicker hair, naturally, is the application of henna. The Henna Leaves will give your hair a natural color and it will make it look thicker and smoother. You can take fresh leaves of henna and grind them with little water to make a fine paste and let it stand for two hours.
Then apply this paste on your hair and cover your hair with a shower cap. After three hours wash the hair properly and apply some conditioner. Another option is to enjoy powdered henna overnight in water.
In the morning, add a raw egg and a little lemon juice to the mixture and apply it to your hair. This hair mask will promote hair growth.
Olive oil
Olive oil can also soften and strengthen hair. Massaging the scalp for half an hour with olive oil before going to the bathroom is a good option to get a thicker natural hair.
Finally you have to rinse the oil from your hair thoroughly with a mild shampoo. For a better result you can apply olive oil on the hair before going to bed and wash the hair the next morning.
Another option is to mix the olive oil with a little honey and then apply the mixture on the hair, leave on for half an hour and finally wash the hair.
Coconut oil
Massaging the scalp regularly with pure coconut oil is one of the easiest ways to get thicker natural hair . For a better result, it is recommended to heat the coconut oil and only use it to massage the head and scalp. Always use your fingers to massage the scalp with circular motions.
This will help improve the blood circulation that is essential to promote hair growth. Once you have applied the oil, cover the hair with a towel moistened with warm water.
Let stand half an hour and then wash the hair as usual. Follow this resource once a week to enjoy shiny, thick hair.
Flax Seed Oil
The fatty acids present in flaxseed il can also help to get thicker hair in a natural way. Even eating freshly ground flax seeds can result in brighter and thicker hair.
For more help on which essential oils can grow your hair faster and healthier, whilst preventing breakage, I have written a couple of articles on the best oils and herbs to grow natural hair and the best essential oils for natural hair growth. Check them out.
You can also read my articles on using Castor oil for Natural Hair Growth & Coconut Oil to Grow Natural Hair.
Other Best Oils for Natural Hair Growth | 4B & 4C Hair
For more information on using oils for hair growth, check out my other articles on:
More Information on the Best Herbal Remedies for Natural Hair Growth
15) Have Regular Hot Oil Treatments
Ensure your natural hair is kept moisturised and healthy with a hot oil treatment. This should be consistently done once a week for faster results. Also try to add some liquid vitamins in your mixture. This will ensure your hair gets all the good nutrients. Please visit my article on the best hot oil treatment for natural hair growth.
16) Adopt a Natural Hair Growth Regimen
For healthier hair growth, check out my article on day and night regimen for natural hair growth.
More Tips: How to Grow Natural Black Hair Fast
For more information on how to grow natural hair please read the article: How to Grow Natural Hair. Here are some other important factors that influence hair growth.