Business Opportunities In Ghana 2020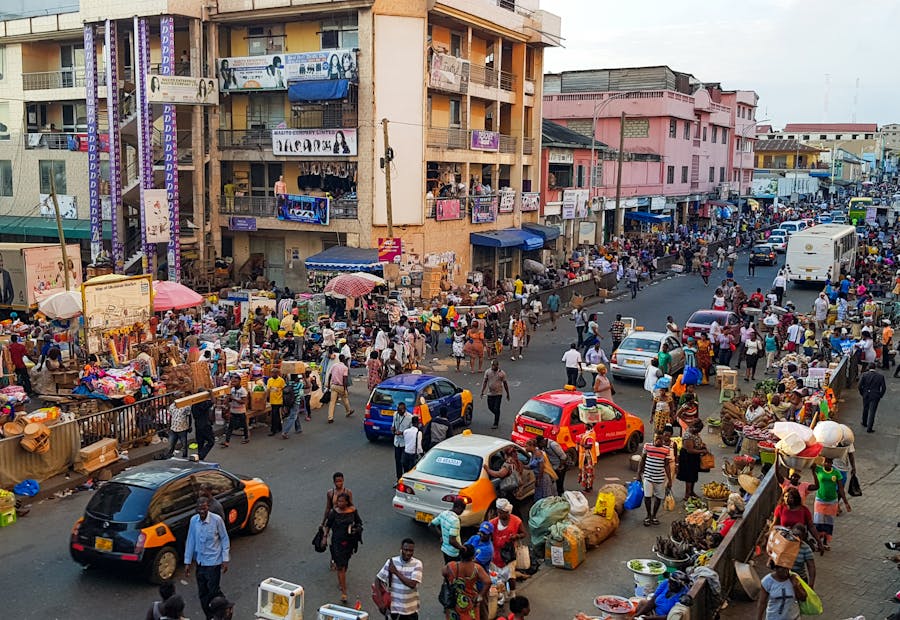 The business-friendly environment in Ghana is one of the many reasons investors are establishing new businesses rapidly. Taking into consideration the advantage of skilled labor force in the nation, the resources to establish profitable businesses are available. The efforts of the Ghana Investment Promotion Center (GIPC) has created a competitive business environment that constantly attracts new investments. Political stability is another differentiating factor from other African countries that makes Ghana one of the best places to establish your business. Whether you're a local or foreign investor, our list of the latest business opportunities flooding the economy will help you make the best investment decision.
Agribusiness
The agricultural sector comprises of two subsectors; export-oriented agriculture and food crop production. According to statistics, agribusiness contributes a total of 40 percent to the overall GDP, making it extremely crucial for economic developments. The government of Ghana realized the potential this sector possesses and made certain moves to attract investment, most of which involved incorporating fiscal incentives. One of the incentives allows agro-processing businesses to enjoy tax exempts on their profits for a maximum period of ten years, particularly if the company is registered with the Ghana Free Zone Authority. Tax reduction and corporate tax holidays were also granted; while no import duties and export promotion, were inculcated in some cases to drive the private sector to make profitable investments. Nonetheless, only the export-oriented agriculture is flourishing, meanwhile the food crop sector is operating on subsistence farming. According to the Ministry of Food and Agriculture, Ghana's agricultural sector is not completely meeting the domestic household consumption needs, resulting in high-priced alternatives. Food crop production is centralized in the North region of the country, without proper means to circulate the produces. As a significant resolve, the food production sector demands expansion in order to diversify the market, and meet growing demands in all areas of the country. This will also reduce the import rates on locally available food crops and would help curb high prices on foods. Apart from the export agriculture sector, the food crop production sector is flooding with multiple investment opportunities, accompanied with incentives to promote local and foreign investments. The more this sector progress, the lesser the chances of inflation caused by more demands, and few overly priced goods; and with less inflation, businesses can thrive more. More essentially, there's a large consumer market that will embrace the inflow of affordable locally processed foods.  
Horticulture 
Horticulture is one of Ghana's export-oriented agriculture sector. Presently, this industry is booming, contributing greatly to the 5.5 average percentage growth of the agriculture sector. The horticulture industry is an essential part of Ghana's economy because it creates multiple job opportunities and has the capacity to diversify and modernize the export trade market. In terms of foreign exchange earnings, this industry maintains profitable growth with great promise for increments. The magnitude of income generation is also productive, contributing to the government's plan for economic growth. Apart from the export-oriented aspect of horticulture, there is also a domestic aspect. Both have different profitable contributions to the economy with different business opportunities. Investing in the export aspect of horticulture would yield profits, especially due to the attractive incentives put in place by the government. Also, the consumer market is large and accommodating, meaning that businesses have lucrative tendencies. The export and domestic horticulture industry in Ghana is mainly for consumption needs, with a minute ornamental-based market. Business opportunities in the domestic aspect of horticulture hold remunerative tendencies due to the ability of this industry to expand even further. Since the production of fruits and vegetables in Ghana is mainly seasonal, shortages of some produces are common, leading to necessary imports. Though the country is capable of producing most of these produces, it was noted that a great number of the population isn't making quality use of them due to certain reasons such as ignorance and simply relying on imported products such as fruit juices. The government has made efforts to bring awareness to the health benefits these produces offer and the benefits of investing in locally processed products. This will boost industrialization in the area of horticulture, while also reducing trade deficits. Thus, the domestic horticulture industry holds great investment opportunities as well, ready to be utilized. 
Real Estate
The real estate market in Ghana has seen tremendous growth this past decade due to increasing demands. One factor that has kept this sector booming are the strategies the government implemented to expand this industry. Political stability has also given room for profitable returns on investments, attracting more investors into this sector. However, as urbanization increases rapidly, the population is demanding more sustainable housing, of which the government is struggling to provide. Studies show that there is a deficit of approximately 1.7 million units to properly cater for the country's demands. The government embarked on a mission to provide up to 250,000 housing units to alleviate the pressing needs. Other projects include partnering up with a Hungarian firm to provide affordable housing units to the public. The government established the importance of private investments and incorporated an income tax holiday for the construction of housing units. With urbanization favoring the middle class, people are bound to spend more on housing, leading to an increase in demands even more. This opens up business opportunities and creates room for lucrative returns. Apart from the residential real estate sector, there are advantages in retail as well. Studies have revealed the gradual increase in retail constructions, especially in top cities areas in Ghana. The office sector is also experiencing reasonable increase with a propensity to expand further in the long run, especially in highbrow areas. Major demand in the office sector comes from the professional service sector. While the GDP of the country is expected to improve by 8.8 percent, we can only expect more business opportunities to flood the real estate sector.
Cosmetics, Beauty and Personal Care 
There are multiple business opportunities flooding the cosmetic, beauty and personal care industry, and one propellant is the increasing rate of urbanization and modernization. Over the years, Africa has adapted to modern styles, patterns, and embraced new cultures. Comparing this to early times, we can observe major increments as more skin care products are flooding the markets and multiple investments opportunities are opening up. Narrowing down to Ghana, the beauty, skin care and cosmetics industry is expanding with more interests in different dimensions. There are a variety of local and foreign options in the market, and digitalization has created an avenue for the population to stay updated with modern developments. This has attracted numerous foreign investments in the beauty and cosmetic industry due to increased demands. In Africa, investments amount to approximately $10 billion per year with a propensity to increase. Foreign investments in Ghana alone have been considered profitable due to billions of dollars already invested in the sector. With a proper market analysis and research on the products the consumer market needs, businesses are bound to thrive easily. Business opportunities are also flooding the export sector for cosmetics and beauty products. Prudent researches show that it's more profitable to sell processed products than local ingredients, especially to the international market. Since the cosmetics industry is thriving in any areas asides Ghana, small entrepreneurs can make quality use of these opportunities. The consumer base can also be expanded by incorporating traditional ingredients instead of relying on entirely modern ingredients. This will give the population a chance to embrace what they're already used to in a modern dimension. More importantly, this could attract an international market base, seeking organic traditional skin and body care regimens. Since the middle class population is increasing and the economy is blossoming, the local consumer market is also expected to expand. 
Local Processing
Cocoa is one of the major exports in Ghana and the largest in the agriculture sector. 40 percent of the total export earnings is gotten from cocoa with tremendous income generation for the masses. After Ivory Coast, Ghana is the second largest producer of cocoa. This greatly contributes to the growth of the economy as the GDP increases, which is why much attention is given to this sector. The production of cocoa in Ghana increased a hundred percent from 1995 to 2016, and country is currently producing approximately 900,000 metric tonnes of cocoa per season. However, most of this cocoa is exported in its raw form, and according to the Ghana Cocoa Board, is robbing the country of some foreign exchange earnings. Ghana processes as little as approximately 250,000 tonnes of cocoa. The more they focus on locally processing cocoa, the more economic security they have, reducing susceptibility to market fluctuations. Thus, the government implemented strategies and polies to boost local processing up to 50 percent. Partnering up with China, the government plans to establish a million dollar factory to process about 450,000 tonnes of cocoa per season. This will elevate exports, while they strive to reach one million tonnes of production per season. The government set up a technical working group to help promote local processing in the nation, as well as local consumption. If local consumption increases, the consumer market expands, leading to more income generation for farmers. Ghana's cocoa is also being promoted in international countries as a measure to boost its market base. Business opportunities are flooding the local processing industry as profitable and sustainable measures to establish businesses have been made available.
Fish Farming
Fish farming is a lucrative business opportunity in Ghana due to the increasing demands of fish. The harvested fish in Ghana is undoubtedly not enough to cater for the population demands, which is why the government made certain efforts to expand local fish farming within the nation. With the help of foreign investments and rising institutions, the fish farming industry is currently one of the most profitable industry in Ghana. The shortfall in demands rounds up to hundreds of thousand metric tonnes every year, and the government is encouraging fish farmers and small business ventures to invest more in fish farming.  One of the reasons why plenteous profits are obtained in this business is the enormous consumer market available in Ghana. It is majorly used to prepare a great number of meals in the country and the population prefer fish because of its affordability. Fish is generally cheaper that meat in the market, making it the most sought-after option. Apart from its low cost, the health benefits of fish is another reason why countless people choose it. New enterprises are spurring up rapidly, yet the demands remain insatiable. The cost of starting up a venture in fish farming is low, which is a motivating factor for entrepreneurs with low budgets. The running cost is also low as fish feed have the lowest susceptibility to diseases. Attractive incentives are being incorporated by the government to pull more attention into the fish farming industry. Startup businesses need to consider the type of fish farming they want to venture into, the farm location, the size of the farm, and all factors concerning the creation of fish ponds. All essential knowledge and requirements for a successful fish farm business also needs to be acquired prior to starting the business.  
Restaurant
A restaurant business remains one of the most lucrative businesses in the country. This is because the demand for food is always constant, while restaurants remain unresponsive to economic downfalls. It's a great option for entrepreneurs because opportunities are available in different ranges; whether it's a small, middle class, or high-class restaurant. New entrepreneurs can start with small restaurants, usually located along a street or by the roadside, constructed with cheap materials and made in the form of a kiosk. This is commonly referred to as a road-side restaurant. The consumer market for this business is usually enormous and particularly among the lower class and middle class population. Many prefer these restaurants because the amount of the food served is plenty and the prices are little. The capital needed to run this business is extremely low, with plenty profits to be made. The second type of restaurant is called a fast food restaurant which demands more capital for startup. The constructive features of this restaurant is more advanced than the road-side restaurant. There's a higher sense of comfortability that this restaurant has, which is it highly patronized. The third type is the food truck restaurant, which offers flexibility with its freedom of movement. The owner can decide which location is best for business, and the capital for this venture is surprisingly low. Food truck restaurants are becoming popular around Ghana, with various modern styles spurring up. They serve mainly snacks and fast meals to consumers. Lastly, dining restaurants are the opulent types of restaurants built for those in need of high quality food, utmost comfort and quality service no matter the cost. Enterprises venturing into this business should select the most profitable location, depending on the type of restaurant, and have a skilled cook, otherwise sales would be poor. More so, irrespective of the capital, the restaurant should be comfortable for all consumers.
Online Businesses
Accessibility to digital and internet services in Ghana has increased over the years due to the availability of internet by service providers and private establishments. The government also played an important role in ensuring digital services reach most areas of the country; and as at 2016, 28 percent of Ghana's population has access to the internet. This is why online businesses are growing venture opportunities for entrepreneurs. You can venture into part-time or full-time businesses and still make profits. There is flexibility as you get to expand your market base to the world, providing an extra source of income for yourself.
Online businesses include consultancy jobs for search engines, small businesses, or social media pages. If you have advanced knowledge in search engines and its optimization benefits, you can educate business owners on the advantages of SEO for their businesses. Small businesses would also love to profit from your knowledge as you help their business succeed online. Being a consultant for social media pages is also a profitable business since many online businesses are trying to thrive on social media platforms. E-commerce is another lucrative business opportunity in Ghana that allows you provide many with e-retailing services. Individuals can buy products from the comfort of their homes, which is a great way to expand market bases. Web developers and designers have an upper advantage in online businesses due to rising demands for websites. If you're a digital professional, you can venture into this niche and provide services to those in need; while blogging and freelancing is another way to use your skills to make money. All the above ventures are convenient to master, and you can always make more money as you get better.
Greenhouse Farming
Greenhouse farming involves growing certain vegetables in an outdoor structure. Multiple business opportunities are present in this area because this industry has the capacity to turn Ghana into a global producer and exporter of vegetables. The Minister of Food and Agriculture revealed the government's ongoing projects to build greenhouses in some areas of the country. This will further expand the sector and expose many farmers to the farming technology. Crops usually grown in greenhouses are always in high demands such as cucumbers and tomatoes. Greenhouse farming also produces more quality crops since most of its nutrients remain intact. This type of farming only requires a small area of land and the yields are higher unlike normal farming processes. The structure of the farm protects the crops against adverse circumstances and has durable properties. Another benefit the structure provides is creating proper temperature control for the crops. Greenhouses are usually built in areas that have medium humidity, enough light intensity, and moderate temperatures. Depending on your business budget, investing in greenhouse farming is in different dimensions. Small-tech greenhouses are constructed with wood and net and have little to no controlled factors. Medium-tech greenhouses are constructed with metal and net, and a small amount of controlled factors. High-tech greenhouses are built desirably to have proper control of external factors such as light and temperature. Picking the best crop to grow depends on your market analysis, and the demand in a particular area. Greenhouse farming also requires proper knowledge in the area of control techniques and pest control. In a bid to promote greenhouse farming, the government is sponsoring some farmers to acquire the requisite knowledge, and afterwards helping them to establish their farms. Investments from the private sector are also boosting certain moves by the government, which is opening up more opportunities. 
Renewable Energy
Ghana's rate of urbanization and industrialization has led to a profound increase in the demand of electricity, which the government is struggling to provide. Thus, there has been a rising need to implement renewable energy resources that would cater for the country's needs, and stand as an essential substitute to the nation's hydropower energy supply. Renewable energy is indeed a more environmental-friendly source of power, offering tremendous value on its purchase. The government has implemented an energy policy to ensure 10 percent of the total energy mix is renewable energy. Solar energy, in particular, is a rising market in Ghana. According to the Energy Commission of Ghana, there is enough irradiation levels to generate power with the use of solar energy resources. Multiple business opportunities are available in this area, because investments could push the market from a stagnant state to a booming market. The major hindering factor is the high prices of solar energy products to lower classes of the population. Nonetheless, investments can bring about affordability to this market and secure a lucrative business. Solar energy has low maintenance requirements which is a strong and attractive market advantage. A subsidy on the purchase of solar systems was activated in 2016, and presently, the government has begun implementing solar rooftop systems on government buildings. This has promoted investments in the private sector. The Volta River Authority (VRA), which is the country's largest supplier of power is also implementing PV power plants to boost its energy production level.