Best Shopping Malls in Accra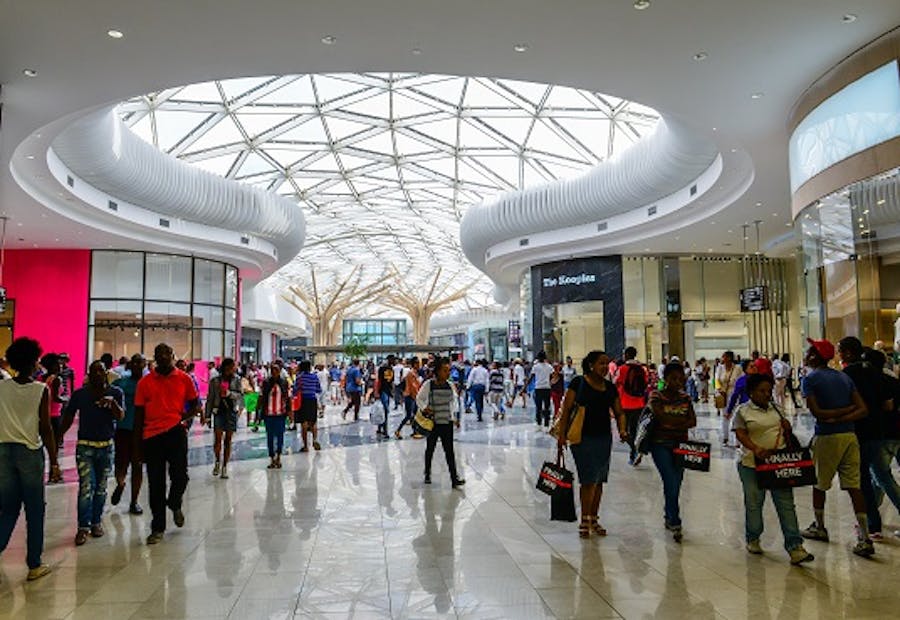 Shopping malls burst into the scene in Africa just a few years ago and have seen an astronomical rise in popularity and demand. In Ghana, more and more people troop to the mall every single day to purchase the latest international and local clothes, electronic gadgets, and food. Accra is the genesis of shopping malls because some of the first malls in Ghana, such as Melcom and Accra Mall, opened there.
Since then, many others have emerged due to high demand and cash in on the profits. If you are looking for some of the best shopping malls in Accra, then you are in the right place. In this article, we will discuss the best shopping malls in Accra and also answer some Frequently Ask Questions (FAQs).
Accra Mall
The Accra Mall was the first large-scale shopping center in Ghana and was commissioned on July 4th, 2008. It is a state of the art structure located on the Tetteh Quarshie Interchange, next to the Tema Motorway. It's filled with shops, and two leading departmental stores, namely Shoprite and Game. Within the complex, you can find many things, such as vegetables and fruits, dairy, baked goods, kitchen equipment, household equipment, and frozen meats.
Some franchise restaurants in the mall include Burger King, Pizza Hut, Creamy Inn, Second Cup, Barcelos, Chicken Inn, and Basilissa. If it's clothing or jewelry you're after, visit shops like Mr. Price, Nallem Clothing, Woodin, Jet, and Bata Shoes. That's not all; there are also household décor shops like Maydan Home Décor and Ashfoam. Let's not forget one of the stars of the show, the Silverbird Cinema.
In a nutshell, this mall contains every single thing you can think of in terms of shopping and recreation. Opening hours are from 9 am – 9 pm every Monday till Saturday and 12 pm – 6 pm on Sundays. For more information, contact them via their website www.accramall.com.
West Hills Mall
This is probably the biggest mall in Ghana and one of the largest in West Africa, opened to the public in October 2014. Anyone on the New motorway between Accra and Cape Coast will find it very hard to miss. Located about 30 minutes away from the Accra CBD, it was explicitly designed to give excellent access and visibility to Ghanaians living in the West Hills area and beyond.
This area is quickly developing with a growing population of over 2.5 million people. The Atterbury Group handled the construction contract, and it's presently their second-largest venture in Ghana. The mall had a small hiccup initially, and as such, the Atterbury Group had to shut down a portion of the stores. Still, it came back stronger than ever when international and local retailers collaborated.
The mall itself houses many restaurants, banks, electronic shops, clothing stores, and departmental stores. Among the clothing stores, you'll find Woodin, Truworths, Woolworths, and Jet. Then the electronic shops such include Telefonica, Starlite, Hisense, Compu Ghana, and Electronic Hub.
For entertainment, there are facilities like Silverbird Cinema, Fun4Kids, and Vulkano Vip Casino. If you run short on cash, do not worry, Global Access bank, Cal Bank, Standard Chartered, Stanbic Bank, and First National Bank are all nearby. Opening hours are from 9 am to 9 pm on Mondays to Sundays. If you want to get in touch, their Facebook Page, West Hills Mall, offers accessibility.
Marina Mall
This mall is comparatively smaller than its competitors, but it remains one of Accra's most famous shopping malls. It consists of three floors, each loaded with restaurants, cafés, clothing shops, electronic shops, and many more. International brands located in this mall include Nike, Benetton, Facconable (a French franchise), and Viva, a fashion boutique. You can find it in the Airport Residential Area, close to the Holiday Inn Hotel.
A large portion of their grounds is occupied by a supermarket and an electronic shop called Compu-Ghana. Opening hours are 10 am- 9 pm on Mondays to Saturdays and 12 pm – 8 pm on Sundays. To get in touch, here's their website www.marinamallghana.com.
A&C Square
A&C Square, also known as A&C Shopping Mall, is located in the heart of the East Legon residential community. It boasts of restaurants, cafes, a grocery store, and many more. Some of the restaurants it houses include Chix n Ribs and Burger & Relish. They are obviously not as well-known as fast-food chains like KFC, but they have a fantastic array of menu options. The mall also has a gym called Total Fitness, which has the latest exercise equipment and a pool.
Kids can also enjoy themselves in the children's play area on the swings, jungle gym, and many more contraptions. Here, the opening hours are 10 am - 8 pm on Mondays to Saturdays and 12 pm - 6 pm on Sundays. Get in touch via their website www.ancsquare.com or by phone on 0302515055.
Junction Mall
The Junction Mall opened to the public in November 2014 and is located in the suburbs of Nungua in Accra, which has about 665 000 residents. Although it is smaller than West Hills Mall and Accra Mall, it still houses some great shops. It is a local favorite, especially people looking for international clothing brands such as Jet, Mr. Price, Bata Shoes, Nallem Clothing, and Nike. Shoprite and Mr. Price are the biggest shops in the mall, and they bring in the most people.
If you are looking for something to eat, Pizza Inn, Chicken Inn, Barcelos, and Creamy Inn, have your hungry stomach covered. Other international brands there include TM Lewin and Lewis, and Swatch. It also comprises a small playground where parents can drop off their kids while they shop. Due to its proximity to Nungua, it is also a convenient option for the people living in Tema. The opening hours are 9 am – 9 pm on Mondays to Saturdays, and they can be contacted on +233 302747330.
Melcom Plus Complex
Melcom has the most remarkable success story when it comes to the retail industry in Ghana. In 25 years, its name has become synonymous with retail shopping, and it contains the country's largest chain of shopping complexes, which is 30. This includes branches at Tema (Traffic Light Meridian, Post Office Road) and Kumasi (Adum, Prempeh). The North Industrial Area chapter is the biggest, with three floors containing numerous shops that offer household items, snacks and drinks, fresh fruits and vegetables, clothes, shoes, and many more.
One of their most recent branches opened up in East Legon, near the Shell Filling Station. It remains the most well-known shopping mall in the country and the first to be commissioned in Ghana, with hundreds of people trooping in and out of their doors daily. The opening hours typically fall between 10 am – 8 pm from Monday to Saturday and 12 pm – 6:30 pm on Sundays.
Melcom has successfully formed a travel and tour arm called Melcom Travel & Tours Limited, which provides customers with tour packages to any destination (locally or internationally) of their choice.
The Achimota Mall
This well-known mall opened to the public on October 29th, 2015, and sits off the Accra-Nsawam Highway adjacent to a Savings and Loans Company called Best Point. It was built to meet the growing demand of Achimota, Lapaz, Dome, Ashongman, and St. John residents, among others. The mall itself covers about 35,800 square meters of land and can hold 250 cars in its parking lot.
Even though the Achimota Mall doesn't have the same traffic you'd find with its competitors, it is one of the biggest malls in the country and attracts surrounding residents. Its design offers more of an open-air feel, which makes for a well-ventilated setting. Palace and Shoprite are the two leading shops in the mall, and they bring in the most people daily.
There are also about 60 shops selling various items such as electronics, fresh/frozen produce, beauty and wellness products, and fast food. Take your pick from places like KFC, Burger King, and Pizza Inn.
Conclusion
Well, these are some of the best shopping malls to visit in Accra, and they've come a long way from the days of their humble beginnings. With the retail industry in Ghana continually expanding, it will be interesting to see what new projects these malls undertake in the future.
If you are looking for the best shopping malls in Accra, I hope this article streamlined the entire process. Don't hesitate to share this article with your friends and family, and leave a comment below if you have any questions.
FAQs
What is the biggest mall in Accra?
West Hills Mall is the largest mall in Accra. It covers 298,000 sq. feet (27 000 m2) and has about 67 stores and services. Other huge malls in Accra include the Accra Mall, the Achimota Mall, and A&C Shopping Centre.
What is the biggest mall in Ghana?
West Hills Mall is also the biggest mall in Ghana. It is unarguably the second biggest mall in West Africa, closely following "Tinapa Shopping Mall" in Nigeria, which is the biggest in West Africa.
What is the most popular mall?
Accra Mall is the most popular in Ghana because it is the first of its kind and consistently attracts enormous crowds of people, especially during the holiday season and on weekends. Some people even come from neighboring regions to visit the world-class building.
What can I buy in Accra?
Accra is one of the best places in Ghana to find anything you are looking for. There are stores and shops around every corner, and best believe that their shelves are stocked with major necessities. Whether you are in the mood for fast food, local food, drinks, clothing, household items, cars (rent or sale), travel agencies, hotels, etc., Accra has got you covered.
It also has some of the best local joints in the country serving waakye (rice and beans), fufu (pounded yams) and soup, jollof rice, and many more. If you are looking to purchase souvenirs, you can visit the Arts Center, which houses many handcrafted artifacts, made by the locals themselves. So whatever you need, Accra has got you covered.
What is the biggest mall in the world?
The Dubai Mall, in the United Arab Emirates, holds the record for the biggest mall in the world. It is a wonder to behold with over 12 million square feet to its name (which is equal to fifty football fields). It equally comprises more than 1,200 shops, a five-star hotel, a SEGA game center, an ice rink, 120 restaurants and cafes, and 22 cinema theatres. The primary stunner here is the indoor  aquarium, which also serves as the entrance to the tallest building in the world, the Burj Khalifa.
Other gigantic global malls include the Cevahir mall in Istanbul, Turkey, the Berjaya Times Square in Kuala Lumpur, Malaysia, and the CentralWorld in Bangkok, Thailand.
Which is the largest mall in Africa?
The Mall of Arabia in Cairo, Egypt, is ranked as the largest mall in Africa. It covers an impressive 267,000 square meters and is owned by Fawaz Al Hokair, a Saudi Organisation. It offers a parking space with a 9,000 car capacity, and there are 12 entrances into the mall. Although construction is still ongoing, it will soon be home to international gyms and casinos, modern cinema complexes, luxurious hotels, and many more once completed.
Other huge malls in Africa include the Gateway Theatre of Shopping in Durban, South Africa, the Cairo Festival City in New Cairo, Egypt, and Canal Walk in Cape Town, South Africa.
Who Owns Kumasi City Mall?
The Kumasi City Mall is right in the Ashanti Region's capital city, and it cost approximately $95 million to build. The owners of this 7-month-old structure happen to be Delico Kumasi Limited. The company is a wholly-owned subsidiary of Delico Property Investment Ghana Limited, and they also own the Achimato Retail Center.