Best Blow Dryers for Afro Hair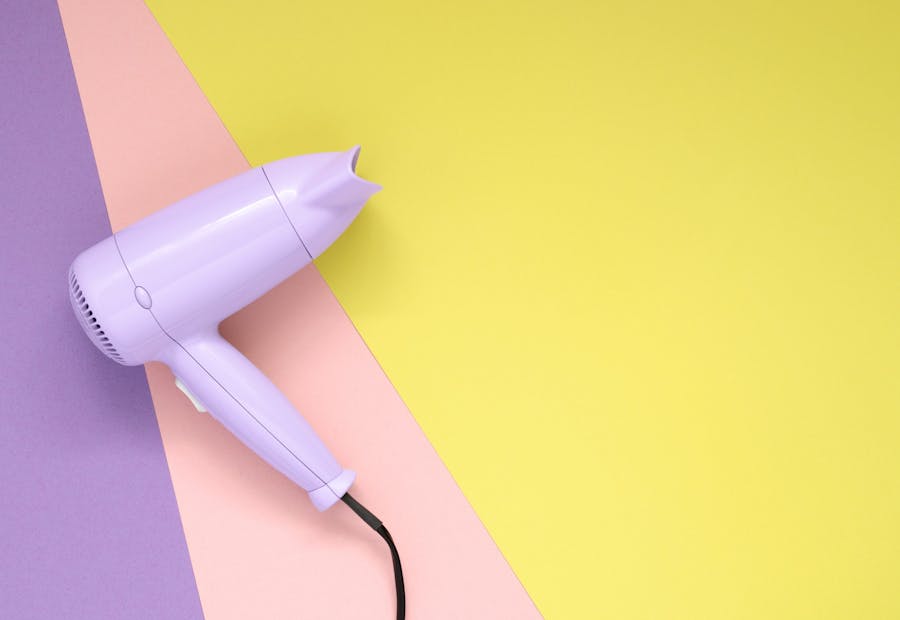 At this point, it's safe to say that frizzy hair is a part of life no one likes to deal with. But with a good hairdryer, you could turn that frizz into old news. When considering which blowdryers to buy for your daily hair needs, there are things you need to know.
For instance, the kind of hair you have, what temperature is best for it, and the best accessories for your hair. Here are some of the best blow dryers to buy on amazon.
The Jinri Professional Salon Hair Dryer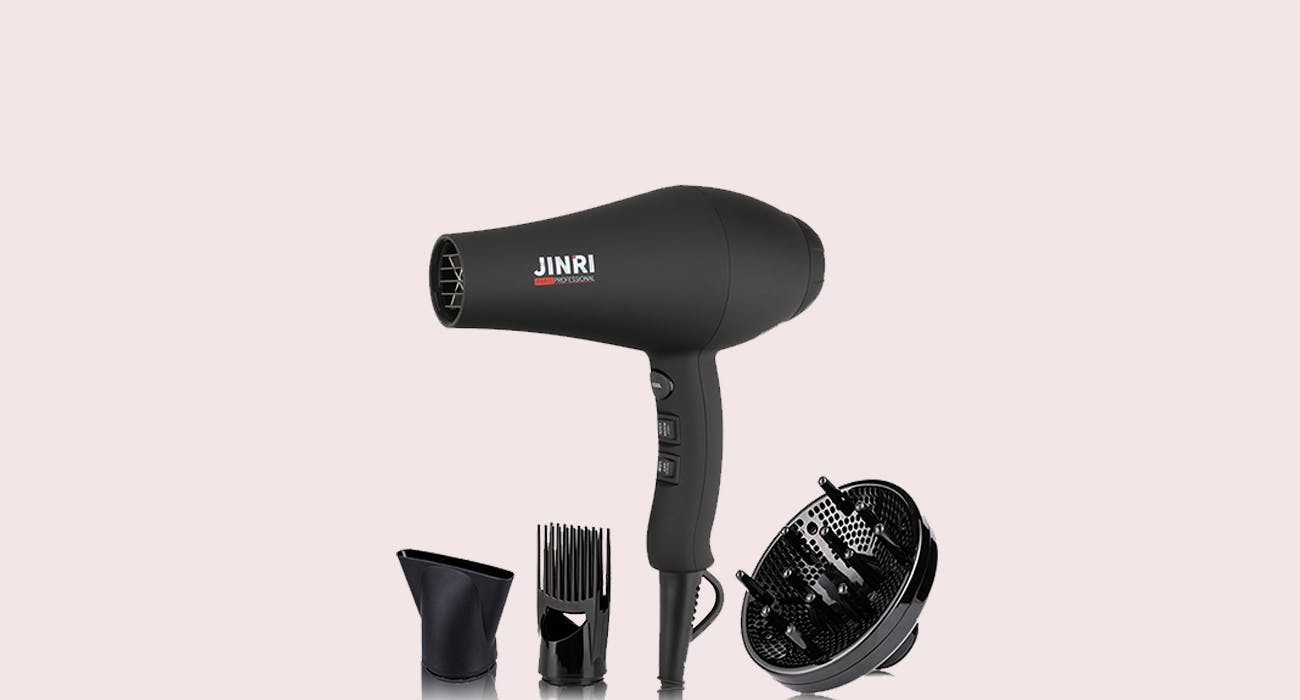 The Jinri Professional Salon Hairdryer is a hairdryer designed to make you feel like a pro whenever you use it. It's not just about feeling like a pro but styling your hair like one too. It is equipped with a professional salon AC motor for fast drying. It also produces negative ions and far-infrared heat. Together, these reduce frizz and static, giving your hair a more sleek, shiny look.
Furthermore, it has more flexible speed control, which gives you power over how fast you can dry your hair. There's also a flexible heat control system that gives you even more control of how your hair turns out. Let's talk about design. It comprises high-quality matte material design which is not only good to look at. 
It is also comfortable to hold and deft to operate. This dryer further comes with three attachments included in the box (Diffuser/Concentrator/Comb). Each one designed to give you that "salon away from the salon" feeling every time you blow-dry your hair. Altogether, this blowdryer would be perfect for your afro hair.
The Barboz Professional Ionic Ceramic Blow Dryer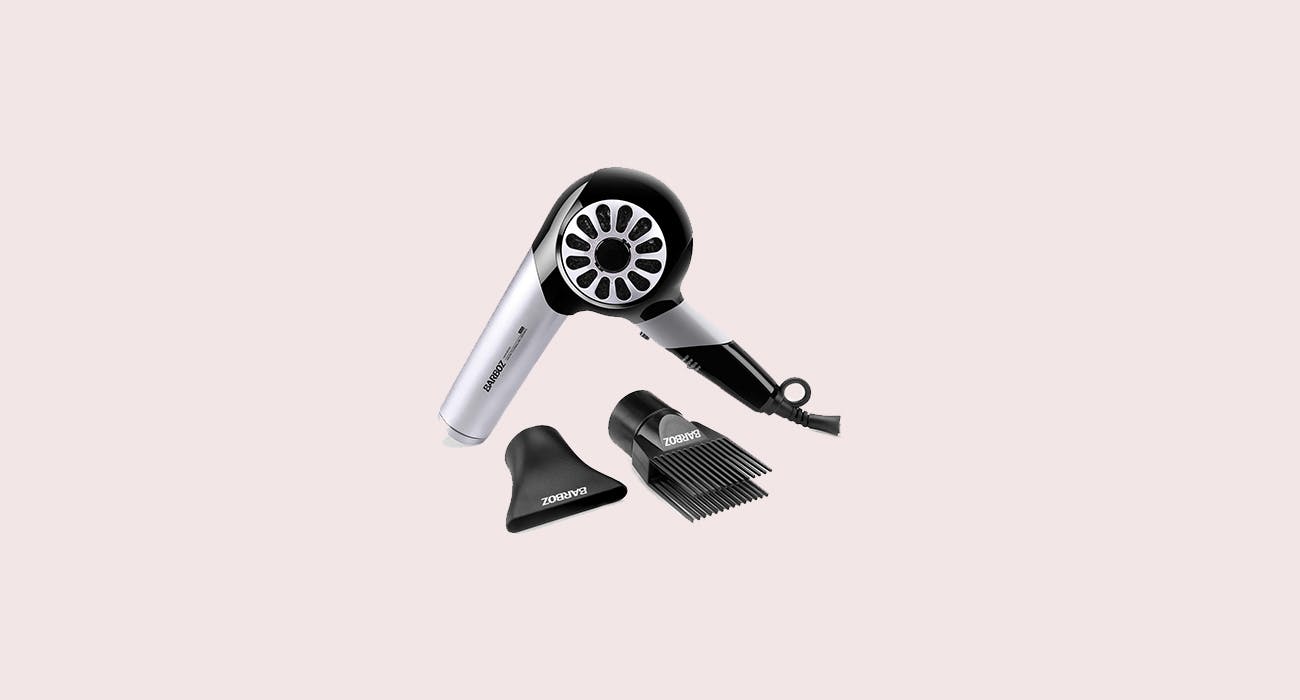 The Barboz Professional Ionic Ceramic Blow Dryer should be on the wishlist of anyone with afro hair. Answer this, do you want to transform your make-up table into a mini salon? If your answer is yes, then this dryer is for you. It is a powerful device with an 1875 watt motor, perfect for days when you don't have all the time to pamper your hair. It is also for those days when you need to get out of the house quickly. 
To this effect, the dryer comes with advanced negative ions and far-infrared technology. This makes the water molecules on your hair evaporate quicker and heats the hair from the inside out. Why is this good? Well, mostly because that relaxes and softens even the toughest of hairs.
Furthermore, this hair dryer can be the perfect travel buddy because of its size and shape. It is lightweight, portable and perfect for your afro hair.
The Stylecraft Tri-Plex 3000 Professional Hair Dryer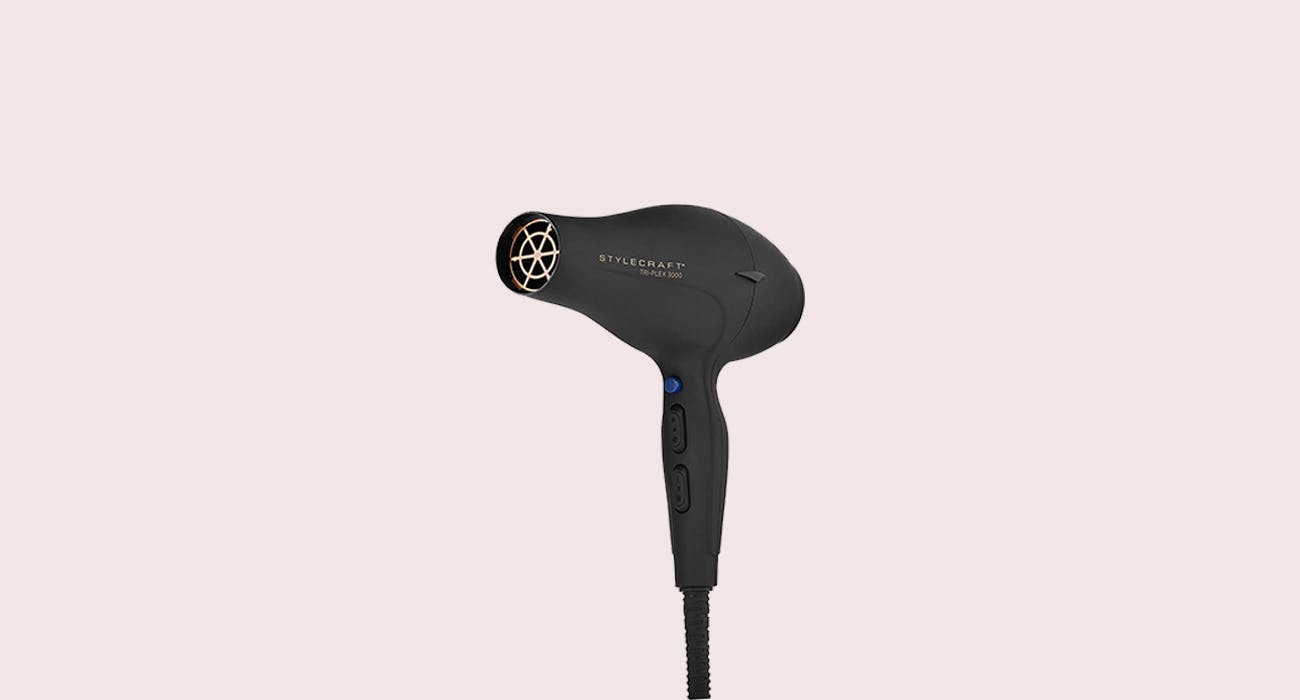 The Stylecraft Tri-Plex 3000 Professional Hair Dryer may just be the perfect blowdryer for your afro hair needs. It is quiet and, at the same time, more powerful than a lot of blowdryers out there. Furthermore, it has a lightweight hybrid AC micro-motor that can produce up to 2000 Watts of power. There is also a flexible three Heat setting that helps you keep your hair from getting burned. 
You'll like the two-speed setting feature; this allows you to choose how fast you want to dry your hair. There's more, the Stylecraft Tri-Plex 3000 comes with four of the best attachments an afro hair needs. It even includes a collapsible diffuser; does it get better than that? What's more, it looks stylish when you transport it, too, with a luxurious travel bag included in the box. It comes with a two-year limited warranty that makes it an airtight purchase.
The NITION Negative Ions Ceramic Hair Dryer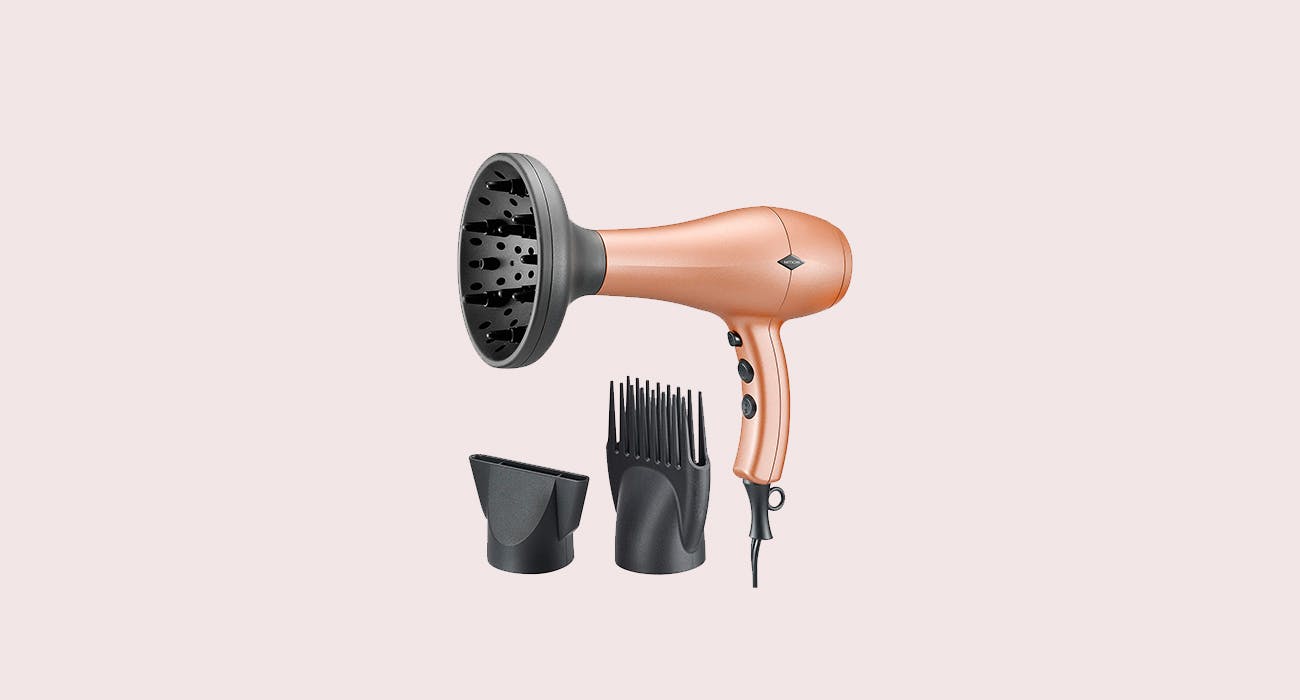 The NITION Negative Ions Ceramic Hair Dryer is a piece of breakthrough technology carefully designed to dry almost any type of hair. Its unique design includes a ceramic air outlet grill coated with a blend of carefully selected materials. This combo gives your hair a smoother texture leaving it looking shiny and healthy. You'll like that it has a low-sounding motor, which is very powerful, producing 1875 watts. 
Furthermore, this dryer has three different temperature settings and two different speed settings that create a strong airflow. All these features make this dryer perfect for drying, even the wettest of hair. It comes with several accessories carefully selected for styling and drying different types of hairs. With this dryer, you have an option to return after 90 days, no questions asked. There's also a 2-year quality guarantee, so, it's a win-win.
The Xpoliman Professional Salon Hair Dryer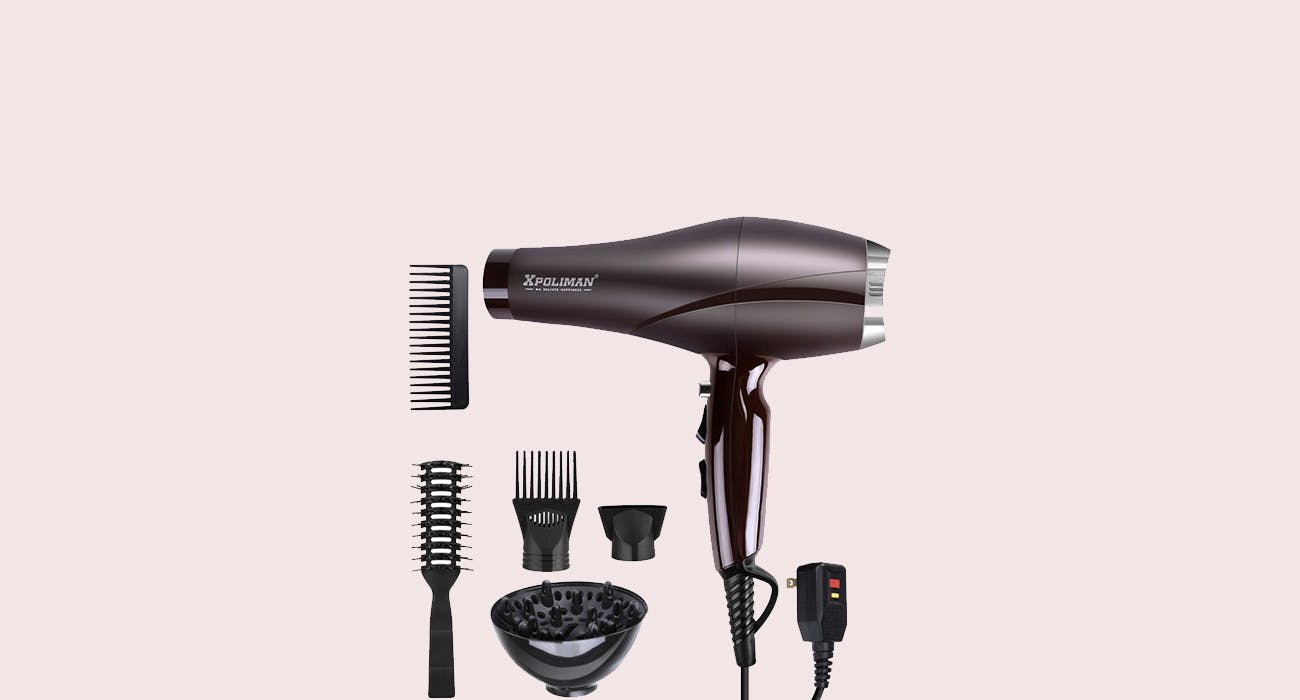 The Xpoliman Professional Salon Hair Dryer is a 2000 Watt hair dryer comes with an AC motor. As such, it produces powerful, healthy heat, safer for your hair than most ordinary DC hairdryers available. It is quiet when you use it and doesn't take up a lot of storage space, making it an excellent travel companion. Furthermore, this dryer has a new negative ion technology, which emits a ton of negative ions to combat frizzing. At the end of the day, you'll be left with lush and protected locks. 
When it comes to airflow, speed, and heat, you have full control because the Xpoliman Professional Salon Hair Dryer has three heat settings and two airflow settings. These collectively give you complete control over how you want to dry your hair. With all these features, this dryer is undoubtedly perfect for any type of hair.
The Tuenort Ionic Hair Dryer with Diffuser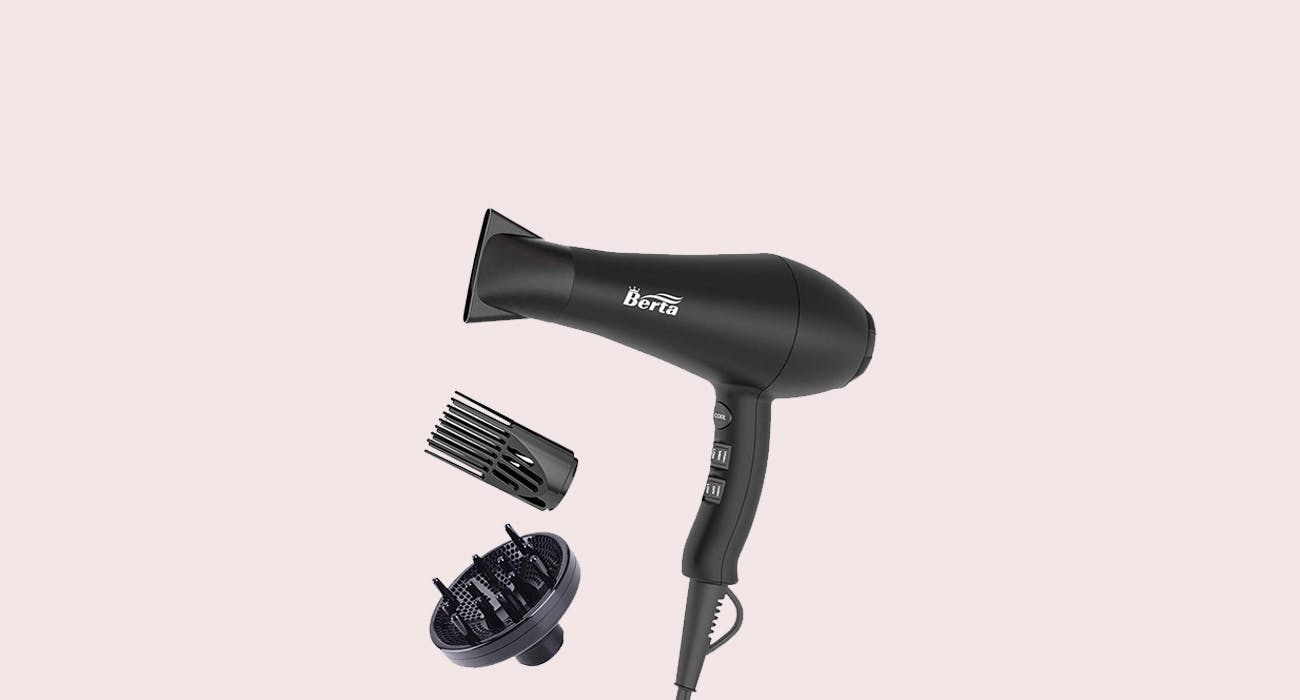 The Tuenort Ionic Hair Dryer with Diffuser is simply, a hairdryer fit for a salon. It can produce up to ten times the ionic output of most dryers. This amount of production tames all unwanted frizzing instantly, giving your hair the exact look you were going for; lush, and set. Its 1875 watt motor is perfect for when you are in a hurry, it also offers a lot of convenience.
The dryer itself happens to be suitable for hair types and can be used on children. Its control settings give you the power to choose from several settings and pick any speed or temperature. Even better, it comes with several accessories included in the box just for you.
The Kiss Products Red Detangler Dryer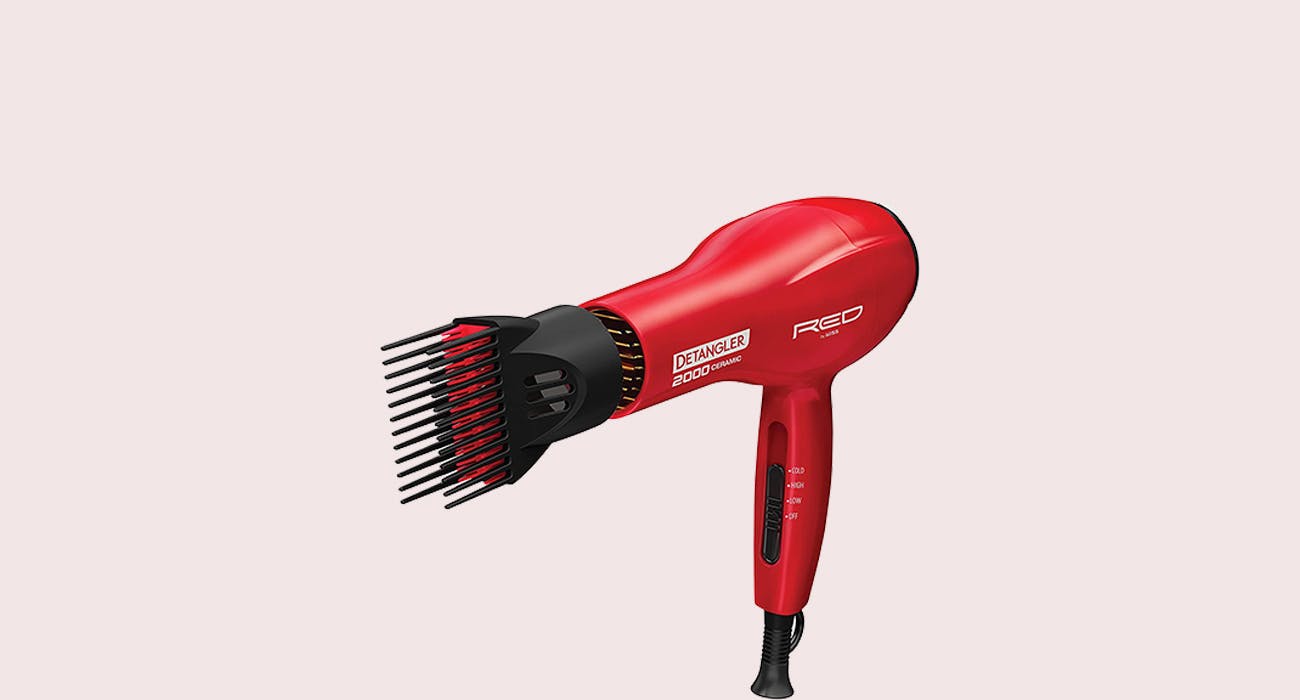 The Kiss Products Red Detangler Dryer is a simple, lightweight, and portable blowdryer perfect for all hair needs. It comes in a unique design and is perfectly crafted to make storage easy. You can dry, straighten, or curl your hair with this blowdryer, thanks to the accessories that come in the package. Its new tourmaline ceramic technology, which gives off negative ions, helps produce a smoother and healthier hair texture. 
What it does it to combat frizz and seal in moisture. Furthermore, it comes with three temperature settings that give you complete control over how you want to style your hair. So, if you've got afro hair this could be 'the one'.
The Conair 1875 Watt 3-in-1 Styling Hair Dryer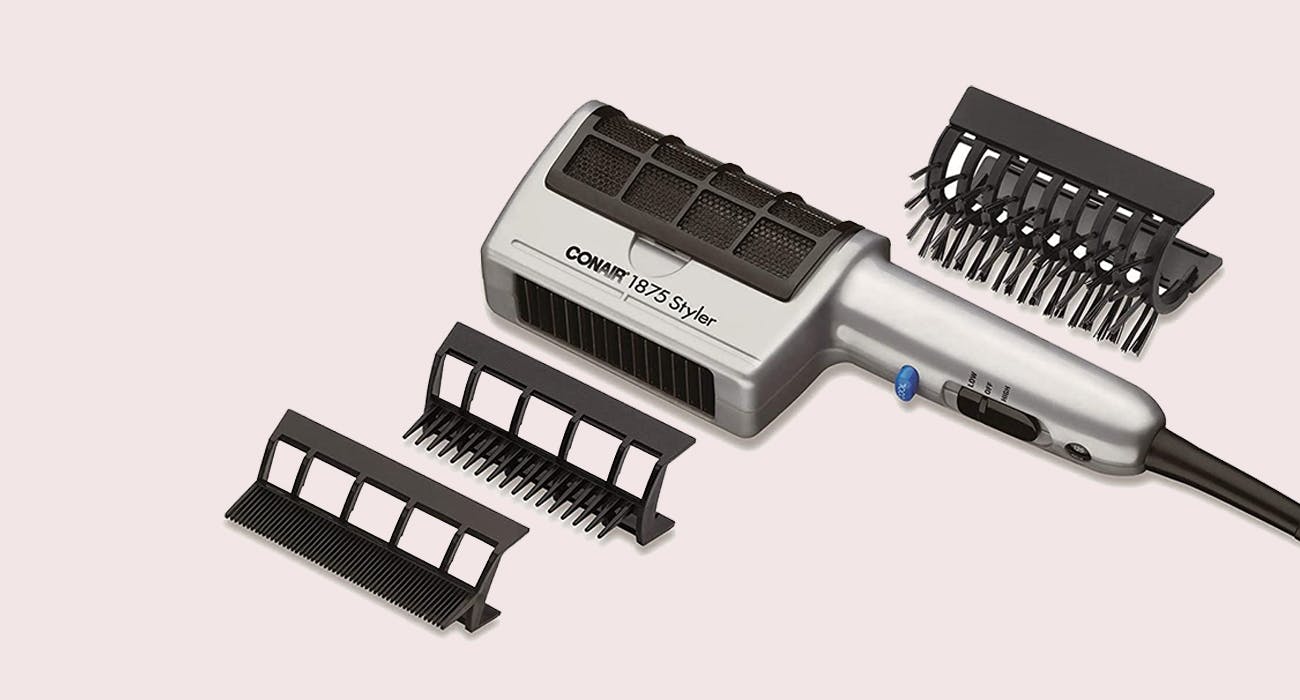 The Conair 1875 Watt 3-in-1 Styling Hair Dryer is a uniquely designed hairdryer perfect for your afro hair. It comes with three specially selected attachments for different types of your hair textures. There's a thermal bristle brush ideal for larger volumes of hair with wavy hair texture. Then there's a styling comb to make it easy to style your hair, and a detangling comb to help you deal with those stubborn, tangled strands of hair. 
This dryer has the new ionic technology that enables you to reduce frizzing. This goes a long way to give your hair a lush, shiny look. It also has a two speed and two-heat setting that gives you the room to choose the best for your hair. All this comes in a very portable design, and with dual voltage, it makes it perfect for travel.
The Skin Research Institute Salon Dry Pro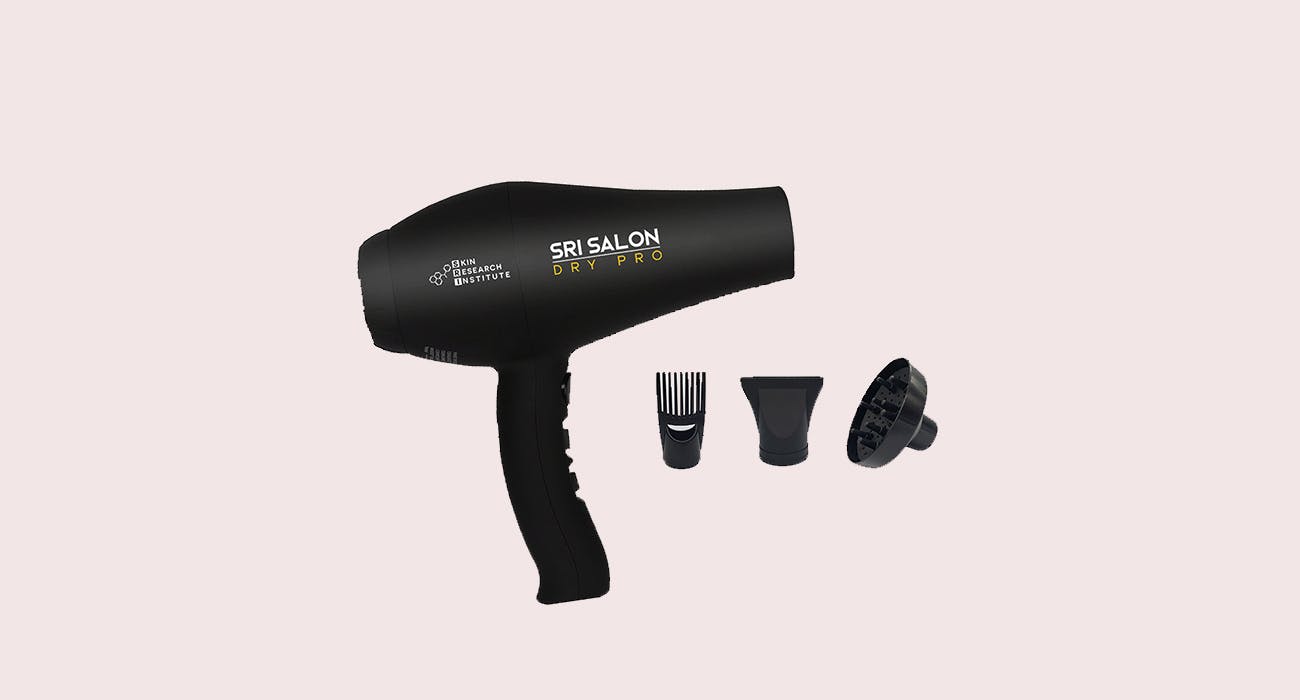 The Skin Research Institute's Salon Dry Pro is one of the best blowdryers you can buy out there. It comes with a variety of features, including something called red light therapy. What red light therapy simply means is that this blow dryer has some components that help you minimize damage to your hair. It does this while creating the full and shiny hair you want. It also comes with a salon-quality motor inside.
Several attachments combined with the accessories it comes with make it easy to perform all your hairstyling needs by yourself. If this is not a good blowdryer for afro hair, then nothing else is.
The Fezlens Professional Hair Dryer - Beinilai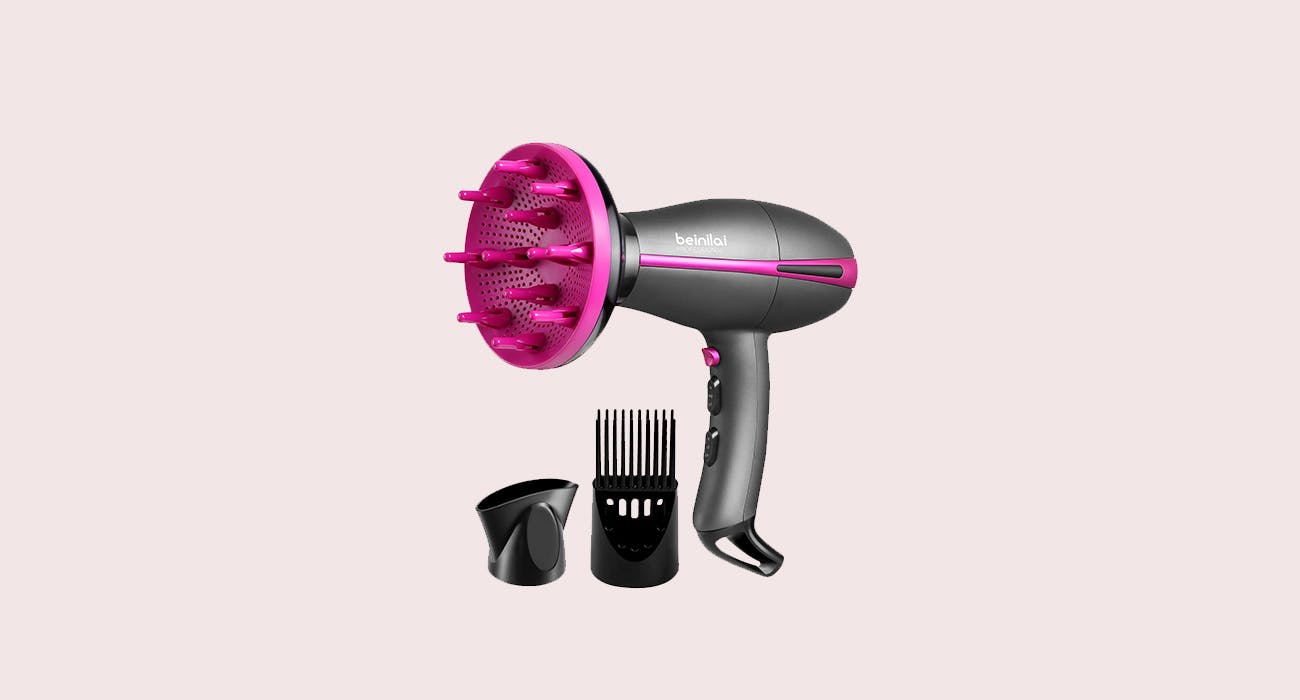 The Fezlens Professional Hair Dryer is a device fit for a professional. It comes in a lightweight body designed to make it convenient to carry on trips or stow away at home. It equally has an 1875 watt motor which makes this one of the fastest and most potent dryers out there. There's also the addition of a magnetic cap around the nozzle for keeping its attachments fastened while the blowdryer is in use.
These attachments are each designed to make your blow-drying experience as easy as possible. 
FAQs
Is blow-drying bad for Afro hair?
It is important to note that black texture hair is more prone to cuticle damage from blow dryer heat. This can also cause moisture-loss, burned scalps, and heat damage as well.
How can I protect my hair from heat damage at home?
It is essential to use a heat-protector, usually in the form of a spray. It will help keep your hair from heat damage while you blow-dry it. You should also avoid setting the temperature too high.
How often should I blow dry my hair?
Blow drying can gravel damage natural hair, this is a proven fact. You should wait as long as you can between blow-dry sessions, so you don't damage your hair. However, if you do blow-dry, often make sure you use a heat protector.
How do you sleep with afro hair?
Before you go to bed, you need to take time to prepare your hair by moisturizing, pinappling, or sleeping on silk material. You could equally use a bonnet made from silk. All these can help you avoid your  flat looking and denty hair in the morning.
Can I apply oil before blow-drying?
The short answer is yes. However, it is essential to note that not all oils will be suitable to apply to all kinds of hair before blow-drying. Some natural oils can lead to frying of the hair because of the heat from the blow dryer. 
 Can I put on conditioner before blow-drying?
Again, yes, it is always better to apply a leave-in conditioner before blow-drying.
Here is a step by step guide on how to blow dry afro hair.
First, you need to wash your hair with a good shampoo or soap. You should choose one that works best with your hair. Ensure you thoroughly wash and rinse the hair. You don't want any residual chemicals still in your hair when you are ready to blow-dry. 
Next, condition your hair with a suitable conditioner. This is an essential step because conditioning your hair will help to make it softer.
Next, you will need to detangle your hair thoroughly. You can use your hand. Search through your hair by running it through with your fingers to make sure there are no knots and tangles hidden at the tips or anywhere else in your hair. You can also use a comb. It may speed things up.
Afterwards, dry your hair using a microfibre towel. This will help prevent your hair from frizzing, which occurs when it is too wet. Don't force your hair to get dry all at once. It works better when you just tie the towel over your head and let the towel do all the work of soaking up the water.
Next, you will need to apply a heat protector on your hair. This is very important because it helps prevent your hair from getting too dried or even fried. This could occur when you don't apply a protector. Also, you will need to use a moisture seal as well. These two things help protect your hair from heat damage.
Then, section or separate your hair into parts. You can use a comb to lightly partition your hair into different sections and go through each section one at a time. Sort out and untangle any remaining knots that you may have missed. This will just help you to be more thorough in detangling your hair.
This next step is crucial. Do not start blow-drying your hair straight away at the highest heat level. This could cause some permanent damage. You have to ease into it by using low to medium heat and lowly regulating it as you observe the hair changing texture.
When blow-drying your hair, it is vital to do it uniformly. Altogether, make the air flow in one direction. That's mostly the direction where the cuticles lie. This is important, especially to avoid having unevenly dried hair and tp prevent frizz in your hair as well. Always blow-dry down your hair or to the direction in which you want it to stay.
This next tip is essential. Leave a little moisture in your hair. This is important because it will help prevent your scalp from drying up. Even though you are blow-drying your hair, you don't have to eradicate every drop of moisture from your hair. Some humidity is suitable for your hair. It will help keep your hair healthy.
To finish, you need to allow some cold air to close the cuticle layers, which were opened by the hot air when you were blow-drying earlier. When you do this, you will notice your hair will be even shinier, and it will also reduce frizz as well.
Here are some helpful tips on how you can prevent partial or permanent heat damage. 
TIP 1
It all starts with how you wash your hair. This may sound like a straightforward and trivial aspect of hair care, however, it is no joke at all. Your hair protection starts with how you wash your hair and the product used. First, you must get a good shampoo or soap to wash and remove all the dirt from your hair without damaging it. Alos, it's essential to note how you wash your hair, and the kind of water do you use, is it cold or hot? Make sure you use the option that agrees best with your hair type and texture because it all starts here.
TIP 2
The texture or your hair doesn't matter, it could be curly, coarse, or even straight. Never heat style it before applying a heat protectant on it. Think of the protectant as your hair's shield against the intense heat. When you have an excellent protectant, you can use your heat tools without worrying about draining every drop of moisture from your hair or causing irreversible damage to your hair. Do not spare on this part. It is a critical point if you want healthy hair.
TIP 3
A widespread mistake people make every day when blow-drying their hair is, they turn the heat setting too high. Of course, different hair textures and hairstyles have different temperature needs. However, your hair is safer when you stay between the low and medium heat setting on your blowdryer. It is vital that whenever you can, you avoid the highest level of your blow dryer altogether. No matter the type of hair you have, if you set your blow dryer to the highest temperature, it is easier for your hair to begin to develop significant damage. So, this is very important, turn down the heat. 
TIP 4
One essential tip if you plan to give your hair the heat treatment regularly is to invest in a hair mask. If you apply heat to your hair very often, a weekly hair mask is recommended. A hair conditioning mask does not only moisturize your hair as you heat style it. No, it also helps add an extra layer of preventive protection from heat damage. To make this easier for you, you can replace your daily conditioner with this conditioning mask and let your hair soak in it while preparing in the morning. Then rinse it like you would your regular conditioner. It is that simple. Something this simple can protect your hair for a long time.
TIP 5
Now let us talk about moderation. We all know that your hair looks very lush and beautiful when it has received proper heat treatment. However, it's also essential to think about the health of your hair. It is vital to think about the long term implications of constantly treating your hair with heat and not overdo the treatment. Try not to apply heat to your hair so often, and when you do, always remember to treat your hair the right way. Every step is important to keep your hair healthy.
Things to Consider When Purchasing a Flat Iron
Flat irons are not all the same. Here are some things to consider when considering a flat iron to purchase.
Consider the shape of the iron. When you want to buy a flat iron, look a the kind of edges it has. When a flat iron has a more curved or rounded edge, it means that straightening your hair would be a little bit easier.
Depending on how fast you want to straighten your hair, considering how wide the iron plate's plate is may be very useful. Because the slimmer the plate, the slower the process.
Consider what materials make up the plates depending on what your hair needs. Titanium plates are better for hair that is very curly or coarse, while Tourmaline plates are suitable for those who want to rectify damaged hair. Ceramic plates are ideal for most hair textures.
Consider how much heat the straightener produces when considering what flat iron to buy. Remember, even though the straightener heats up fast, that does not mean that it is the best one for you.
Understand that in the same way that expensive does not always mean the best quality, cheap doesn't always mean it is terrible quality. You can test out a few and see what works for you and your hair needs.