Argan Oil for Natural Hair Growth | 4C Black African Hair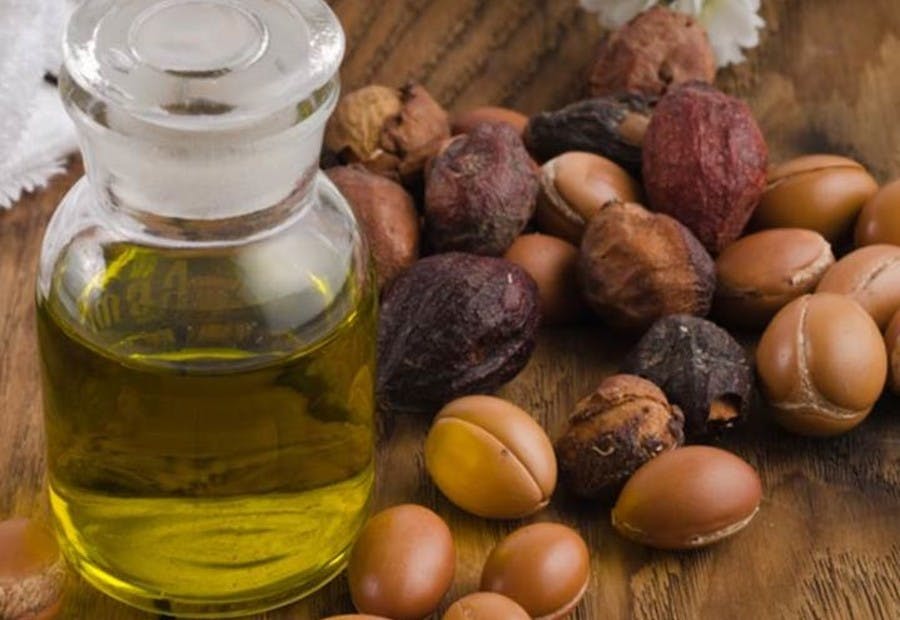 Tips For Using Argan Oil for Natural Hair Growth On Black Hair
Hey everyone, welcome back to my blog. So, in this post, I'll be discussing the topic of ''is argan oil good for black hair?''. No doubt, this is one oil that has been raved about for too long and I'm sure if you're reading this post, you're also curious about the benefits of Argan oil for natural hair growth.
Now, I personally haven't used this oil on my hair, but I have heard that Argan oil is fantastic for natural black hair growth and prevents hair drying. As for how to use argan oil on afro hair, I am guessing it's no different than any other hair type.
According to various studies, Argan oil alleviates hair loss and at the same time, supports hair growth. With regular use, the hair roots are strengthened. Thin hair is prevented with the use of the oil and it apparently works completely without silicones, chemical additives, or artificial fragrances. It also nourishes the hair and prevents damage and has proven to be beneficial in hair problems of all kinds.
In this post, we are going to be discussing using argan oil for natural hair growth. You'll understand how to grow natural hair using Argan oil, the benefits of using Argan oil, as well as determine what is the best argan oil for 4c hair. Argan oil is a fantastic moisturizer and prevents hair drying.
Also, check out my article on how to grow natural hair fast if you're looking for more hair growth tips.
What Is Argan Oil & Where Is It Grown?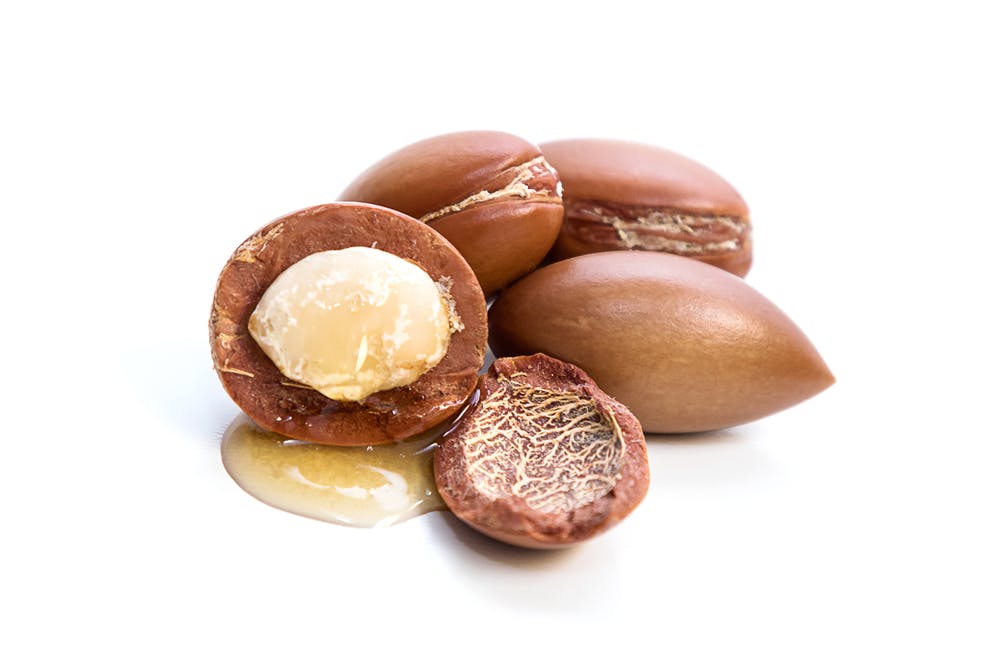 Argan oil is extracted from the Argan tree native to Morocco. For centuries, Argan oil has been considered a miracle cure for beautiful, faster-growing hair and has become extremely popular in many black hair growth products as well. Not without a reason: The oil consists of a high proportion of natural antioxidants that promote hair growth and protect the scalp. According to various studies, it also alleviates afro hair loss and at the same time supports hair growth.
What Can Argan Oil Do For Natural Hair?
Argan oil works as a natural, almost odorless natural hair care product – it that works on the scalp and hair roots as well as on the hair itself. Some manufacturers add argan oil to their shampoos – common is the application of a few drops of pure oil as a hair mask or conditioner.
For cosmetic purposes, cold-pressed oil is used. This is almost odorless, it exudes at best a slight vanilla-like scent. The result of the application is well-groomed and healthy hair.
Argan oil is particularly useful in:
Dry, brittle hair
Split ends
Dandruff
Itching scalp
Hair loss
Slow growing hair
Your hair is exposed to many strains. Sun, wind, cold, heated air, rough brushing or combing, and aggressive shampoos strain the hair. In addition, structurally altering measures such as straightening, dyeing, or perming can also harm the hair. It's no wonder, the hair eventually loses its natural beauty and becomes dry, dull, and dull over time.
Split ends are particularly common in long hair. It is the result of damage to the surrounding shingles hair layer, the hair splits at the tips and looks dull. In extreme cases, damaged hair can split to the roots and destroy the dream of the lush mane.
Dandruff and an itchy scalp are a sign that the scalp is out of balance. The causes are manifold and can partly be a predisposition. Argan oil is recommended for all these problems
Benefits of Argan Oil On Natural Hair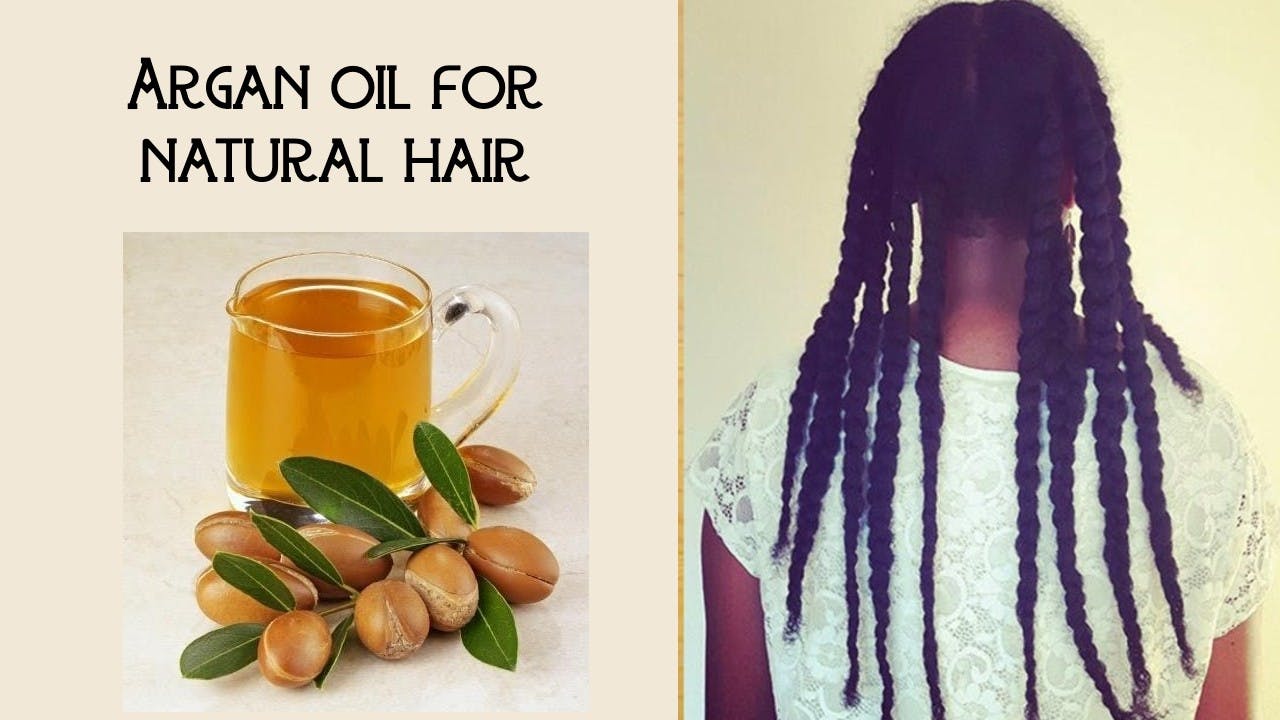 The caring and healing effect of Argan oil has been proven by many studies. Argan oil is particularly rich in valuable substances that have a health-promoting and nourishing effect on the skin and hair. Among them is especially to call vitamin E, it strengthens the hair and can accelerate hair growth.
Other noteworthy ingredients are;
Ingredient Carotenoid: Can protect the hair from harmful UV radiation. UV rays damage the hair (and also the skin) and dry it out.
Ingredient Alpha-linolenic acid: Gives the hair elasticity and protects against hair breakage.
Quercetin: Has a cell-protective and anti-inflammatory effect and brings the scalp back into balance.
Flavonoids: Have antibacterial properties and help with dandruff or fungi on the skin.
Fatty acids: Secondary plant substances such as omega-6 fatty acids, and omega-3 fatty acids have an antioxidant effect and protect hair and skin from free radicals.
The precious Argan oil covers the individual hair like a protective film and locks in the moisture, thus helping to prevent or reduce hair breakage and split ends. This nourishing film can minimize and prevent the harmful effects of environmental factors such as strong sunlight, wind, cold, or dry heating air.
Sometimes, a fungus on the scalp is the cause of dandruff and an unpleasant itching or burning sensation. The cell-protecting, antibacterial and anti-inflammatory agents of Argan Oil have a calming and balancing effect on the irritated skin. It is gently balanced because only a healthy scalp is the basis for beautiful and well-groomed hair.
Can Argan Oil Help With Natural Hair Growth?
I have heard many Naturalistas complain that their natural hair won't grow past shoulders. I personally believe that a good hair care regimen is the best way to grow natural hair.
However, argan oil may help to accelerate hair growth. Many users are already convinced after a short test of the effect of argan oil. Not only is the hair smoother, brighter and neater, it also grows lusciously and stronger (as long as there is no hereditary hair loss and the hair is well maintained). But this is the same case with many other hair growth products. Long hair can also comb better with less breakage and hair loss.
Everything that is good for the scalp also benefits the roots. They are supplied with nutrients via the blood so that the hair can grow faster, stronger, and healthier.
Experiences with argan oil prove that: If it is massaged into the scalp, it provides for improved blood circulation and thus, better nutrient supply to the hair roots. A head massage with argan oil stimulates and revitalizes the hair roots. This will promote a healthy and abundant hair growth again. Even when there is estrogen deficiency during menopause or androgenetic alopecia, the treatment helps to re-energize the resting hair roots.
Regular external, as well as the internal use of Argan Oil, ensures the supply of nutrients necessary for healthy, abundant hair growth. These include, for example, vitamin E, or better, the active ingredient group of tocopherols or the various phytochemicals. These are actually able to protect skin and hair from harmful environmental influences and strong UV radiation.
Choosing the Best Argan Oil for Natural Black hair - What to Pay Attention To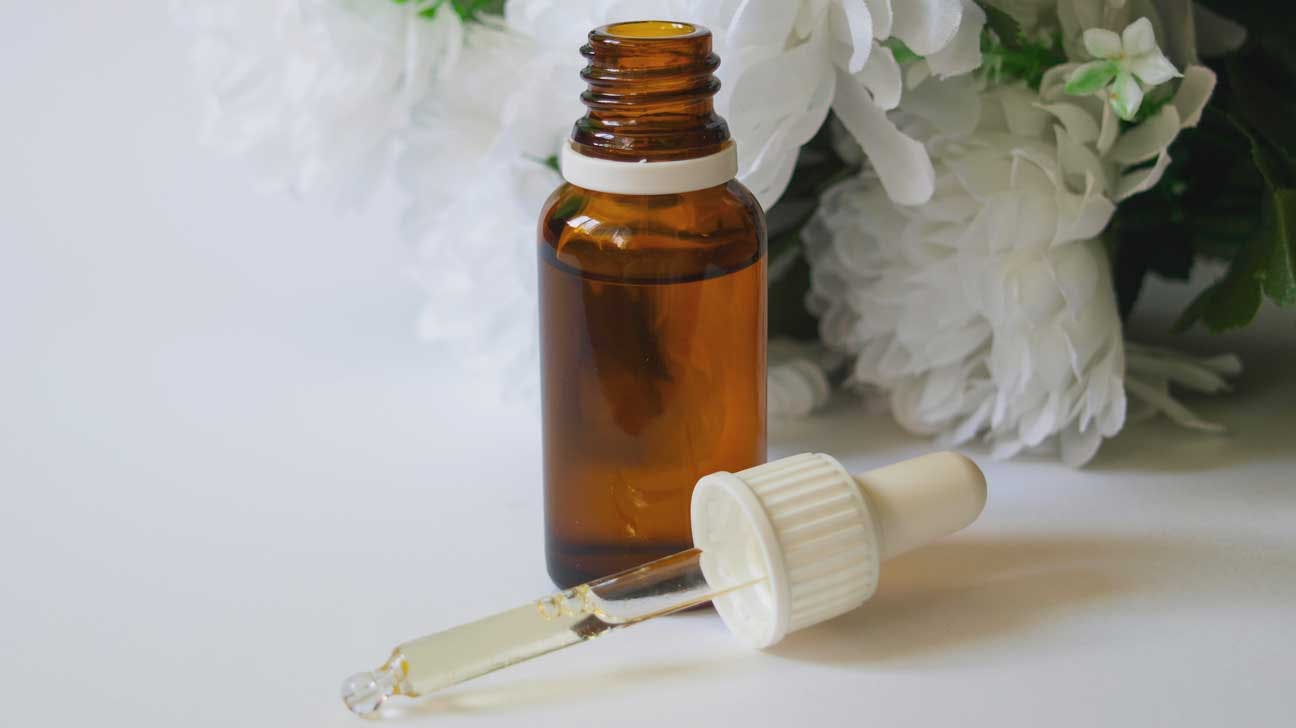 The oil obtained from unroasted argan almonds is best suited for natural hair. The roasting of the Argan kernels over the fire has a negative effect on the ingredients. It is, therefore, advisable to buy the pure, cold-pressed oil from unroasted kernels. Although this is produced by a machine, it is done without chemical aids or additives.
Also, make sure that the oil does not contain silicone. Cold-pressed and unroasted argan oil for the hair can be combined with mild shampoos without silicones. For finished products that contain or should contain argan oil, it is important to pay attention to designations of origin and organic certificates.
So that you have something of your special oil for a long time, you should store it cool, protected from light, and dry. This way it can last for almost two years and does not lose its effect.
Also, it is important that you are not deterred by a higher price. Argan oil cannot be compared with olive oil. If you want to use argan oil for hair growth or for skin, then you also need to know that it is particularly economical.
Where Can You Buy Argan Oil for Your Hair?
Since Argan oil is usually pure natural cosmetics, you can find it at appropriate dealers, but also in drugstores. Who rather - like us - orders comfortably online, stores this Argan oil for the hair:
How to Use Argan Oil on 4C Hair - Dandruff and Dry Scalp Treatment
Heavily dried, itchy scalp can occur as a result of winter heating air as well as due to hormonal changes or stress.
Dandruff on natural hair is an aesthetic problem at first – embarrassing especially on our black hair Persistent infestation with dandruff may indicate disorders or diseases of the scalp. The causes include;
Too dry skin
stress
Too aggressive or incompatible hair care
Certain yeasts (especially Malassezia furfur)
Psoriasis or eczema
Pure argan oil for dandruff has proven itself. Because the oil easily and quickly penetrates the skin and leaves no greasy marks, it is a pleasant experience to massage dry scalp or areas affected by dandruff regularly with a few drops of the oil.
The effect occurs relatively quickly: Dry, itchy skin calms, and normalizes within a short time. It regenerates, is able to store better moisture again and the blood circulation of the skin and the hair follicles seem to improve. Two or three treatments per week should suffice.
How to Use Argan Oil on Curly Hair - Dry & Brittle Hair
Above all, longer, bleached, dyed or treated with perming hair is heavily strained. The tips are often brittle, split ends and the hair looks dishevelled and colourless after some time. Because the problem is known, countless conditioners are on the market, in the form of douches and spa packs. Often, the shampoo itself already promises to be cleansing and at the same time act as a conditioner.
Too often, these remedies are more damaging than they help, for example by sticking to the pores of the scalp. In addition, they only have a short-term effect on the hair itself. In addition, all of these products are chemically produced and have nothing more to do with naturalness.
By contrast, incorporating pure Argan oil into the hair helps to reliably smooth the rough hair tips and protect the hair against environmental influences or strong sunlight. An argan oil conditioner can easily be made by yourself: it can be used successfully as a rinse with a short and as a pack with longer exposure time.
Rubbing argan oil into dry hair can provide quick visual enhancement and easier combing, especially for those of us naturals with 4c hair.
Argan Oil As An Afro Hair Loss Treatment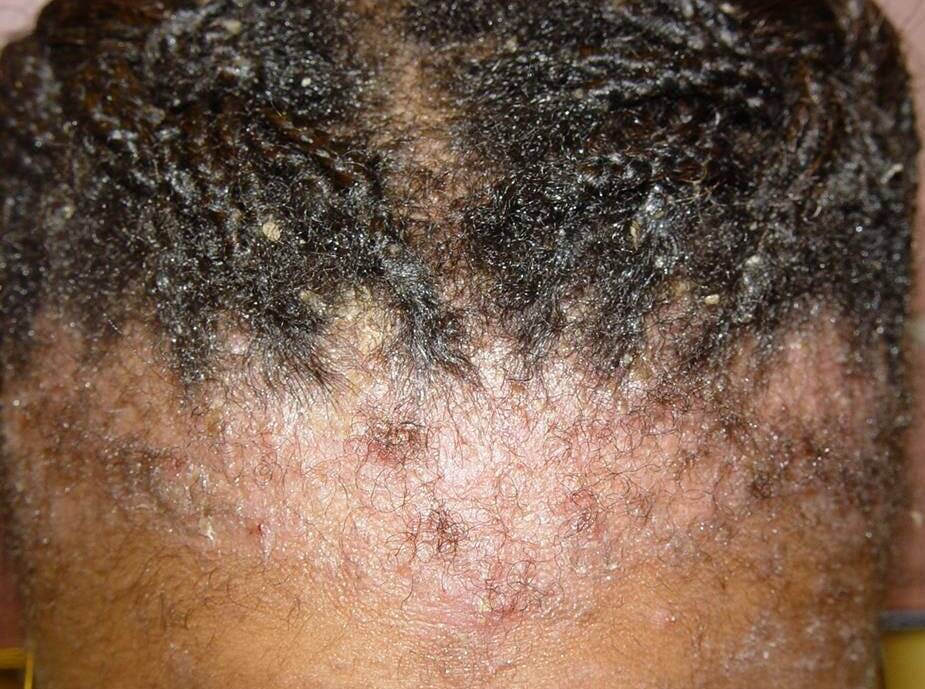 The causes of hair loss or extremely thin hair are so complex and individual that it is often difficult to determine. "Hair loss" is not an exact term anyway. Man constantly loses hair while new ones regrow. Active and resting hair roots colonize the scalp side by side and always provide alternately for a sufficient regrowth. However, a loss of more than 100 hairs per day is already considered an alarm signal. In the long run, this can lead to thinning or even bald spots. Affected are both men and women.
Normally, every human hair root undergoes a cycle of activity and rests up to twenty times: the growth phase of a hair can take two to six years. In the transitional or catagen phase, the hair stops growing, loosens, and eventually dissolves from the hair root.
In the resting phase of the hair root, the hair finally falls out. It can take up to three months for new hair to sprout from this root. Normally, only about 15% of all hair roots are in this phase, whereas between 80 and 90% are in the first. If this ratio shifts, the hair either generally thins out or bald spots develop.
For those with Alopecia areata, the circular hair loss, doctors suspect an autoimmune disease. For diffuse hair loss anywhere on the head, among others, the following triggers may be involved:
Metabolic diseases, such as the thyroid gland
Poisoning or drug reactions (from beta-blockers to chemotherapy)
Hormone shifts – at menopause or after pregnancies
stress
Nutrient deficiency due to one-sided nutrition or utilization disorders in the intestine (in particular iron deficiency)
Infectious diseases
In hereditary hair loss (androgenetic alopecia) there is a partial congenital hypersensitivity to a particular hormone called dihydrotestosterone, or DHT for short. This is formed from testosterone and is on the increase when the enzyme 5-alpha reductase becomes "active". Partly, this enzyme even sits directly in the hair roots.
All these causes need to be clarified. In many cases, it can be counteracted by medication, special lotions or nutritional supplements. Experience has shown that the organism recovers even after severe illnesses and disorders, and hair growth then sets in again.
For as a consolation for all those affected die the hair roots only in the rarest of cases. Most of the time, only too many of them expire in a prolonged period of rest, which then leads to the dreaded thinning of the hair.
If you are suffering from hair loss and would like more information on how to curb it, I'll advise reading my article called 'African American hair Loss Treatment'. I have also discussed extensively on issues like hair transplants for those who are experiencing significant hair loss that won't grow back. You can read about it in my articles Best hair transplant surgeons for African American hair and Afro hair transplant Turkey.
Using Argan Oil in Your Natural Hair Growth Regimen
For a hair treatment with argan oil are already a few drops that are incorporated once a week in the scalp or in the hair sprays. Read more about natural hair regimens on the article called: Natural hair regimen growth regimen.
How Do you Apply Argan Oil to Natural Hair?
So, how does the application of argan oil for hair work? Well, you can use pure Argan oil ideally for external application. No matter which hair problem you have, a few drops of Argan oil can show great effects after a short time. These are the best applications of Argan oil:
Using Argan Oil Against Irritated, Itchy Scalp:
If the scalp is not healthy, the hair cannot be either. The consequence is hair loss. Argan oil is one of the best itchy scalp remedies for black hair. It helps to eliminate dandruff, fungi, or itching. For this purpose, before washing your hair, apply a few drops to the scalp and massage it gently with your fingertips. In order for the argan oil to develop its full effect, you should let it work for at least 15 minutes and then wash it out with a shampoo and lukewarm water.
Using Argan Oil As As A Massage Oil
To bring the irritated scalp back into balance, massage a few drops of argan oil into the scalp with slow circular movements. For best results, cover the head with a shower cap and let the precious argan oil work for about 30 minutes. Wash your hair as usual with a mild shampoo, especially recommended argan oil shampoo.
Using Argan Oil As As An Intensive Treatment
For a particularly intensive care experience, treat your hair at regular intervals with a cure. Massage a small amount of the rich argan oil into the hair until it appears slightly greasy, and let it soak for at least an hour. The cure is especially effective if you cover the hair with a towel and leave the oil to work overnight.
Using Argan Oil As As A Deep Conditioner
After shampooing, apply argan oil by rubbing a few drops of the precious oil in your hands and spreading in damp hair. Attention! Argan oil is very rich. Therefore, a very small amount is enough to give your hair a nice silky shine and make it easy to comb.
Using Argan Oil As As Heat Protector
The tocopherols in argan oil provide heat protection – against UV radiation as well as against damage caused by a flat iron, with perms and the use of curlers. If you often work with a straightener or curling iron, the hair is strained and dried out. Before straightening or after, hair should be treated with argan oil as proper care can prevent or repair damage.
Argan Oil Against Split Ends and Brittle Hair: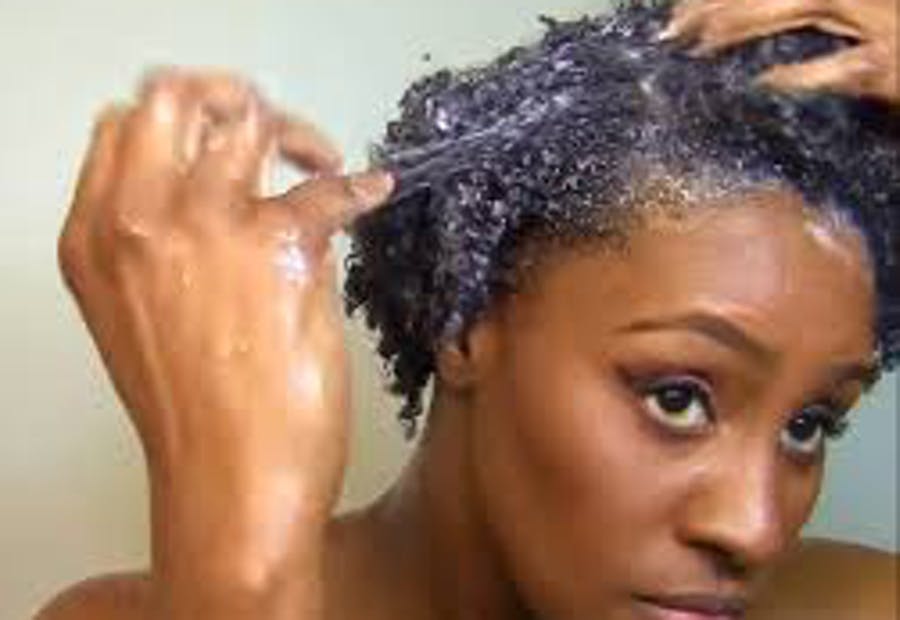 Dry and brittle hair is mostly the result of a bad diet. Understanding the best foods for black hair growth will certainly help. Also, before using any products for hair that is breaking, you'll first have to determine if it's really breakage or shedding. If it's shedding, you then have to understand how to reduce shedding on natural hair.
That being said, argan oil can also help alleviate dry hair. Apply a few drops of argan oil on your fingertips and work the oil into the hair lengths and hair tips. It is best not to wash the hair afterward. But if you have the feeling that they are too greasy after application (this can be the case especially with thin hair), then use a mild shampoo to wash them out.
Argan oil Application for Dry Hair:
Do you want healthy and shiny hair? Then you should regularly apply a hair mask or conditioner with argan oil. To do this, put a few drops of the special oil in the palms of your hands in the shower and then distribute it in wet hair and also on the scalp. After a short time of application, you can then wash your hair out.
If you wish to use argan oil as an intensive hair care treatment, then you can also put the Argan oil into the wet hair, beat it into a towel, and let the high-quality ingredients work for a few hours or overnight. So that your hair is not greasy, wash it the next day with a mild shampoo. You will see: Your hair has never been so healthy and shiny.
Argan Oil Recipes: Deep Conditioner for Natural Hair Growth
An argan oil conditioner in the form of rinses or wraps can be done as follows: Either the oil lasts for only a few minutes before it is washed out, or overnight, with a towel around the head providing heat. In this case, wash out the hair mask on the following day or a few hours later.
Promoting hair growth with a scalp massage using argan oil can also be enriched with black cumin or thyme oil. After a contact time of about 30 minutes under a towel or a plastic hood, the hair is washed through with a mild shampoo. The oil has then already penetrated to the hair roots
For more homemade remedies, have a read through the article called homemade leave in conditioner for natural hair, as well the article olive oil deep conditioner for natural hair. The formulations listed should help prevent breakage and keep your hair in healthy conditioner. Also try our homemade coconut milk for natural hair.
More Tips for Application
Dry Hair: For dry hair, massage some argan oil into the scalp and hair and wrap with a pre-warmed towel, leave to work for 30 minutes and then rinse off thoroughly. If you only have dry hair tips, it is sufficient to massage the oil thoroughly into the tips.
Hair Loss: In case of hair loss, mix 2 tablespoons of argan oil with approx. 5 drops of thyme oil and massage into the scalp with circular, light movements. Many people swear by argan oil in hair loss, including me!
Hair Growth: To promote hair growth, argan oil hair massage is recommended (1 – 2 times a week). For this purpose, 4 teaspoons of argan oil are mixed with some black cumin oil and massaged into the scalp. Then you take a plastic hood (or similar) and cover it with a warm towel. After about 40 minutes you can wash your hair thoroughly with a mild shampoo.
Some Other Good Oils for Natural Hair Growth
In addition to Argan oil, there are many oils that work well on natural African hair. These oils include both essential oils and base oils.
More Information on the Best Herbal Remedies for Natural Hair Growth
If you're not sure which oil is best for your hair, consider taking my Natural hair porosity quiz.
Other Tips: How to Grow Natural Hair
In addition to using argan oil and other best oils for natural hair growth, here are some other important factors that influence hair growth.
Genetics
Your hair's level of hydration and moisture absorption.
Your scalp condition
Is your hair dyed or chemically treated?
Is your hair too greasy, dry, or damaged?
How curly is your hair?
What is your hair texture?
If you are transitioning
What is your hair porosity?
Is Argan Oil Good for Black Hair - To Summarise
To summarise, I'll say that Argan oil is not only a beauty miracle for the hair, but also for the skin (face and body) and the nails. The special ingredients make it a great anti-aging remedy that can be very well integrated into skincare.
But argan oil can also work from the inside out as a beauty booster and health aid. The unsaturated fatty acids are vital for the human organism.
Whoever wishes for great hair and beautiful skin cannot avoid the remarkable effect of argan oil. The special characteristics of the valuable oil speak for themselves. Since the application is very easy and only few drops are enough, in order to do skin and hair something good, there is no reason not to try this oil from Morocco.
For more information on how to grow natural hair please read the article: How to grow natural hair fast and How to grow natural hair faster and thicker.