8 Best Detangling Brushes for Natural 4C Hair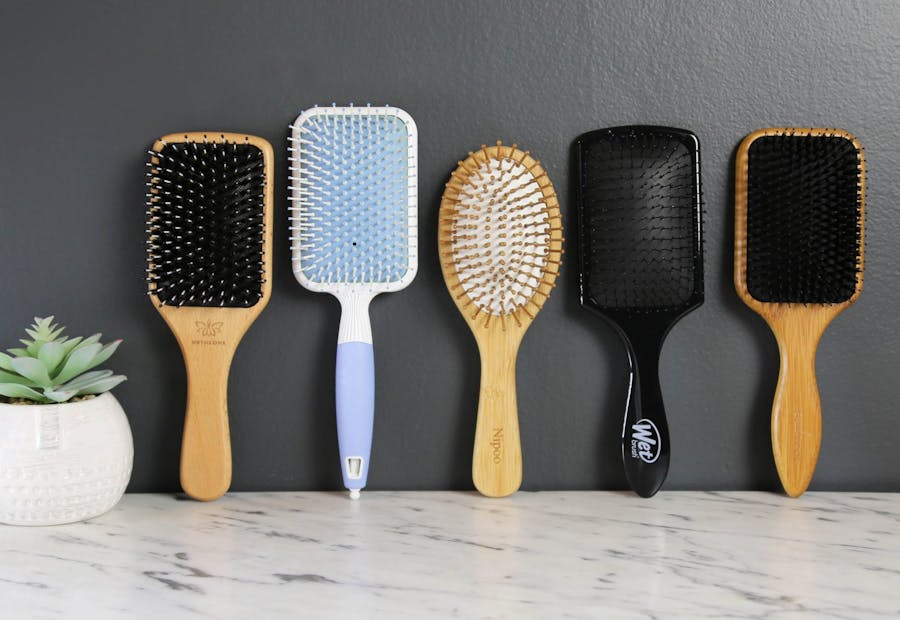 Detangling without much hassle is THE dream for people with natural 4C hair. Tightly coiled kinky black hair though beautiful, can be a struggle to get through without the right tools.
You can have everything from the perfect shampoo to the best conditioning set, but your collection of hair products would be incomplete without the right detangling brush. For this reason, I thought it best to compile a list of the best detangling brushes for you to try. These will not only get you through wash days but also comb your knots straight on dry ones with minimal breakage and no damage.
1- BESTOOL Detangling Brush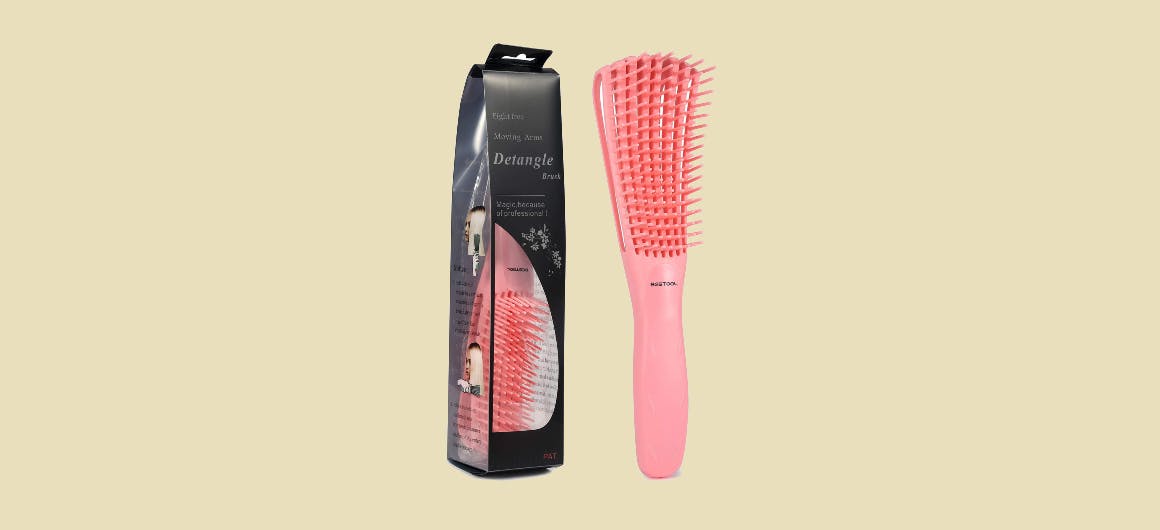 Natural hair enthusiasts will agree that detangling isn't the most-liked process in hair care, especially for 4C texture. The time it takes, the pain of pulling and dragging despite deep conditioning, not to mention the substantial hair loss, just feels like too much sacrifice. Thankfully, with the BESTOOL Detangling Brush, you don't have to worry about any of that. This original detangler is considered a revolutionary tool for natural black hair because it swiftly gets the job done.
The BESTOOL brush features eight free comb arms whose flexibility takes the pain out of the detangling process. Its bristles are smooth and long enough to go through the thickness of your hair without so much as a tear or damage. It also features a control bar that is adjustable to up to two times its original size, depending on how much ground you like to cover in a single sweep. In addition to its detangling ability, the BESTOOL brush's rubberized handle also offers a sturdy yet.
2- Felicia Leatherwood Detangler Brush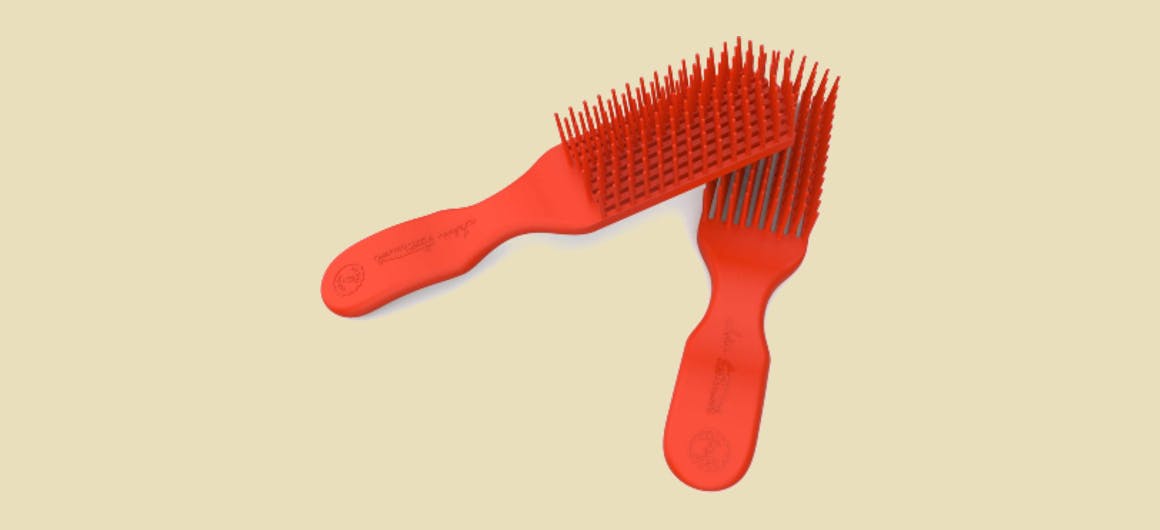 One does not become a top celebrity natural hairstylist, in Hollywood no less, without knowing a thing or two about their craft. A brainchild of the renowned Felicia Leatherwood, this detangling brush leaves nothing to be desired as it takes everything from form to function into account.
The Felicia Leatherwood Detangler Brush is bonded on three sides, unlike many others which are mostly bonded on all four sides. This might seem like a slight variance, but considering it provides a much-needed fluidity in the hair/brush movement, it makes a lot of difference. While other hair textures may also benefit from this sensation, Leatherwood's detangling brush suits 4C so well, it might as well be made exclusively for it. Its widely-spaced flexible brittles slide right through naturally coarse hair, undoing knots and tangles in its wake without breaking your hair strands or causing discomfort. Its equally wide handle makes the grip convenient enough to make using the brush feel like less of a chore whether you are a pro or a newbie working on your.
3- Uddiee Flexi 4C Hair Detangler Brush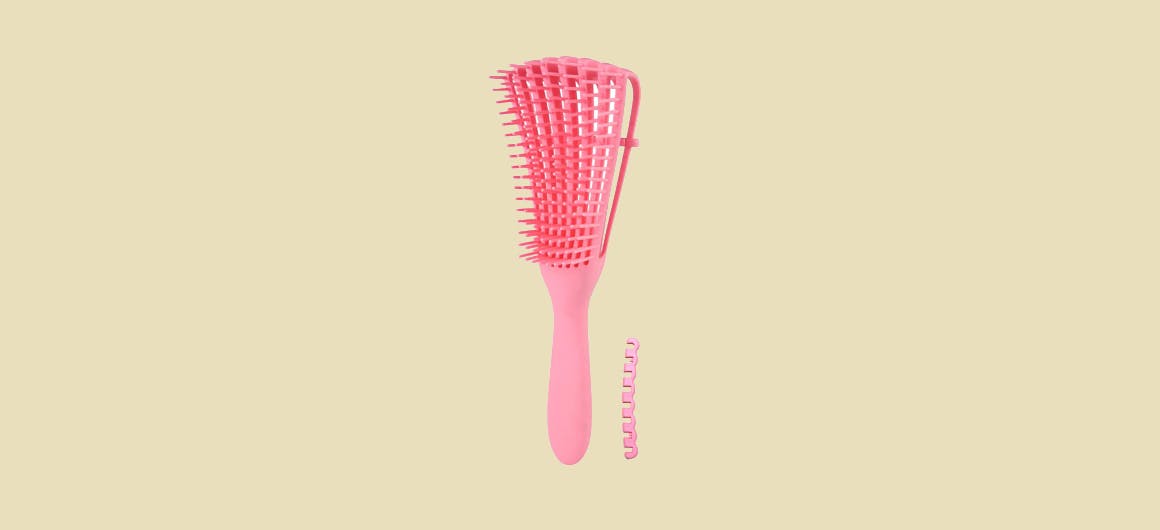 Have you gone through what feels like hundreds of so-called detangling brushes with nothing but pain and broken plastics to show for it? Is your natural hair so coily and kinky that you're on the verge of giving up on finding a detangler that works? Well, the Uddiee Flexi 4C Hair Detangler Brush says to search no more. The Uddiee brush comes properly spaced and with detachable supports. Even more, its rows can be adjusted in width to accommodate the thickness of your 4C hair without a struggle.
This tool sports a curved design with a wide top that thins towards the handle. It is not only ideal for your natural hair in its coarse, kinky richness, but it also works perfectly for curly wigs and extensions. It is an ideal blow dry brush that helps prevent hair damage caused by overheating. The brush comes with the bracket required to adjust the bristles and its ergonomic design puts total control in your hands. Although it is said to work well with dry hair, we recommend you use the Uddiee brush with a moisturizer. 
4- Denman 5 Row Long Styler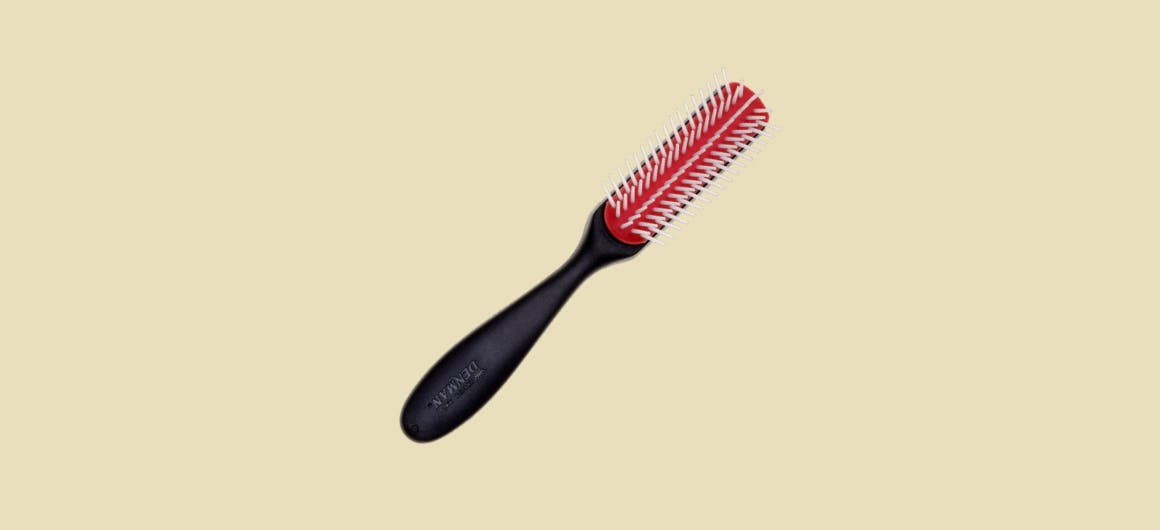 Notable for its durability, the Denman 5 Row Long Styler is a favorite among natural hair enthusiasts. Made from high-quality nylon material, you can be sure that this one won't break anytime soon. Asides its incredible ability to withstand wear and tear, there are plenty other features that make the five-row Denman special. The brush's scantiness plus projection give it a competitive edge over others in terms of versatility.
For starters, people with dense volume do not have to readjust their bristles to suit their coils. Its five rows of round-ended pins not only do a fine job of detangling natural hair, but it is also handy in defining and styling hair. More so, its design makes it perfect for creating curls as well as straightening them. It promotes fast-drying and is usable with a blow dryer. Its teeth are soft, giving you a gentle detangling experience, and after everything, it is still handy for restyling and creating a perfect finish—all of this in a size you can easily take on the go.
5- Defemim Detangling Brush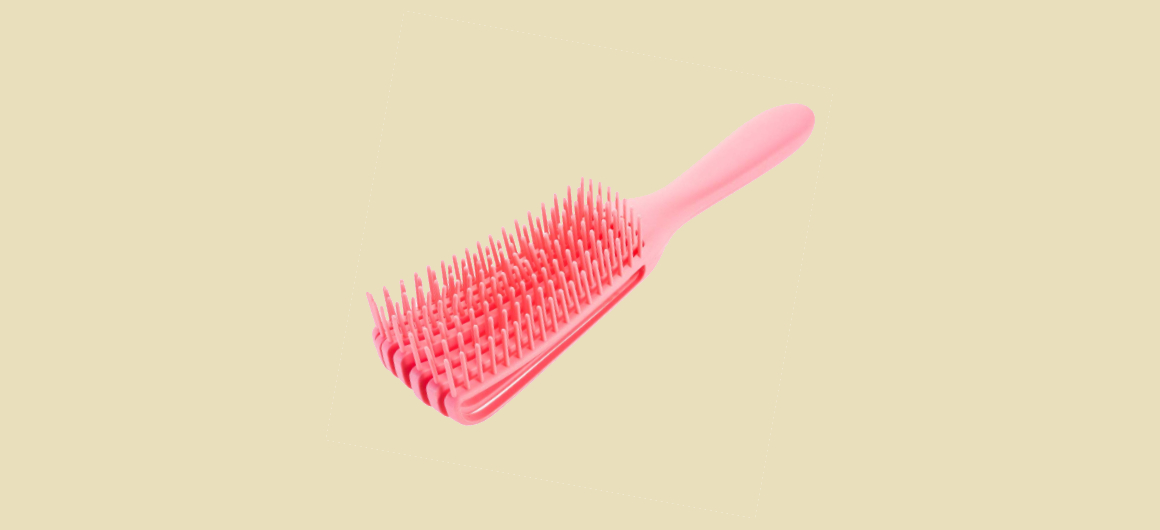 They say beauty is pain, especially when it comes to natural hair, but it doesn't have to be. Styling or detangling natural hair does not have to be the bitter experience it is cut out to be, one only has to understand their hair needs and find what works. Speaking of which, many customers with 4C hair texture swear Defemim Detangling Brush is the magic they have been looking for. A combination of sturdy nylon teeth and environment-friendly high-quality rubber, this particular product is worth the hype.
It feels good to know that while giving your hair the treatment it deserves, other parts of your body and the environment as a whole does not suffer for it. Your scalp will especially be grateful for the smoothness of the comb teeth as that makes the process relatively painless. The brush is curved to fit the natural shape of your head with no part getting unnecessarily dragged along. It is a perfect shower brush given it works best after washing and conditioning. Furthermore, the Defemim brush features a ventilated back area which allows uniform air and heat flow during blow-drying.
6- Drybar Super Lemon Drop Detangling Hair Brush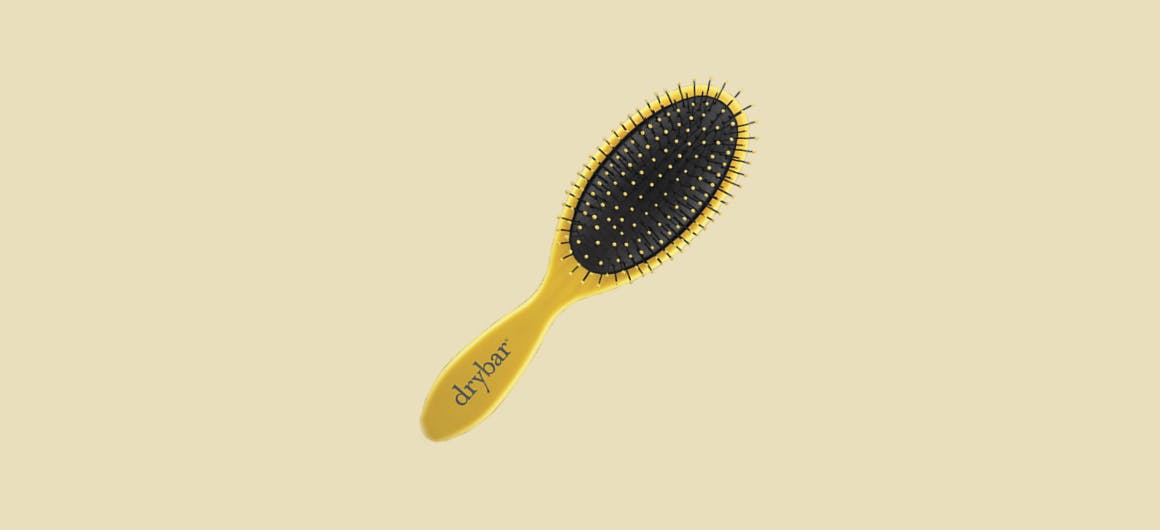 It is not much of a secret that detangling natural hair is best done wet. Doing it dry not only increases your odds of losing hair, but it can also make the experience a painful one, not to mention the potential damage to the hair. However, if there is a product that can tame your tangles even when dry without any of the above consequences, it is the Drybar Super Lemon Drop Detangling Hair Brush. Like other Drybar products, this brush embodies the brand's philosophy of focusing on one thing and being the best at it.
With hair as their primary focus, the creators of this product found a way to perfect detangling without tugging in both wet and dry states. Its supple bristles glide gracefully between strands of all types of hair including natural 4C and extensions that feel like it. Its handle is well-balanced between being soft to the touch and being firm enough to provide a slip-free usage. Altogether, there is a lot to be appreciated about this travel-sized beauty tool.
7- Wet Brush Pro Flex Dry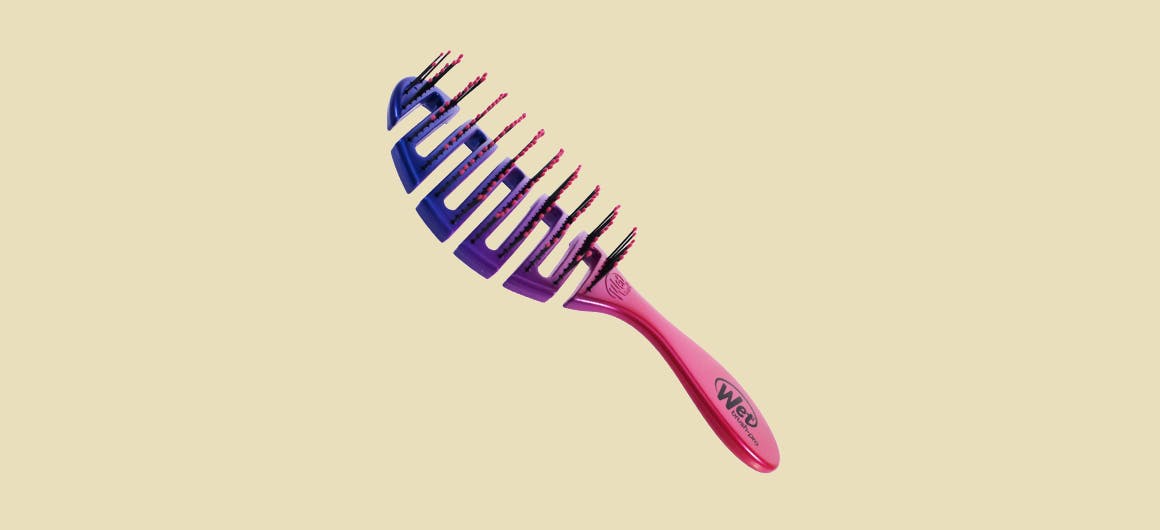 Though detangling brushes don't have to be pretty to work, adding a radiant touch of color to your collection sure doesn't hurt anyone. Originally made in Algeria, the Wet Brush Pro Flex Dry is more than capable of tackling stubborn snarls in a wide array of hair types, including African mane. However, before you get a chance to try the brush out, the first thing that reels you in is its look – a beautiful ombre blend of purple and pink.
As regards functionality, the Flex Dry brush is called an Omniflex because its head bends in all directions to contour to the scalp. This makes it a breeze to work through entanglements from all sides. Beyond detangling, this brush is one of the fastest and most comfortable ways to dry your hair. Its open-vented S-shaped back design enables the removal of moisture from hair while allowing a massive inflow of air. The brush is said to be hairdryer safe, but it speeds up the drying process just fine without one.
8- Tangle Teezer The Ultimate Detangler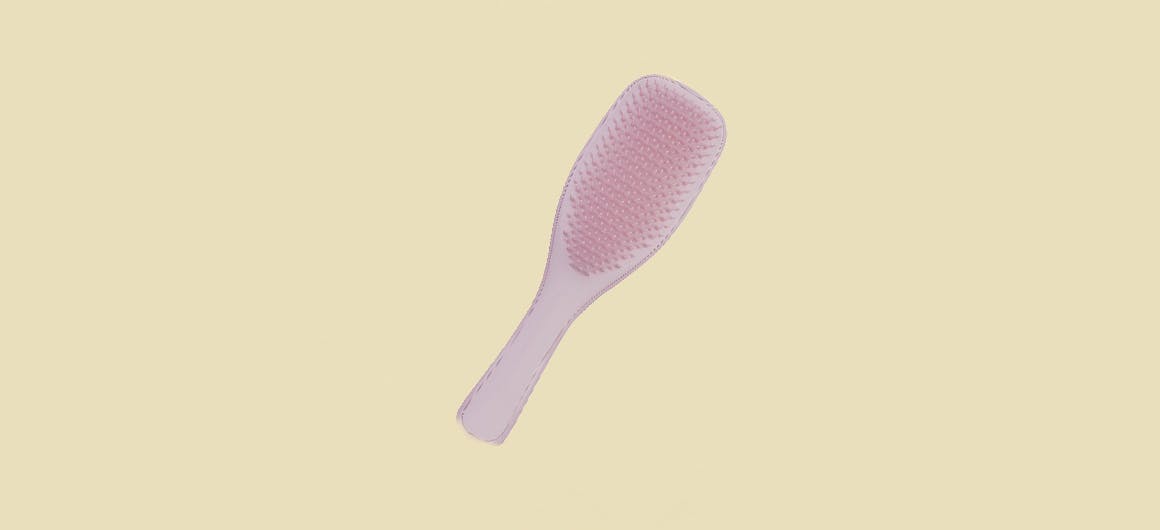 Though this list has been put together in no particular order, the Tangle Teezer The Ultimate Detangler pretty much speaks for itself. It is not an ideal hairbrush to use with heat, but its superior firm flex teeth perfect the job they were made for - detangling hair. The Ultimate Detangler, as this hairbrush is fondly called, is so popular with users that it bagged a CEW U.K. new beauty tool award in 2019. If you're wondering what about it so special, the answer lies in the details.
Each piece of its over 300 bristles restores shine and confidence to any type of hair it touches. The brush detangles effortlessly even a thick mass of hair because it helps spread your hair products from root to tip. The best conditioning oils and lotions would be of no real use if not evenly distributed; this Tangle Teezer brush reaches into the corners your fingers can't. Its slim handle makes it a good fit for children and adults alike. All in all, it leaves your hair better than it meets it.
Note
Detangling is a sensitive process and requires your constant attention. You may want to avoid doing anything harsh. Even though we present you the best brushes for your hair, be gentle when you tend your hair.