10 Best Drug Store Eyeshadow Palette for Dark Skin (U.S. Based)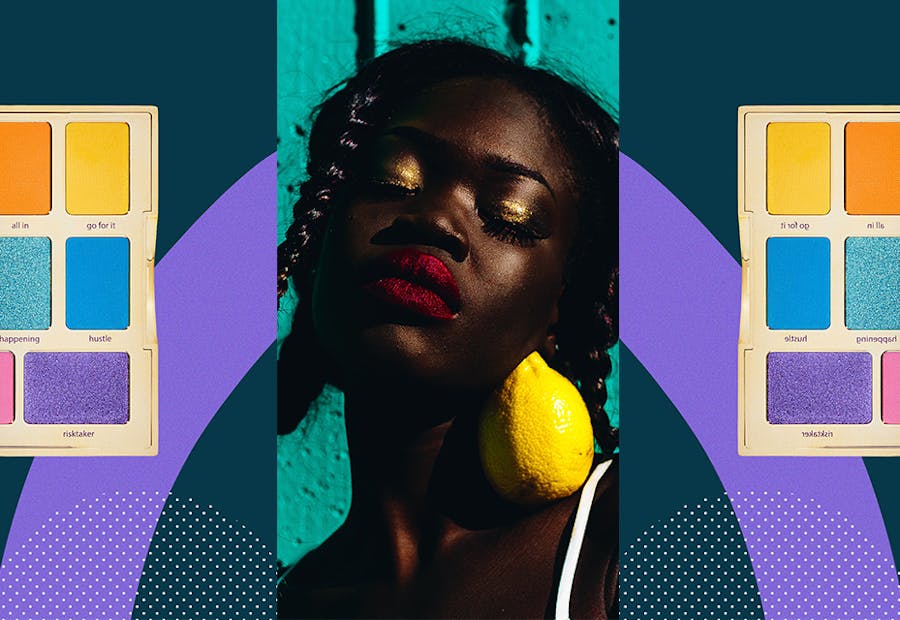 There's nothing quite as exciting as discovering new makeup products to add to your collection if you're a makeup lover. As a dark-skinned person, though, your excitement can wane when you find stunning products that don't quite suit your skin tone. This happen especially when it comes to products as colorful as eyeshadow.
We've gone and done our research to tackle this very serious problem and found ten amazing eyeshadow palettes that would work perfectly with your beautiful dark skin. To make things a little better, not only are these palettes high quality, but they are also easy to find at your local drug store and incredibly affordable.
1- NYX PROFESSIONAL MAKEUP Ultimate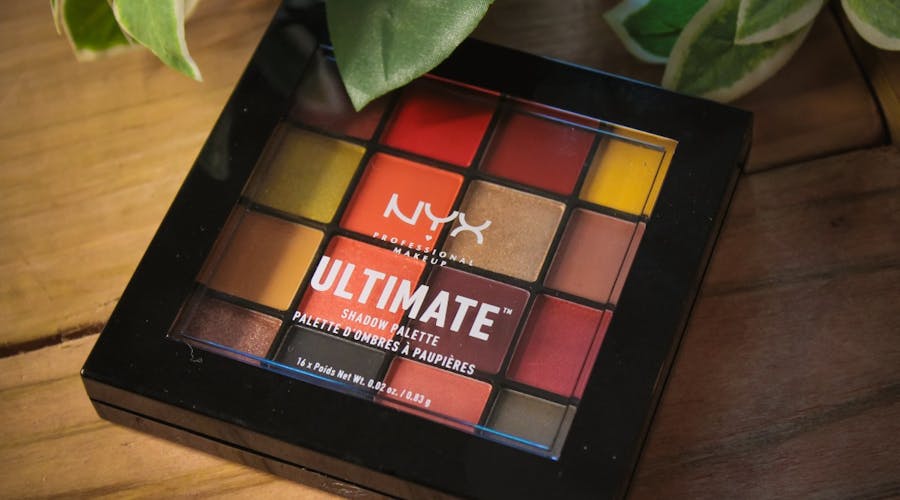 If you're going for a warm neutral look, then the NYX PROFESSIONAL MAKEUP Ultimate Shadow Palette is the ideal makeup palette for you. This palette consists of 16 summery neutral shades, from shimmery golds to beautiful browns. Furthermore, it's created using a highly pigmented formula that allows for an effortless application. Made up of a mix of matte, satin, and shimmery shadows, this makeup palette is a mesmerizing addition to your collection.
Key features
Consists of warm neutral shades
Full pigmented selection of shadows
Easily blendable formula
Features a mix of mattes and shimmers
2- L.A. Girl Fanatic - The Nudist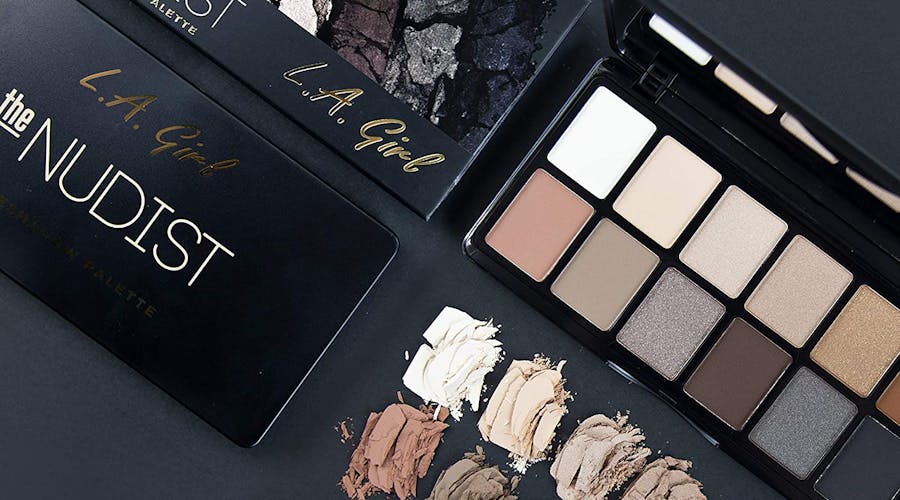 The L.A. Girl Fanatic Eyeshadow Palette: The Nudist is a palette that is easy to fall in love with. Whether you're going for an everyday neutral look, a glamorous look, or a smokey one, this palette can meet your needs. It comprises 12 matte and satin shadows, rich in pigment while being easily blendable and buildable for your convenience. It even comes with large eyeshadow pans and an edge to edge mirror included in a sleek box. Altogether, the Nudist is sure to be your go-to palette.  
Key features
16 neutral shadows
Made up of matte and satin shades
Easily blendable
Highly pigmented
3- Covergirl So Saturated - Posh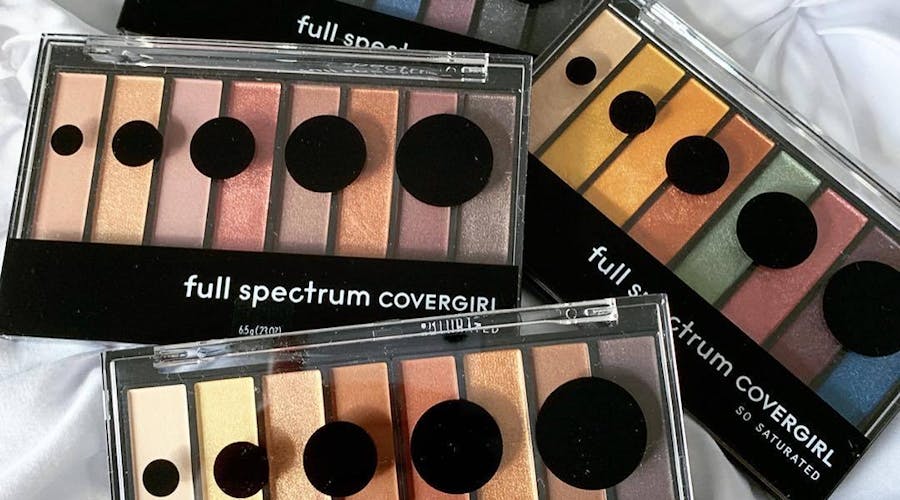 Switch from daytime to nighttime look in a jiffy with the Covergirl So Saturated Shadow Palette: Posh. This bold and beautiful palette is made up of 8 vivid shadows in stunning hues of pinks, peaches, and purples. Easy to apply and rich in pigment, with a simple swipe, you can add a burst of color to your eyes area and elevate your entire look. This palette is made even better with a complimentary brush to apply the shadows.
Key features
Eight vivid shadow hues
Perfect for both day and night looks
Includes an application brush
Satin and shimmery shades
4- Revlon Colorstay Looks Book Eyeshadow Palette: Maverick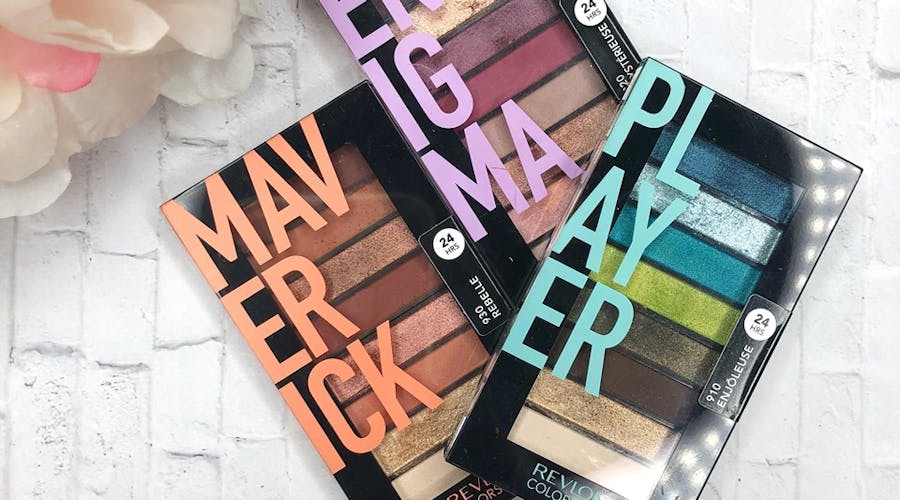 Believe us when we say that the Revlon Colorstay Looks Book Eyeshadow Palette: Maverick is what dreams are made of. This is the palette that'll get you to stand out, even amidst a crowd. With eight eyeshadows in intense colors of reds, oranges, browns, and golds, this palette will leave you breathless. All the options are made with a long-lasting formula. Also, the palette comes in a convenient travel-sized pack.
Key features
Long-wearing eyeshadows
Features intense pigments
Smooth and silky texture
Travel-sized palette
5- NYX Cosmetics Full Throttle Shadow Palette Stunner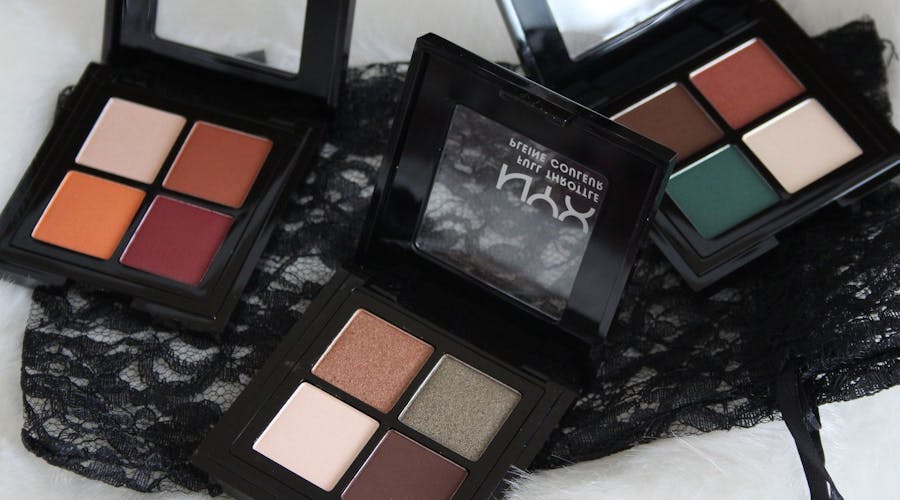 Nothing can quite prepare you for the incredibly alluring NYX Cosmetics Full Throttle Shadow Palette Stunner. This makeup palette is made up of four shadows, but don't be fooled, because it still packs a punch. A remarkable blue, an elegant silver and two neutral shades of cream and brown allow for endless looks. With two matte and two shimmery shades, the shadows in this palette are fully pigmented and easily buildable.
Key features
Consists of 4 different shadows
Pigment packed formula
Two mattes and two shimmers
Includes bold hues
6- Milani Everyday Eyes Eyeshadow Palette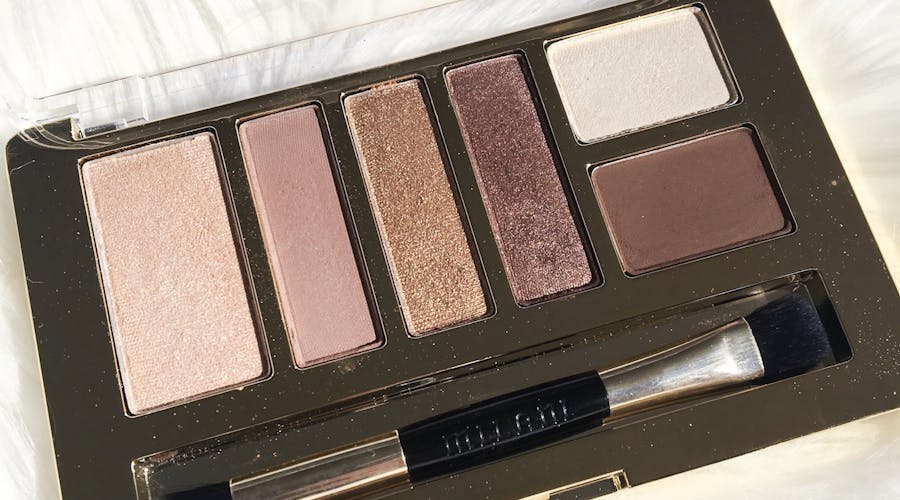 The Milani Everyday Eyes Eyeshadow Palette is great because you can build your perfect eyeshadow looks as well as contour and highlight. Even better, all you need are the six gorgeous colors in the palette. These eyeshadows are made up of earthy tones, including richly pigmented shades in 3 mattes and three shimmery hues. The palette can create a wide array of looks, and one of the best things about it is that it is completely cruelty-free.
Key features 
6 Earthy shades
Matte and metallic shadows
Can be used to contour and highlight
Cruelty-free formula
7- Rimmel Magnif'eyes 001 Nude Edition Eyeshadow Palette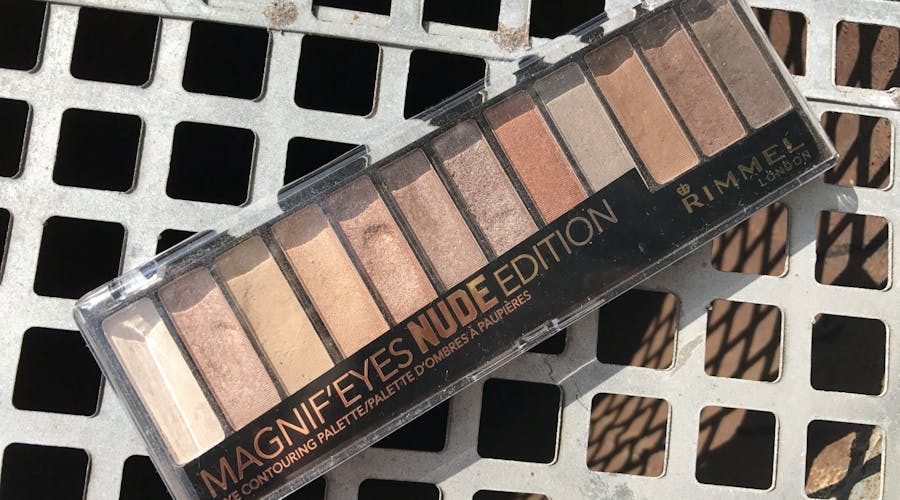 The Rimmel Magnif'eyes 001 Nude Edition Eyeshadow Palette is a must-have for every makeup user. Coffee, beige and taupe tones make up this nude palette. So, whether you want to go back to the basics or try to create a bold look, this collection has got it all. Twelve unique and high impact colors make up this palette, with a mixture of matte and shimmery shades. To sweeten the deal, it features a long-lasting formula, which means you can even wear it for a whopping 24 hours.
Key features
A mix of nude and bold colors
High pigment hues
Consists of both shimmery and matte shades
Can be used to sculpt, shade and define
8- Milani Most Loved Mattes Eyeshadow Palette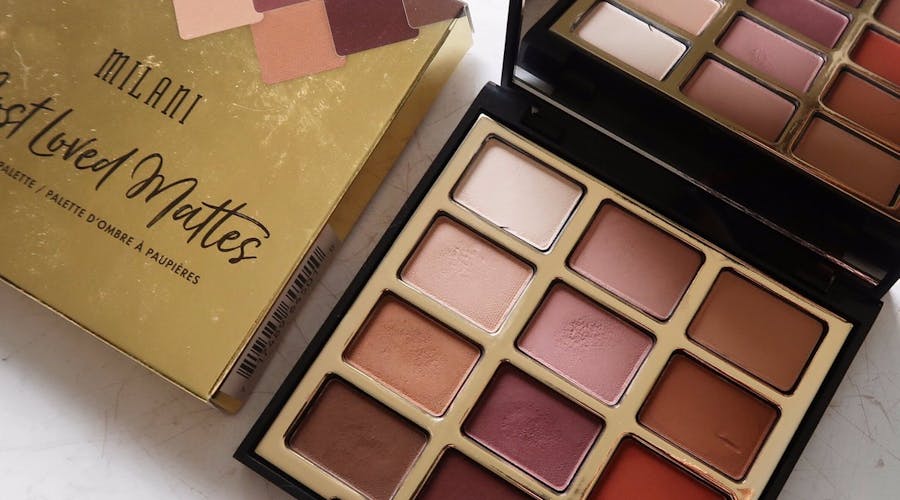 As its name implies, the Milani Most Loved Mattes Eyeshadow Palette is made up of some of Milani's best matte shadows. Consisting of 12 beautiful neutrals to deep matte shades, this palette is perfect for creating various fun and flirty day and night looks. Even more, these shades are more than just pretty hues. They comprise a high pigment formula that takes the work out of the application. Combine that with its easy blend-ability, and you've got the perfect palette.
Key features
12 matte eyeshadows
High pigment colors
Easily blendable
Cruelty-free product
9- Ucanbe Pro Cosmos Eyeshadow Palette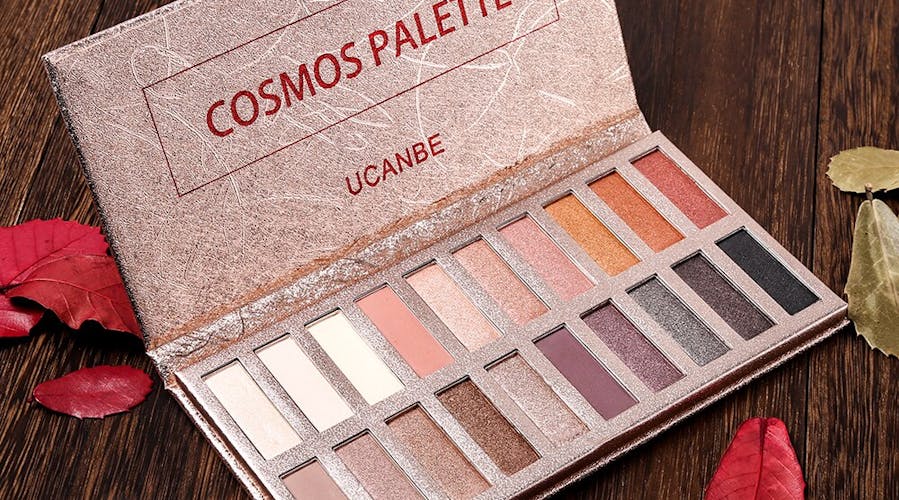 You can be whatever you want and create whatever look you desire with the Ucanbe Pro Cosmos Eyeshadow Palette. This special palette comes with 20 amazing shades in matte and shimmery textures as well as neutral, smokey, and cosmos themed tones. All these options would inspire your creative juices to flow. Its long-lasting formula, coupled with the shadows' waterproof design, means that you never have to worry about smudges throughout the day and night. Furthermore, the formula used is cruelty-free and is safe for even the most sensitive skin.
Key features
20 full-color shadows
Safe for sensitive skin
Cruelty-free formula
Waterproof powders
10- Essence Fire Eyeshadow Palette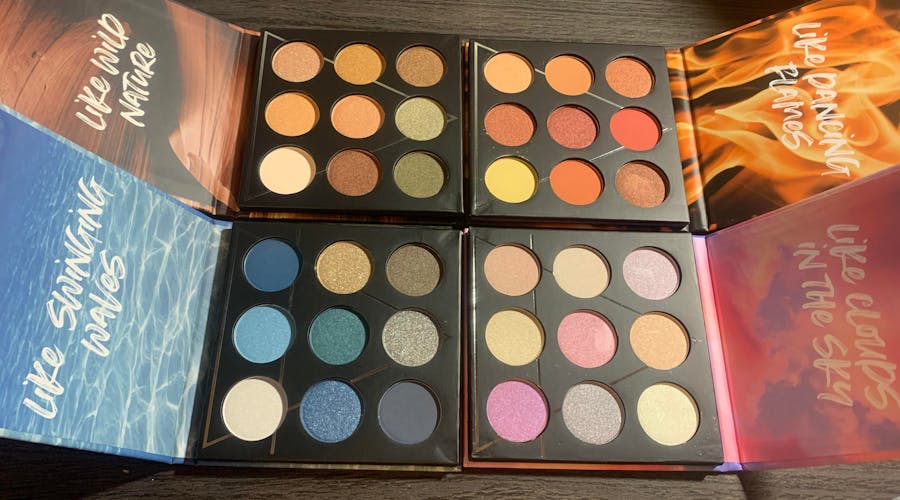 When you think of vibrant, animated fire, the Essence Fire Eyeshadow Palette should immediately come to mind. Flames have inspired this Essence palette, so naturally, you should expect some heat. With stunning hues of red, orange, and warm-toned copper, the colors in this palette surely brighten up your look. Its highly pigmented formula only adds to the appeal, not to mention that it consists of very blendable and buildable shadows.
Key features
Inspired by the element of fire
Nine highly pigmented shades
Made up of warm tones
Blendable and buildable colors
FAQs
Which eyeshadow is best for dark skin?
As a dark-skinned person, the world is your oyster as there is a wide array of eyeshadow colors that you can easily rock. If you are going for a bright, summery look, opt for reds, oranges, browns, and yellows. If you are going for a cooler look, blues, greens, and purples would look great.
How do you get eyeshadow to show on dark skin?
Sometimes, eyeshadows do not show up as pigmented on dark skin. To combat this, begin your eyeshadow look by applying a good eye primer. This acts as the base for the eyeshadow and makes it pop. Also, try to use eyeshadows that have high pigment formulas.
What eyeshadow goes with brown skin?
If you have gorgeous brown skin, don't be afraid to try different shades of eyeshadows. Looking for a starting point? Neutral colors like brown, with a shimmery finish will go well with your skin. Jewel tones like greens, indigo, and purples would complement your skin. You can also try metallic colors for a nighttime pop.
What is the best eye color for brown skin?
If you are looking to switch up your eye color with some contacts, you should be aware of certain colors that look awesome on brown-skinned people. Colors like hazel, green, grey, or honey would work well with your complexion as they would make your eyes brighter and glowy.
What color looks good on dark skin?
There is a very wide variety of colors and shades that look stunning on dark skin. If you're one who likes bright colors, yellow, orange, red, gold, and pink go would go well with your skin. If you like more down to earth colors though, then white, brown, blue, green, violet and peach also work well on your dark skin.
What color lipstick should dark skin females wear?
Sometimes, to complement your perfect look, you need the perfect lipstick color. As a dark-skinned female, if you are unsure about what colors would look great on you, don't fret. For an everyday look, copper brown, chocolate brown, nude, and bronze would look amazing. For a more dramatic look, though, you can opt for red, peach, purple, and even magenta.
Which skin color is most attractive?
The short answer is that no one skin color is considered the most attractive. Attractive people come from different races and in various skin colors. Also, different people find different skin colors attractive, as attractiveness is typically subjective.
Which skin tone is best?
Just like there is no one ideal skin color, there is also no skin tone that is considered the best. Every skin tone is beautiful in its own way, so the best thing to do is embrace your skin's beauty.
Does grey look good on dark skin?
Gray is one of those colors that will always be in style, to finding ways to incorporate it in your outfits is a great idea. If you have dark skin, you can rock grey in an outfit. Though a pale grey would be ideal with your skin color, it would not make you look washed out.
What skin color do girls prefer?
Wondering what girls think when it comes to skin color is very understandable. Unfortunately, there is no straightforward answer. What people like and prefer, even when it comes to skin tone, is subjective. There is no one universal skin color that girls prefer, as it is all down to personal taste and preferences.
How can I get fairer skin?
To obtain fairer, flawless skin, there are a few home remedies you can try. For one, you can use a mixture of yogurt and honey. Just apply it on your face for 15 minutes, and wash with cold water. Repeat this over time, and you should see some improvements. You can also use a papaya mask to achieve the same results.
How can I improve my skin tone?
There are a couple of things you can do to improve your skin tone. Firstly, make sure you stay hydrated throughout the day. Also, ensure that you use sunscreen when you go out into the sun. Finally, exfoliating is your friend, as it gets rid of dead skin cells and leaves nice, glowy skin behind.
Does skin color matter to guys?
The short answer is that skin color matters to some guys and does not matter to others. Issues like this cannot wholly be generalized, as different guys have different factors that matter to them. For some, its skin color, and for others, it doesn't matter.
What skin tone do guys like?
When it comes to skin tone and which ones guys like, the truth is that there is no one answer. Different guys have different preferences when it comes to skin color, so there's no particular skin tone that can be said to be liked by all guys.
Does skin color affect attractiveness?
First of all, attractiveness is subjective, so skin color might affect attractiveness to some, and may not to others. That said, from an objective viewpoint, attractive people come in all skin colors. So, skin color isn't particularly a factor that affects attractiveness.